Pettengill-Morron House
Introduction
This 11-room home was built was built in 1868 by entrepreneur, abolitionist and friend to Abraham Lincoln, Moses and Lucy Pettengill. Moses and Lucy arrived in Peoria (in 1834) when only 150 people called Peoria home, and then they helped shape its future through business, politics and social reforms. The home deeded to the Peoria Historical Society in 1966 by its last resident, Jean Morron. The Society offers tours of the home and its furnishings by appointment.
Images
The Pettengill - Morron Mansion (Peoria, IL), built in 1868.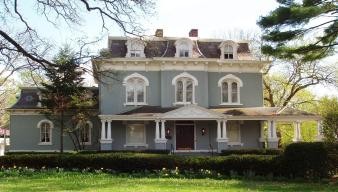 Backstory and Context
Hardware store owner and active abolitionist Moses Pettengill, and his wife Lucy, built in 1868 the home now referred to as the Pettengill–Morron Home. They came to Peoria from New Hampshire in 1833 when only 150 people lived in the town; only three framed houses existed along with thirty log cabins when he arrived. Moses enjoyed tremendous influence in the pioneer city, and even became friends with Abraham Lincoln; the two discussed politics and social issues.
Moses Pettengill grew up on a farm as a child and entered the teaching profession as his first job (after attending formal schooling). However, with only $400 to his name, and with no business acumen, he decided to open a general store in Rochester and then later in Brockport, NY (along the Erie Canal). In May 1833, Moses married his second cousin Lucy Pettengill, who also worked as a teacher. Not long after the wedding, in 1833, Moses headed west and upon finding Peoria decided to go back for Lucy and settle in the frontier town. When they arrived in 1834, only 150 people lived in Peoria.
Moses opened Peoria's first hardware and stove store, which beget a successful career as a merchant, builder, and manufacturer -- so much so that he eventually built the 11-room mansion in 1868 that now exists on the National Register of Historic Places.
Moses and Lucy actively participated in several social reform movements such as temperance and the abolition of slavery; their house functioned as a stop on the underground railroad, and Moses served as the first president of the Peoria Anti-Slavery Society. Lucy and Moses engaged in philanthropy by not only providing substantial financial support to anti-slavery groups, but also to the poor, schools, and Civil War soldiers. Moses and Lucy also were part of the founders of the Main Street Presbyterian Church, which grew to become the center of 'Peoria's abolition movement. They remained influential members of the church for numerous years.
Similar to most in Peoria during the middle nineteenth century, Moses and Lucy first lived in a simple log cabin. Moses first built a house in 1862, where Lucy would die in 1864 (their two children, Hannah and Moses, preceded her in death). One year later, in 1865, Moses married widow Hannah Bent Tyner and adopted her son Blanchard. As well, a few months after the wedding, the original 1862 house burned. Thus, in 1868, the now-historic house was completed for Moses, his second wife, and his adopted child. The house enjoyed gas and water pipes, and a coal furnace.
They lived in the house until 1892 when Samuel Mortimer Clarke, a Peoria dry goods merchant, and his wife Jane purchased the house and lived there until 1901. From 1901 to 1953, the house changed hands four times, serving as the home to an attorney, physician, salesman, and banker.
Jean McLean Morron moved into the home in 1953 and remained there until her passing in 1966. A life-long Peoria native (her grandfather John Reynolds had settled in Peoria in 1836), she was forced to move when the development of Illinois Route 74 included a need to demolish her home, which had been built by her grandfather. So, at the age of 74, she sought methods for purchasing the historic Pettengill house, a home she knew well for its history. She was well-known in Peoria for her philanthropy.
When Morron died in 1966, the trustees of her estate gave the house and contents, dating from the mid-18th to mid-20th century, to the Peoria Historical Society. The historic house now operates as a museum under the direction of the Peoria Historical Society.
Other items of interest for the home include the founding of the Peoria Red Cross in the house in 1916 the first performance of the Peoria Civic Opera was held in the garden in 1973.

The house stands as a monument to Peoria's history, westward expansionism, and the abolition movement prevalent during the middle part of the nineteenth century,
Sources
Kenyon, Leslie H. "Nomination Form: Jean Morron Residence." National Register of Historic Places. nps.gov. April 2, 1976. http://gis.hpa.state.il.us/PDFs/200687.pdf.

Panetta, Gary. "Pettengills worked in Peoria to end slavery." Journal-Star(Peoria, IL) October 08, 2008. https://www.pjstar.com/article/20081018/NEWS/310189886

Thompson, Katie. "The Long Road to Freedom: Peoria and the Underground Railroad." Peoria Magazine. PeoriaMagazine.com. January/February, 2008. https://www.peoriamagazines.com/as/2008/jan-feb/long-road-freedom.

Photo Source
By Mmikhailova - Own work, CC BY-SA 3.0, https://commons.wikimedia.org/w/index.php?curid=21271453



Additional Information