Arrow Pharmacy Building
Introduction
While former Mayor David Jacobsen built the structure, it was John "Doc" Weber who opened his pharmacy here in 1920 and named it Arrow Pharmacy. The pharmacy had many owners over the decades, but each one kept the "Arrow" name. Chandler residents shopped and drank sodas here for 85 years.
Images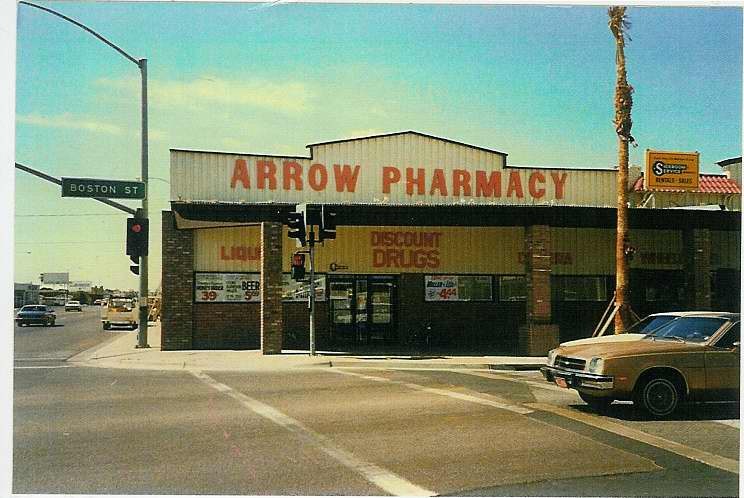 Arrow Pharmacy Soda Jerk Patrick Schumacher, c. 1962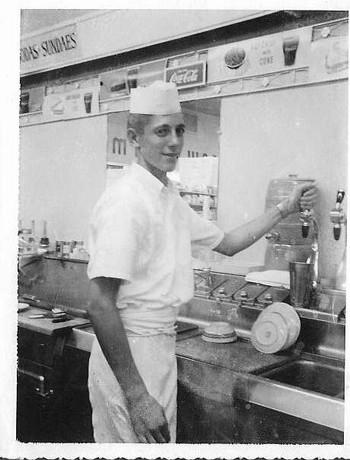 Willie Mitchell Shopping in Arrow Pharmacy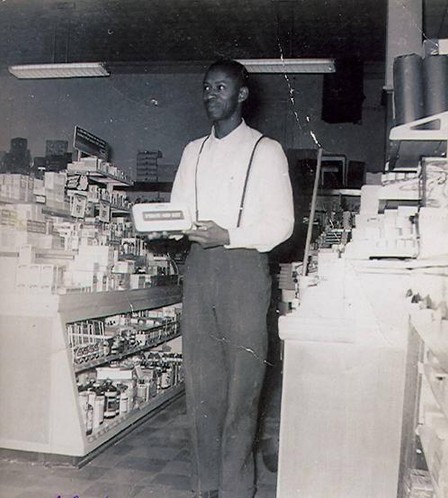 Arrow Pharmacy Signs, 1957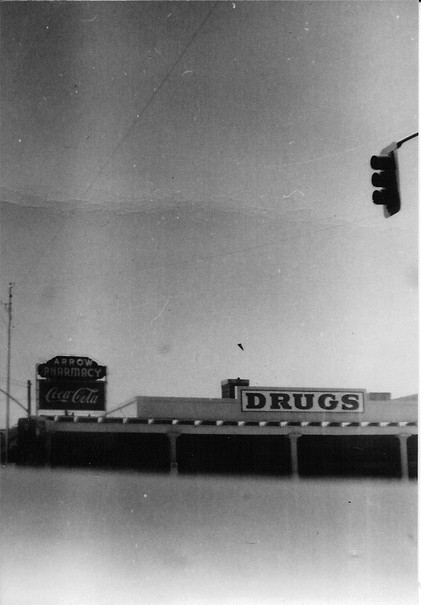 Backstory and Context
The first building we come to on the end is the Arrow Pharmacy building, which was built in 1918, once again, by David A. Jacobson. This building has, until recently, continually housed the Arrow Pharmacy since the time it was built. Jacobson leased the property to John B. "Doc" Weber, the town's favorite pharmacist, who operated Weber's Arrow Pharmacy for years. Despite being only a pharmacist, they called him "Doc" because he would often tend to their more basic medical needs. Children with scraped knees would stop in and Weber would bandage them up. Kids often stopped here for a Coca-Cola, which only cost a nickel. A 1924 ad for the Arrow Pharmacy in the Chandler Arizonan boasted "Our soda fountain service is unexcelled. Our soft drinks made famous by Weber's Arrow Root Beer." In 1948, the building was combined with the Reliable Hardware building next door. It has had many owners through the years, but every one of them kept the Arrow name. After over 85 years of service to the Chandler community, the doors closed for the first time in July 2005. In fall 2006, a remodeling project began on the combined Arrow Pharmacy and Reliable Hardware buildings and the space was subdivided into multiple suites.
Sources
"Arrow Pharmacy," http://chandlerpedia.org/Exhibits/A_Walking_Tour_of_Downtown_Chandler/20._Arrow_Pharmacy_Building