Theophilus Allen House
Introduction
Listed on the National Register of Historic Places for its architectural demonstration of the Craftsman style of design, Palo Alto's Theophilus Alien House (1905) represents the style of home design prevalent during the Arts & Crafts movement of the late nineteenth and early twentieth centuries. The property is also historically significant for its first owner, Theophilus Allen, who established Palo Alto's first Christian Science Church. The Theophilus Allen house integrates various stylistic influences. Features include a Swiss chalet-style front and rear-facing low pitched single gables, Japanesque exposed and protruding exterior beams, English Tudor style diamond-paned leaded glass windows, and interior woodwork. The house resembles many of the bungalows that emerged throughout the nation, a style tied to the Prairie School and the influences of Frank Lloyd Wright.
Images
Theophilus Allen house. Built in 1905. 601 Melville Avenue. Palo Alto, California, USA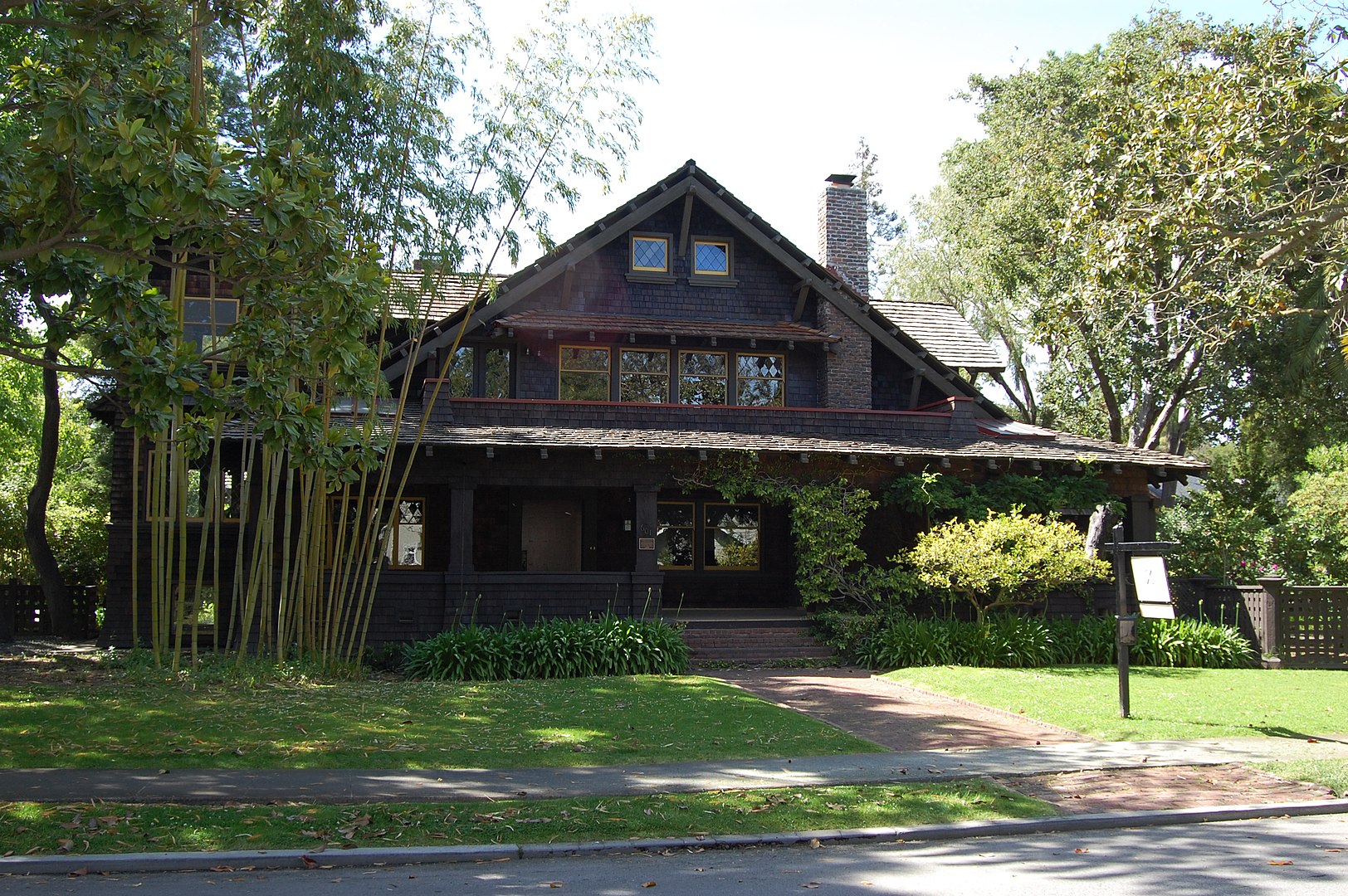 Backstory and Context
The Allen House, designed in 1905 by the prominent Oakland architect Alfred W. Smith (1864-1933), served as the home Palo Alto Christian Science Church founder, Theophilus Allen. The historic home is an excellent and unusually large example of the architecture created in California under the influence of the American Arts and Crafts movement. 
The house represents the connection between the Arts and Crafts movement in California, including the development of Palo Alto, and the prevalent architecture of the 1890s through the 1920s. Thousands of families sought greater freedom of expression, as well as various forms of spiritual, artistic, and intellectual awakening, which included Theophilus Allens, who founded the Christian Science Church in Palo Alto. One can find the Theophilus Allen house one block from Palo Alto's Professorville Historic District, where Craftsman-style homes thrived during the Arts and Crafts period, inhabited mainly by Stanford professors and other progressive-thinking citizens. 
The Craftsman homes expressed the philosophy and lifestyle attached to the Arts and Crafts movement. (Although it should be noted that the Arts & Crafts movement in the U.S. is not easily defined, but it can be attached to the growing wave of progressivism during that era.)
Dr. Theophilus Allen (1858-1955) proved to be a prominent community member and opened his home to many friends and neighbors; pocket doors helped close off the living room, which made it suitable for hosting meetings. Dr. Allen resided in the home until 1952, three years before his death at the age of 97.  
Sources
Kaufmann, Edgar. "The Arts and Crafts: Reactionary or Progressive?" Record of the Art Museum, Princeton University 34, no. 2 (1975): 6-12.
Obniski, Monica. "The Arts and Crafts Movement in America." Heilbrunn Timeline of Art History. metmuseum.org. June, 2008. New York: The Metropolitan Museum of Art, 2000–. http://www.metmuseum.org/toah/hd/acam/hd_acam.htm
Collas, Judith Woodhams. "Nomination Form: "Alien, Theophilus, House." National Register of Historic Places. nps.gov. May 20, 1999. https://npgallery.nps.gov/GetAsset/b6ab8b8f-0d3b-4c63-ab0f-b7516fcbeff5/
Image Sources
By Eugene Zelenko - Own work, CC BY-SA 4.0, https://commons.wikimedia.org/w/index.php?curid=10557676

Additional Information