This entry includes a walking tour! Take the tour.
Introduction
The largest burial place in Westchester County, Kensico Cemetery was founded in 1889. It was incorporated under New York's Rural Cemetery Act of 1847. At its founding, the cemetery was intended to be not only a burial place for residents of Westchester, but also as a place of interment for residents of New York City. Located along the New York & Harlem Railroad, could conveniently be accessed by residents of Manhattan, which was only 26 miles away from the cemetery by train. In 1953 Kensico opened Sharon Gardens, a portion of the cemetery for members of the Jewish faith. Kensico Cemetery and Sharon Gardens serve as the final resting place of a number of notable individuals who achieved success in the fields of business, entertainment, philanthropy, politics, and sports.
Images
The plot at Kensico Cemetery belonging to Mecca Temple, Ancient Arabic Order of the Nobles of the Mystic Shrine.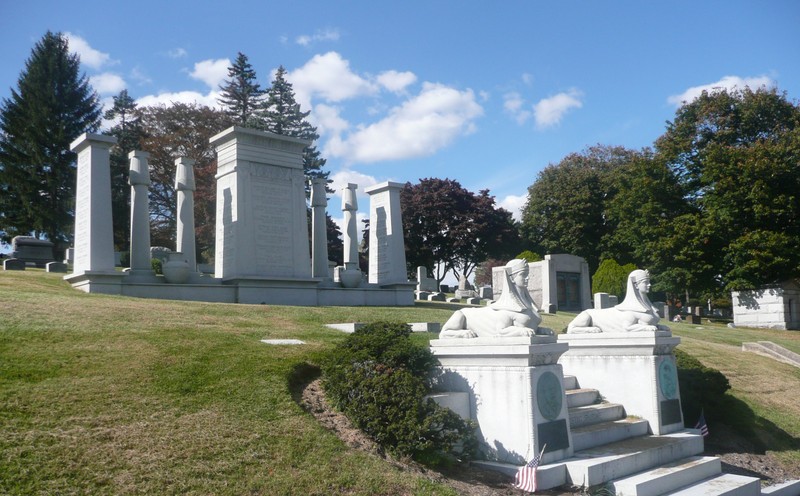 Backstory and Context
Kensico Cemetery was the brainchild of Reese Carpenter (c.1847-1915). A native of Westchester County, Carpenter achieved a great deal of success in the railroad industry, particularly by making improvements to signal systems and rail cars. Carpenter recognized that the growing metropolis of New York City needed more burial space, and realized that establishing a cemetery along a railroad could provide convenient access for city residents. Carpenter found three farms alongside the New York & Harlem Railroad near the Valhalla Post Office. (Although it became home to several large cemeteries, Valhalla is said to have taken its name from the fondness of the wife of Postmaster Andrew J. Kirch for the operas of Richard Wagner).
On January 19, 1889, seven men met to incorporate Kensico Cemetery. By August of that year the association had acquired 250 acres of land and secured approval to use it for burial purposes. Once the property had been acquired, the cemetery management began to prepare the land for burial. Reese Carpenter stressed that the natural landscape of the property should be kept as much as possible, noting, "you are planning a cemetery not so much to be a place so unique that men will visit it as an eighth wonder of the world as to be a spot which men and women will select as the final abode of their loved ones."
The first interment at Kensico Cemetery took place in 1890. That same year a railroad station was opened along the New York & Harlem Railroad. Marketing the burial ground to residents of New York City, Kensico Cemetery opened an office one block from Grand Central Terminal. The cemetery directors also purchased a private funeral car, "Kensico," that could be rented by funeral parties that were travelling along the railroad to and from Manhattan. In 1894 Kensico constructed a large receiving tomb that featured 178 individual marble catacombs. Located alongside the railroad, the receiving tomb became a kind of advertisement for the cemetery to commuters. The success experienced by Kensico Cemetery during the late 19th and early 20th centuries led to the opening of several other burial places in the Valhalla area, including Mount Pleasant Cemetery in 1899, Gate of Heaven Cemetery in 1918 and Mount Eden Cemetery in 1928. It also inspired Reese Carpenter to establish several other cemeteries, including Druid Ridge Cemetery near Baltimore, Somerton Hills Cemetery near Philadelphia, Knollwood Memorial Park near Boston and Lakeside Cemetery near Buffalo.
In 1925 Kensico Cemetery opened a large community mausoleum on Commerce Street. Consisting of Etowah pink marble from Georgia on the exterior and white marble from Alabama on the interior, the mausoleum contains 292 crypts, 68 niches for urns, two private rooms, and a chapel. In 1953 Kensico Cemetery opened Sharon Gardens, a burial ground for members of the Jewish faith. Sharon Gardens became very popular with the Jewish residents of the tri-state area, and many congregations and families purchased plots in the new burial ground.
Kensico Cemetery and Sharon Gardens serve as the final resting place for a number of notable individuals, including:
-Paul Bonwit, founder of the Bonwit Teller department store.
-Billie Burke, actress.
-Luigi Palma di Cesnola, Medal of Honor recipient.
-Tommy Dorsey, bandleader.
-Harry Frazee, theater mogul and owner of the Boston Red Sox.
-Lou Gehrig, New York Yankees star and member of the Baseball Hall of Fame.
-Danny Kaye, comedian and actor.
-Robert Merrill, opera singer and actor.
-Harriet Quimby, aviatrix.
-Sergei Rachmaninoff, pianist and conductor.
-Ayn Rand, author and philosopher.
-Jacob Ruppert, brewer and owner of the New York Yankees.
-Milton "Soupy" Sales, comedian and radio/television personality.
One of Kensico Cemetery's busiest days is the Qingming Festival, a Chinese holiday also known as Tomb-Sweeping Day. The cemetery's topography is considered ideal for those who wish to select a burial place using the Chinese concept of feng shui. Kensico's connection to the Chinese American community dates to 1904 when the Christian Chinese Burial Association acquired more than 1,000 lots at the cemetery. Among the Chinese American organizations that have acquired large plots at Kensico is the First Chinese Baptist Church, a congregation in Chinatown, Manhattan.
Sources
Raftery, Patrick. The Cemeteries of Westchester County. Volume II. Elmsford, N.Y. Westchester County Historical Society, 2011.
Raftery, Patrick. "Kensico Cemetery: Celebrating 125 Years." The Westchester Historian, vol. 90, no. 2, 36-54.
"Modern Cemetery Planning." The Sun (New York, N.Y.) October 22nd 1911. , 4 sec, 1.
"To Resist Attacks of Time." The New York Times (New York, N.Y.) September 17th 1893.
Image Sources
Westchester County Historical Society.