Virginia Musical Museum
Introduction
Opened in 2013 by local music store owners, the Virginia Musical Museum offers exhibits that celebrate the contributions of Virginians to a wide variety of music genres. The museum houses displays of antique instruments and musical memorabilia. Highlights of the collection include an eighteenth-century pianoforte, the first talking doll, and Wayne Newton's car. The museum also offers a variety of local music made in Virginia over the last few centuries with headsets that help visitors experience samples of the music curated by the museum owners.
Images
1780 Pianoforte on display in the Virginia Musical Museum (Parker 2013)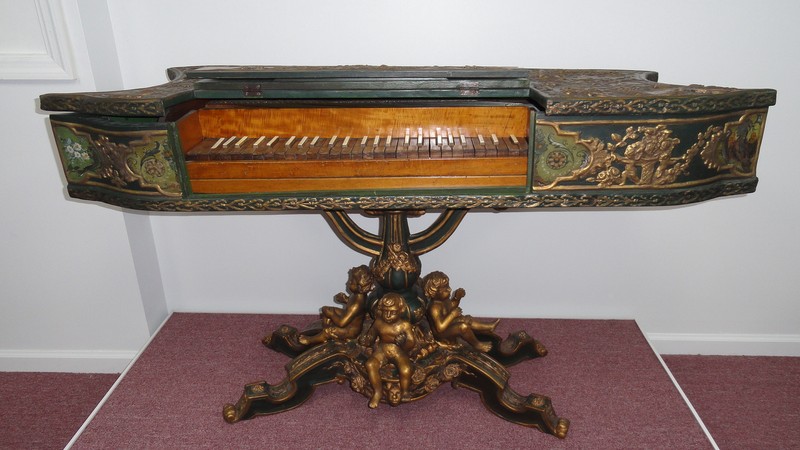 Backstory and Context
The Virginia Musical Museum was opened in 2013 by Jesse ("Buddy") Parker. Parker and his wife, Peggy, collected antique musical instruments, music boxes and memorabilia related to Virginia musicians for years before opening the museum. Parker started out tuning pianos, and moved on to buying and restoring them. He eventually owned eight retail piano stores, including the one in Lightfoot.
One section of the museum space is dedicated to famous musicians from Virginia and displays performance costumes. One of the most well-known native daughters is Patsy Cline, a country singer who died tragically in a plane crash. Ms. Cline was the first female solo artist to be inducted into the Country Music Hall of Fame. Roy Clark and June Carter Cash also have Virginia roots. Ella Fitzgerald, an African-American jazz songstress, has been called one of the best vocal improvisors of all time. Bruce Hornsby is a local guy who made it big in popular music. You can view his Key to the City here. Parker's pride and joy is a car once owned by Wayne Newton, a 1978 Clenet Roadster, on display. Newton reportedly tried to buy it back once from Parker, but he could not bear to part with it.
The Piano Gallery section of the museum tells the story of the instrument. An extremely rare harpsicord from 1790 is on display - the Joshua Shudi instrument is one of only two known to have survived! A pianoforte from 1780 is another rarity. Another section covers music from circuses and amusement parks, including a Laughing Sal from a funhouse. Phonographs are shown in another section, showing their development since the 1870's. Phonographs by Thomas Edison and RCA Victor are among the exhibits, plus the first talking doll. The organ section includes a glass organ, monkey organ, Reed organ, and a 300-year-old hurdy-gurdy. In the music boxes and nickelodeon section, you can see a Violano Virtuoso play a violin automatically.
Admission is charged: $12 for adults, $10 for seniors & miltary, $5 for students, and free for children under 4.
Sources
Parker, Buddy. Virginia Musical Museum, Museum Hall of Fame. Accessed February 6th 2020. https://www.virginiamusicalmuseum.com/.
Stewart, Melissa M. The Virginia Musical Museum in Williamsburg. Coastal Virginia Magazine. May 1st 2014.
Image Sources
https://en.wikipedia.org/wiki/Virginia_Musical_Museum#/media/File:Picture_of_Museum.jpg

Additional Information