YWCA Building
Introduction
The YWCA (Young Women's Christian Association) in Bellingham been an important institution serving the community since its founding in 1907. In 1915 it moved into this historic building, which was built, in large part, with funds from wealthy businessman Charles X. Larrabee, whose wife was a leader of the Bellingham YWCA. The YWCA's mission has been to support women and girls in need (through housing, job training, and other services) and to empower them to effectuate positive social change. The building itself is also significant for its sophisticated Colonial Revival architecture. Notable features include decorative brackets under the roof eaves, large floor-to-ceiling windows on the first floor, and an attractive front entrance portico with Doric columns. The building was added to the National Register of Historic Places in 1977 for its association with the YWCA and architecture.
Images
Built in 1915, the YWCA Building is a fine example of Colonial Revival architecture. Here, the YWCA has provided housing and services to women and girls for over a century.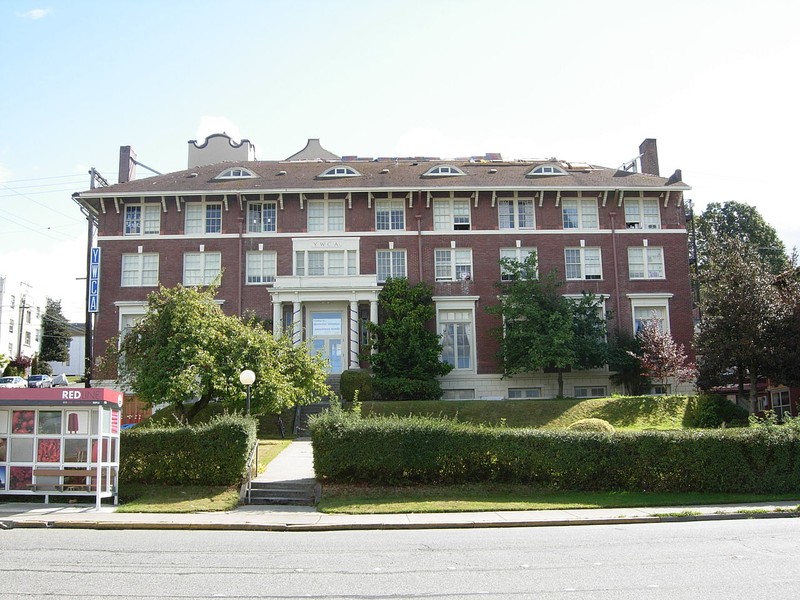 Backstory and Context
The YWCA's origins date back to the mid-1850s. The first association was established in London and not long after in the United States (there are now YWCAs around the world). As stated above, the Bellingham YWCA formed in 1907. Members first met in private homes and then rented a room in the public library. The lack of a permanent location and substantial financial help in early years made it difficult for the members but they persisted in their mission. Seeing the good work the YWCA was doing (his wife and daughter were actively involved in the organization), Charles Larrabee decided to take the lead in the effort to build the a new home for it. Unfortunately, he died before it was completed. Today, YMCA Bellingham continues to work towards empowering women from the local community.
Sources
"History." YWCA Bellingham. Accessed February 10, 2020. https://www.ywcabellingham.org/history.
Mariz, George. "Young Women's Christian Association." National Park Service - National Register of Historic Places Nomination Form. April 21, 1977. https://npgallery.nps.gov/GetAsset/a9f7be66-5cf8-4a2f-8aa2-5efe8a7411ee.
"YWCA Building (1026 N. Forest Street)." City of Bellingham. Accessed February 10, 2020. https://www.cob.org/services/planning/historic/buildings/Pages/ywca-building.aspx.
Image Sources
Wikimedia Commons: https://commons.wikimedia.org/wiki/File:YWCA_Bellingham_2.JPG

Additional Information