Moran State Park
Introduction
Established in 1921, Moran State Park was the first major state park created in Washington. It covers 5,424 acres of Orcas Island and is historically significant for its association with the Civilian Conservation Corps (CCC), a federal jobs program that developed much of the park's infrastructure and buildings; shipbuilder and Seattle mayor Robert Moran (1857-1943), who donated over 2,700 acres to create the park; and for its historic buildings, which notable Seattle architect Ellsworth Storey (1879-1960) designed in the Rustic style. The park is also significant because its creation was the catalyst for the establishment of the state's park system. The park features picnic areas, campgrounds (primitive sites as well), trails, beaches, boat launches, the Camp Moran Environmental Learning Center (a lodge for large groups), and a historic observation town situated on the top of Mount Constitution. The park was added to the National Register of Historic Places in 2013.
Images
The summit of Mount Constitution offers sweeping views of the surrounding landscape. Visitors are allowed to climb inside the tower.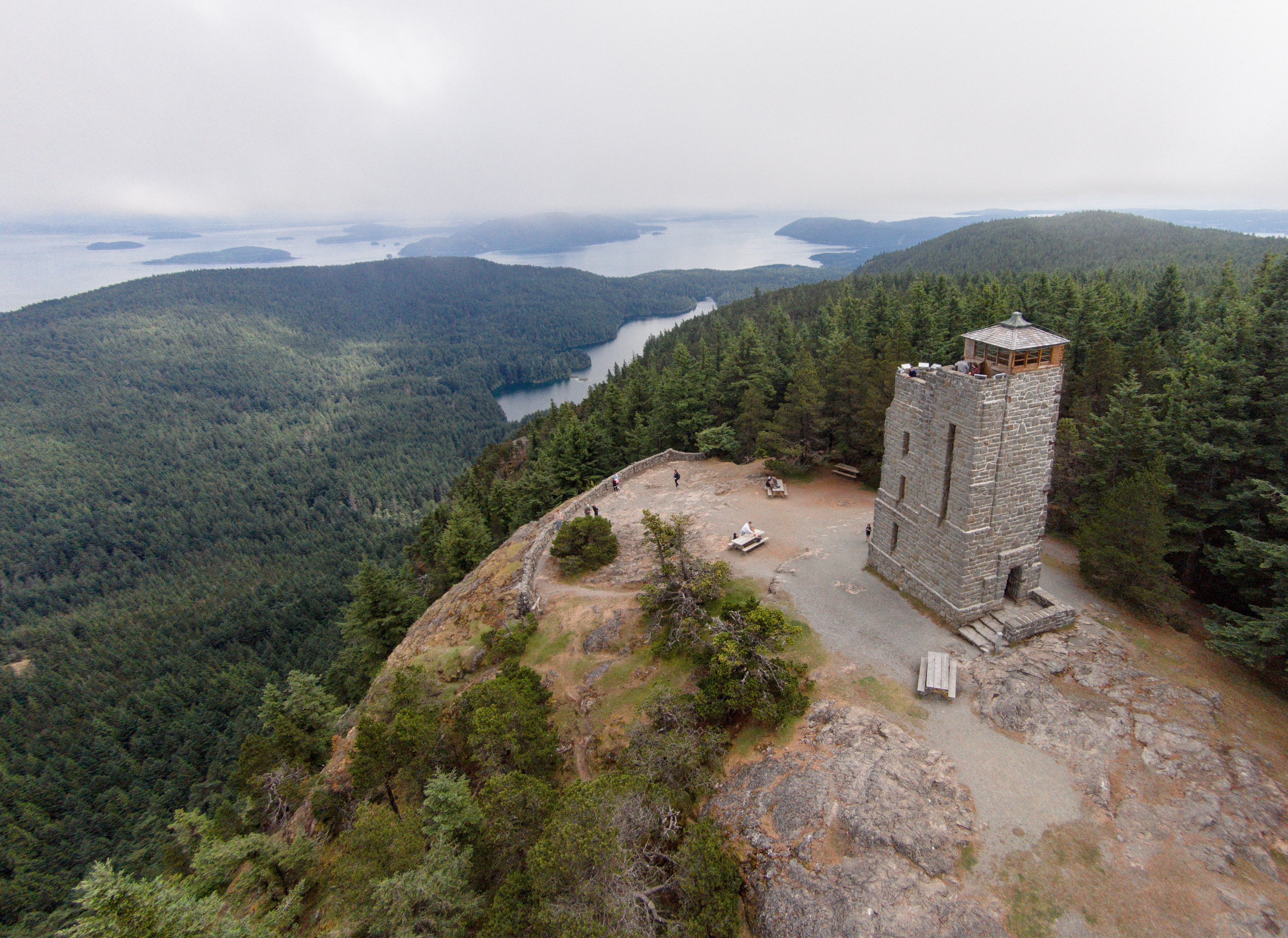 Backstory and Context
Robert Moran was born in New York City to parents who would have ten children (he was the third child). His father was a machinist and stone mason and Moran became a machinist as well. After briefly working in Cincinnati as a millwright, he returned to New York City and saved up money to buy a ticket to San Francisco. He failed to find work there and spent his last dollars to sail to Seattle, which at that time was a frontier outpost. He found work on a steamship (a steam-powered boat) and quickly rose in rank to become chief engineer. He also advanced his knowledge of math, engineering and drafting.
In 1881, Moran paid for his family to come to Seattle (his older brothers had already made the journey). Moran and his brothers established a marine repair shop which became successful. Moran was also vice president and general manager of a shipbuilding company. Later, they established their own shipbuilding company called the Moran Brothers Company, which would, in 1895, build the first all-steel boat in Washington called the Golden Gate. The company would later build the all-steel U.S.S. Nebraska in 1904 after two years of construction.
Moran's stature grew in the 1880s and he became involved in politics, first as a member of the City Council in 1887 and two terms as mayor beginning in 1888. On June 6, 1889 a fire destroyed a large portion of the city. In its aftermath, Moran held the city together and he called for the water system to be publicly owned. His leadership instilled confidence in the people and he was elected to his second term.
Unfortunately, building the Nebraska and the constant need to modify it (the U.S. Navy called for these changes) took a toll on Moran's health. Doctors told him he didn't have much more time to live so he retired from the company and settled on Orcas Island in 1906. In 1905, he actually bought a sawmill that was already operating there. He also bought land around the sawmill property and built a home in Rosario in 1909.
Moran envisioned creating a park around this time, proposing the idea to a local historian who led a group mountain climbers. The idea fell through, and Moran kept trying for the next decade. The main problem was that there was no state agency in charge of assessing the proposal or administering state park land (there was also not much interest in the state legislature). In 1913, the legislature passed a bill that created a state park board, but it didn't include a mechanism for funding land acquisition or park management. Many legislators didn't want to spend money to buy additional land. In response, Moran agreed to donate all of the land. Yet again, the issue of paying for management remained a stumbling block.
The situation finally moved forward in 1919. With the help of Stephen Mather, the head of the National Parks Service, and other leaders and organizations, the legislature passed bill in 1921 that established the State Park Committee, which was granted the authority to acquire land. Around this time, the Committee accepted Moran's donation of 2,731 acres; he donated more land in the coming years.
Moran State Park and other parks suffered from a lack of funding during the 1920 and most were closed from 1928-1932. In 1933, the new governor restored funding to the state parks. The CCC arrived in the park at this time as well and began building its infrastructure and buildings, including the Mt. Constitution Tower, using native materials from the island.
Sources
"History." Washington State Parks. Accessed February 22, 2020. https://parks.state.wa.us/547/Moran.
McMurry, Alex. "Moran State Park." National Park Service - National Register of Historic Places Nomination Form. January 2, 2013. https://s3.amazonaws.com/NARAprodstorage/lz/electronic-records/rg-079/NPS_WA/12001140.pdf.
Image Sources
Wikimedia Commons: https://commons.wikimedia.org/wiki/File:Mt._Constitution_Peak.jpg

Additional Information