John Pennekcamp Coral Reef State Park
Introduction
The first undersea park in the U.S., John Pennekamp Coral Reef State Park encompasses approximately 70 nautical square miles. While the mangrove swamps and tropical hammocks in the park's upland areas offer visitors a unique experience, it is the coral reefs and their associated marine life that bring most visitors to the park.
Images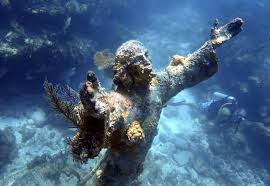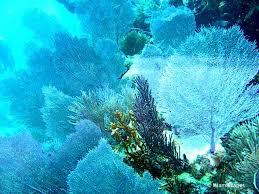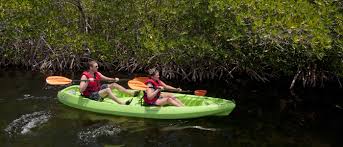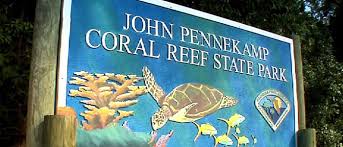 Backstory and Context
Established in 1963, John Pennekamp Coral Reef State Park was the first undersea park in the United States. John Pennekamp Coral Reef State Park, and near by Florida Keys National Marine Sanctuary, cover approximately 178 nautical square miles of coral reefs, sea grass beds much more. The park extends 3 miles into the Atlantic Ocean and is approximately 25 miles in length. These areas were established to protect and preserve a portion of the only living coral reef in the continental United States. The park was added to the National Register of Historic Places on April 14, 1972.The park contains a wide variety of tropical vegetation, shore birds and marine life. While the mangrove swamps and tropical hammocks offer visitors a unique and interesting experience, it is the coral formations and associated marine life that most park visitors come to enjoy with its most famously known for the underwater Christ Monument.
 John Pennekamp from originally from Cincinnati, Ohio but moved to Miami and became a newspaper editor, whose efforts contributed to the establishments of Everglades National Park and the preservation of what would become John Pennekamp Coral Reef State Park.There have been many efforts through the government in selling land in south Florida was a big deal.The Florida Land Boom of the 1920s extended the salable land of Miami area westward into the eastern Everglades. Soon new land to sell began to run out about the time that John Pennekamp came to Miami which was year 1925. In 1957, the condition of the outer reefs off of the Keys and its shoreline were reaching crisis level and Dr. Gilbert Voss, professor of marine biology along with 52 other scientists pursued into saving the reefs. John Pennekamp, as chairman of the Florida Board of Parks and Historic Memorials approved the 75 square mile section of the reef - 10% of the entire reef - as a permanent preserve as 'the preservation of coral reefs is necessary'.On December 10, 1960, Governor Collins at Harry Harris Park dedicated and named the coral reef preserve "John D. Pennekamp Coral Reef State Park" although the dedication program was titled: "Dedication of Key Largo Coral Reef Preserve" after the organization Coral Reef Preserve was given control of bottom to the 3 mile limit.
Sources
John Pennekamp Coral Reef State Park. Accessed February 28th 2020. https://pennekamppark.com/about/.
Florida State Parks.
This article beings to explain the history being the creation of John Pennekamp and why it is such a great site fro history, touring and simply helping the earths ocean wildlife.Dr. Gilbert Voss of the Marine Institute of the University of Miami, first became aware of the extent of damage occurring to the reef structure during his studies of the marine species in the Keys. 
The coral reefs that took thousands of years to form, were quickly decimated by thoughtless vendors. Dr. Voss then suggested that a no-more-profitable scientific project could be undertaken than the protection of this area.
Accessed February 28th 2020. https://pennekamppark.com/.
At John Pennekamp Coral Reef State Park, visitors can learn about the Coral Reef Ecosystem. Throughout the year, there are many environmental programs offered to park visitors on a wide range of natural and cultural history subjects.The Visitor Center features a "30,000 gallon saltwater aquarium" and other natural history exhibits interpreting the park's unique marine environment. There is also a theater where visitors may watch nature videos. Hours are from 8am to 5pm daily.
Cross, Peter. "The Florida Keys: John Pennekamp Coral Reef State Park, Key Largo." Visit Florida, www.visitflorida.com/en-us/cities/key-largo/the-keys-john-pennekamp-coral-reef-state-park.html.
As there is so much to see and explore, taking time and having lunch on a boat with barracudas near by isn't something unusual hear at John Pennekamp. With many activities deeming from scuba tours, snorkeling tours, or even kayaking you are bound to see and enjoy abundant wildlife. Pennekamp State Park, named for an environmentally conscious Miami newspaper editor, is our Grand Canyon, a place of clear-water wonders, where fish swim and lobsters crawl and colorful living organisms make up the reef.
"John Pennekamp Coral Reef State Park." Florida State Parks, www.floridastateparks.org/parks-and-trails/john-pennekamp-coral-reef-state-park.
Canoeing and kayaking through the park's waters are popular activities; fishing is permitted in designated areas.
Visitors can also enjoy walking on short trails through tropical hammocks, picnicking or swimming at the beach. The visitor center features several large saltwater aquariums filled with sea creatures, and nature videos are shown in its theater. Full-facility and youth/group campsites are available.
"Key Largo." FloridaKeys.com, floridakeys.com/key-largo/pennekamp/.
The Park is a great place to experience all that diving in Key Largo has to offer. While underwater, look for a 9-foot-tall bronze statue of an underwater Christ, known as the Christ of the Abyss Statue. The statue is a well-known attraction of the upper keys.You can enjoy breathtaking views of a wide variety of fish, crustaceans, and other sea creatures from a number of vantage points. Rent a power boat to navigate the waters on your own. Or, to have an up-close experience with the reef.