C & P Telephone Building
Introduction
Located on 22nd Street, the C&P Telephone Building was built in 1927. Though it initially served as an office for the Chesapeake and Potomac Telephone Company, it became a public library in 1959. By 1974, its function as a library ceased, and today it is an office building for Current Health Services. The structure was built in a Classical Revival style, much like many buildings of its time, and though worn, it remains in excellent condition.
Images
Front view of the building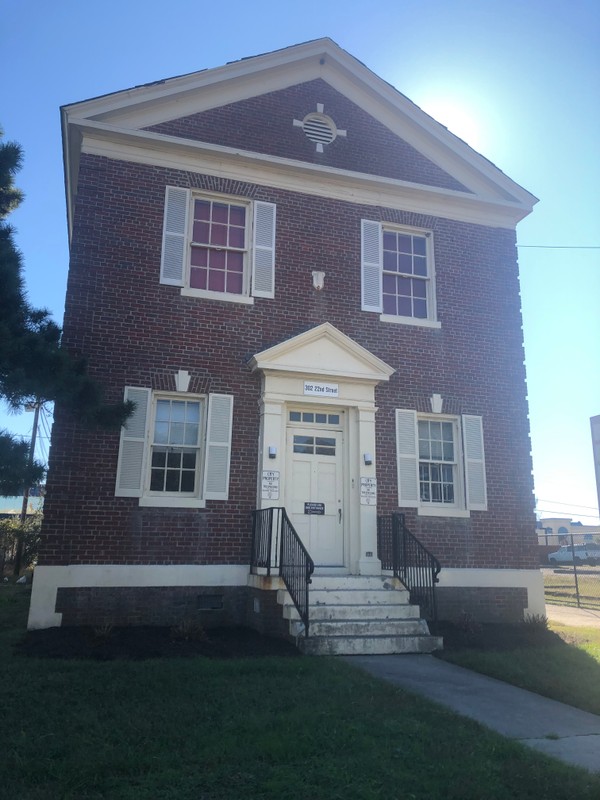 Backstory and Context
To further analyze the architecture, this building contains two stories and a pedimented front door with Roman Doric columns. It rests on a podium and unfortunately possesses little of its original form. Though the architecture itself is symbolic of the time, it does no justice in displaying the significance of this structure. As roads were paved and buildings were erected, a means of communication was imperative. Such rapid urbanization allowed the C&P Telephone Company to expand their business to the extent that a new office was in order. This extension enabled over 700 stations to connect in September of 1927, with only 200 being connected in February of the same year. 
The C&P Telephone Company, later known as Bell Atlantic and now Verizon, began in Washington DC during the 1880s. It grew to serve Virginia, Maryland, and West Virginia in addition to its home district. The creation of such a business was possible because of Alexander Graham Bell's invention of the telephone in 1876. Rapid developments in communication technologies such as this gave way to significant cultural and social changes nationally, but specifically allowed for Virginia Beach to develop into the city that it has become today. Efficiency in relaying messages was key in business maintenance and urban development, especially during the time-period of widespread urbanization. 
Although this building was not one of the original C&P offices, it symbolizes a key moment of development in Virginia Beach's history. It showed how far the city had come in relation to modernizing, and the fluidity of its purpose later in history showed how the needs of the city changed over time. As time moves forth and Virginia Beach continues to change, this building will remain as a reminder of where it began and where it is going. 
Sources
"From the Archives: The C&P Telephone Company." Richmond Times-Dispatch,
Richmond Times, 11 Oct. 2016,
www.richmond.com/from-the-archives/from-the-archives-the-c-p-telephone-company/col
Ection_ed28bf4a-84e1-11e6-affb-836fbdacd1bc.html.
Hochfelder, David. "Alexander Graham Bell." Encyclopædia Britannica, Encyclopædia
Britannica, Inc., 24 Sept. 2019, www.britannica.com/biography/Alexander-Graham-Bell.