Spicer Patrick Historical Marker
Introduction
A prominent member of the Charleston community prior to the Civil War, Dr. Spicer Patrick built a career as both a physician and politician. In the antebellum era, he served as justice of the peace and Kanawha County's representative to the Virginia House of Delegates. In 1861, Dr. Patrick was selected to represent Kanawha County at the secession convention in Richmond, where he voted against leaving the Union. During the Civil War, Patrick was a House delegate for both Restored Virginia and West Virginia; he was chosen as the first Speaker of the House for West Virginia. Following the Civil War, he served a term in the State Senate. He died in 1884. In 2019, a historic marker was placed in Charleston acknowledging Patrick's place in West Virginia history.
Images
Spicer Patrick Historic Marker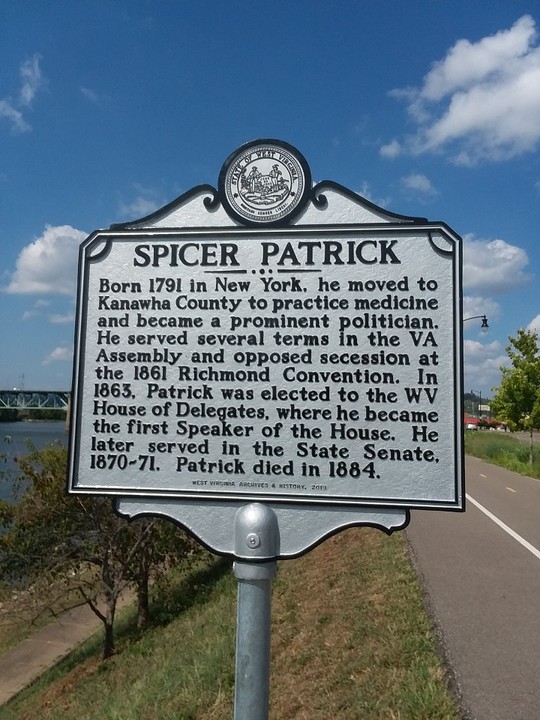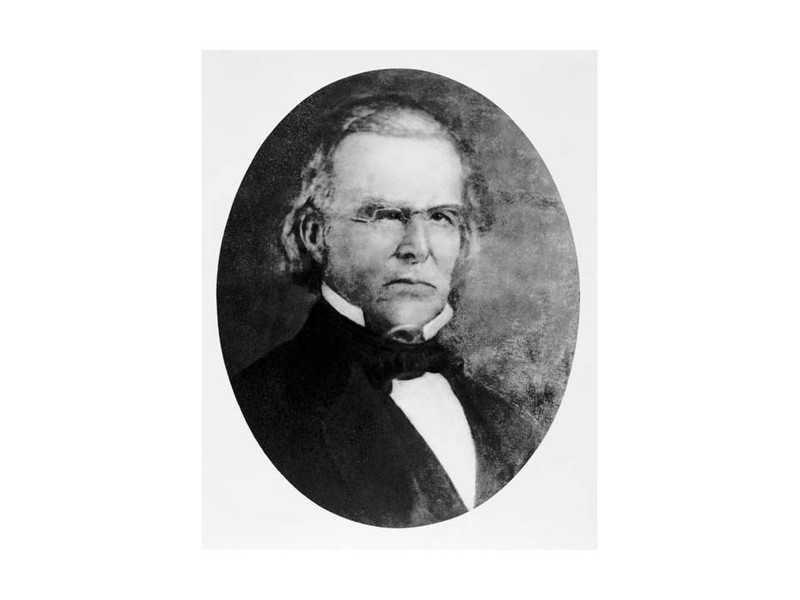 Backstory and Context
Born in 1791 in New York and educated as a physician, Dr. Spicer Patrick moved to Charleston in 1816 and opened a medical practice. He emerged as both a well-respected physician; his practice was apparently lucrative, as he owned several dozen slaves. Patrick was involved in various civic organizations, including the local Freemason chapter and St. John's Episcopal Church.
Building on his firm civic standing, Dr. Patrick also engaged in local politics. From 1839-1851, Patrick served as the local justice of the peace. Patrick was also the elected representative from Kanawha County to the Virginia House of Delegates from 1845-1854 as a Whig (which party consistently dominated local antebellum elections). Patrick advocated for the establishment of free public schools in certain Virginia counties (including Kanawha) and helped pass legislation to that effect in 1847.
As sectionalism came to the forefront of national politics in the late 1850s, Dr. Patrick took a pragmatic, pro-Union position. While he supported the Union, his prominent place in society and status as a slaveowner kept him plugged into pro-Southern circles. In the wake of John Brown's raid on Harper's Ferry in 1859, Patrick was part of a local committee that affirmed local citizens "are ready and willing at all times to perform our part in carrying into effect any measures that Virginia and her sister Southern States may deem proper and expedient to adopt for the purpose of protecting and defending the Rights, Persons, Property and Honor of Slave-holding States."[2]
In 1861, Dr. Patrick was selected alongside George Summers to represent Kanawha County in the Virginia secession convention. While Patrick and Summers both voted against secession, they apparently attended at least one pro-secession rally in Charleston afterwards. Still, Dr. Spicer Patrick ultimately remained loyal to the United States. Yet two of his sons enlisted in the Confederate 22nd Virginia Infantry (whose ranks held many Kanawha men), notably Dr. Alfred Patrick who served as the regimental surgeon. These divided sentiments reflect the wider divisions within West Virginia during the Civil War.
Dr. Patrick continued to represent Kanawha County during the Civil War as a member of the House of Delegates for both the Restored Government of Virginia and then the newly-created state of West Virginia. He was Speaker of the West Virginia House of Delegates in the latter half of the war. In 1870-1871, he served a single term in the West Virginia Senate. In 1884, Patrick died and was buried in Spring Hill Cemetery in Charleston.
In 2019, as part of an effort to commemorate the sesquicentennial of the Civil War and West Virginia, a historic marker was placed in Charleston acknowledging Patrick's role in state history.
Sources
1. William S. Laidley. History of Charleston and Kanawha County, West Virginia. Chicago: Richmond-Arnold Publishing Co., 1911. Digitized. https://archive.org/details/historyofcharles00laid
2. Scott A. MacKenzie. "The Slaveholders' War: The Secession Crisis in Kanawha County, Western Virginia, 1860-1861." West Virginia History, Vol. 4, No. 1 (2010). Digitized. https://textbooks.lib.wvu.edu/wvhistory/files/html/05_wv_history_reader_mackenzie/
3. "Spicer Patrick." House History, Virginia House of Delegates. 2020. Web. Accessed July 21, 2020. https://history.house.virginia.gov/members/7426
4. R. Eugene Harper. "Kanawha County." e-WV: The West Virginia Encyclopedia. Web. Accessed July 21, 2020. https://www.wvencyclopedia.org/print/Article/1103
5. Story, Chad. "Spicer Patrick." 2010. West Virginia Department of Arts, Culture and History. Web. Accessed July 21, 2020. http://www.wvculture.org/history/sesquicentennial/patrickspicer.pdf
6. Atkinson, George W. History of Kanawha County. Charleston: West Virginia Journal, 1876. Digitized. https://www.findagrave.com/memorial/107789520/spicer-patrick#view-photo=82498738
Image Sources
Find A Grave, https://www.findagrave.com/memorial/107789520/spicer-patrick#view-photo=82498738

Additional Information