Thurgood Marshall Memorial Statue
Introduction
The Thurgood Marshall Memorial Statue, erected in 1996 by the state of Maryland, was commissioned by Governor Parris Glendening and sculptured by Maryland sculptor Antonio Tobias Mendez. Mendez was one of several artists who took part in a national design competition put together by the state of Maryland (his winning design is included below). The statue stands as a tribute to the great civil rights leader and jurist, one of the 20th century's most noted advocates for equal rights under the law. The statue is situated in State House Square, a square that was named to commemorate the 200th anniversary of the Court of Appeals of Maryland. Within the square is a chronology of the important events in Marshall's remarkable life.
Images
Antonio Mendez's Winning Design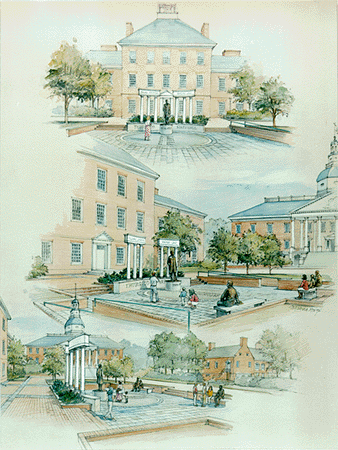 Wide Shot of the Sculpture at State House Square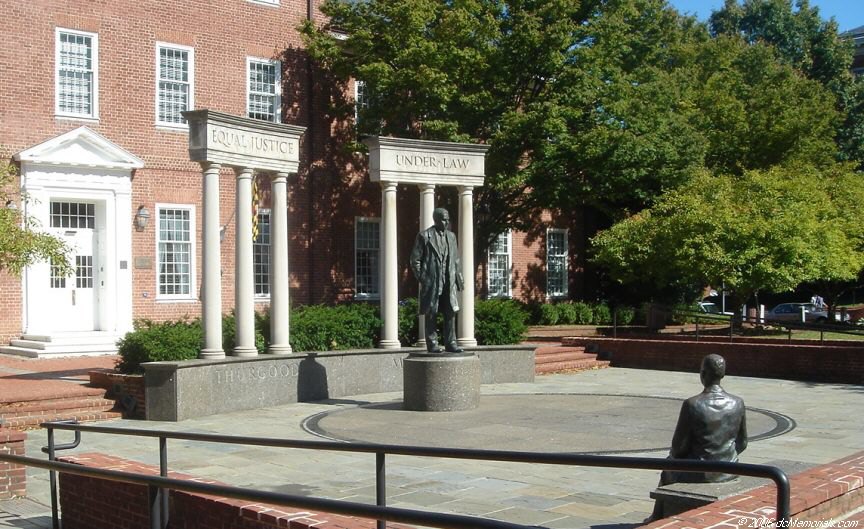 Backstory and Context
Thurgood Marshall was an Associate Justice of the United States Supreme Court from 1967 to 1991 and he was also its first African-American justice. Marshall is a native of Maryland and attended Frederick Douglass High School in Baltimore. He then studied law at Howard University after which he moved to New York and served as chief counsel for the NAACP. In 1954, he argued against segregation in school in the landmark case of Brown v. Board of Education. Marshall's record before his nomination to the United States Supreme Court in 1967 was a stellar one. He won 14 of the 19 cases he argued before the Supreme Court as the U.S. solicitor general; his record 14 wins stand as the most won by any American.

A year after Marshall passed away and exactly 40 years after the Supreme Court's decision, Governor Glendening signed an Executive Order establishing a commission to install a statue to commemorate the life and works of Thurgood Marshall. Upon completion of the project, the Commision on Artistic Property took over and is currently responsible for the preservation and conservation of the sculpture. The sculpture's dedication was attended by Justice Marshall's wife Cecilia and other members of his immediate family.

The 8-foot statue depicts Thurgood Marshall as a young lawyer with pillars behind him that read "Equal Justice Under Law". In front of the statue are two benches. Seated at one of the benches are two children who represent Marshall's most important case, Brown v. Board of Education. On the other bench seats Donald Murray who was denied admittance into the University of Maryland's Law School. His case marked Marshall's first important victory in his struggle for school integration that would culminate in the above-mentioned Brown v. Board of Education case. Interestingly, the spot on which the statue is situated is precisely where the Court of Appeals stood in 1935 when Marshall represented Murray in the Murray v. Pearson court case.


Sources
"Thurgood Marshall Memorial Statue," State of Maryland, accessed November 25. 2014, http://msa.maryland.gov/msa/stagser/s1259/121/6259/html/0001.html "Thurgood Marshall Biography," George Mason University, accessed November 25. 2014, http://chnm.gmu.edu/courses/122/hill/marshall.htm
Additional Information