Mary H. and Oscar G. Burch House
Introduction
The Mary H. and Oscar G. Burch House was built around the corner from the home of Oscar's brother, Nelson Burch (also a Clio listing) in 1869. This house has also been known as the Sandy House or the Smith House. The gable end of the house is the front of the house, facing Jefferson Street. The house is on high ground on a level lot. The house, like his brother's, was built of brick in the Italianate style, with influences of the simplicity and craftsmanship of Missouri-German vernacular architecture. The couple lived in this house until their deaths in 1916 and 1928. Both houses are part of the National Register Munichburg Historic District and were documented for listing in the National Register in 2002.
Images
2002 photo of front and side of Mary and Oscar Burch House (Beetem)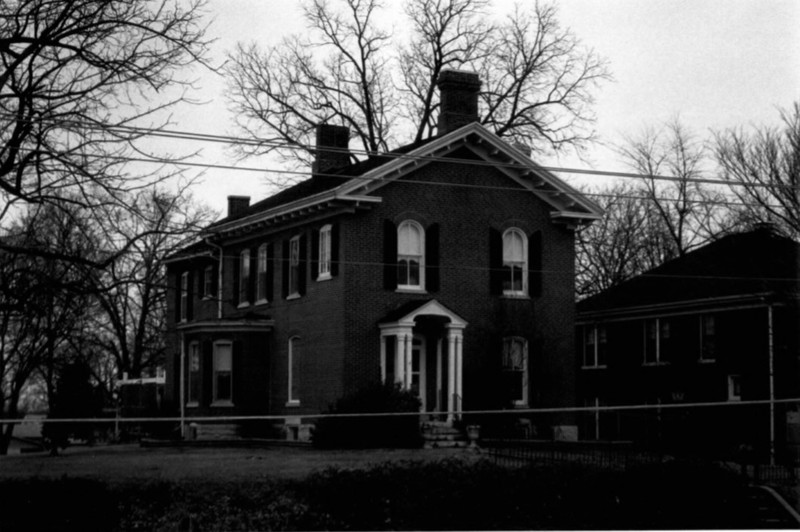 Sketch of floor plan of first floor of Mary and Oscar Burch House in 2002 (Beetem)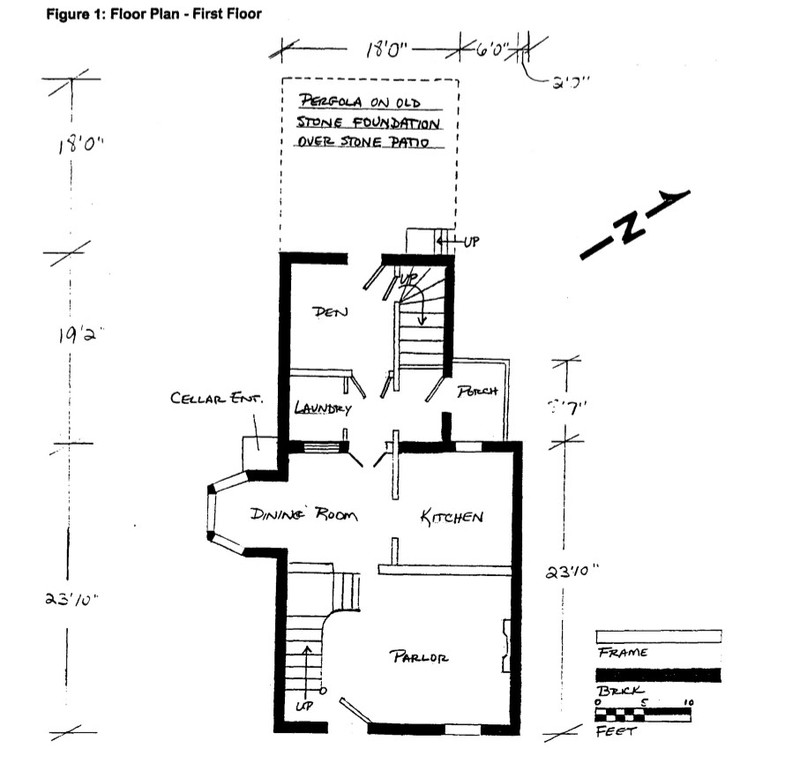 Photo of pergola and rear of Mary and Oscar Burch House (Beetem 2002)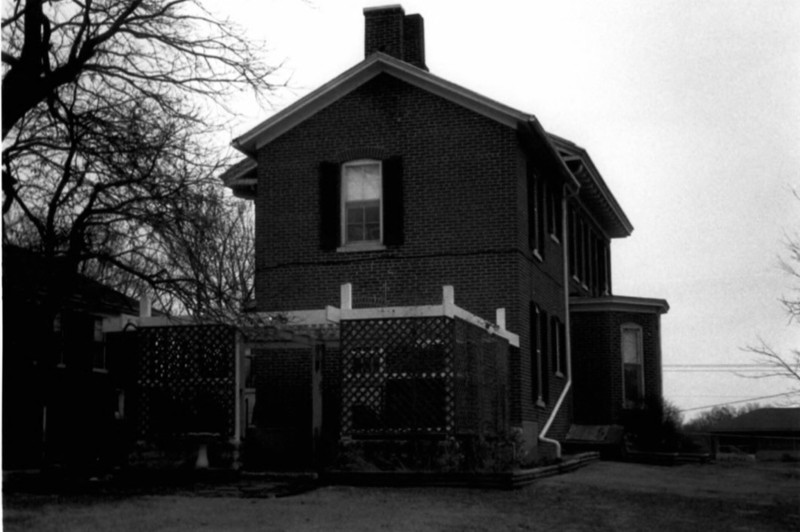 Photo of rear and side of Mary and Oscar Burch House in 2002 (Beetem)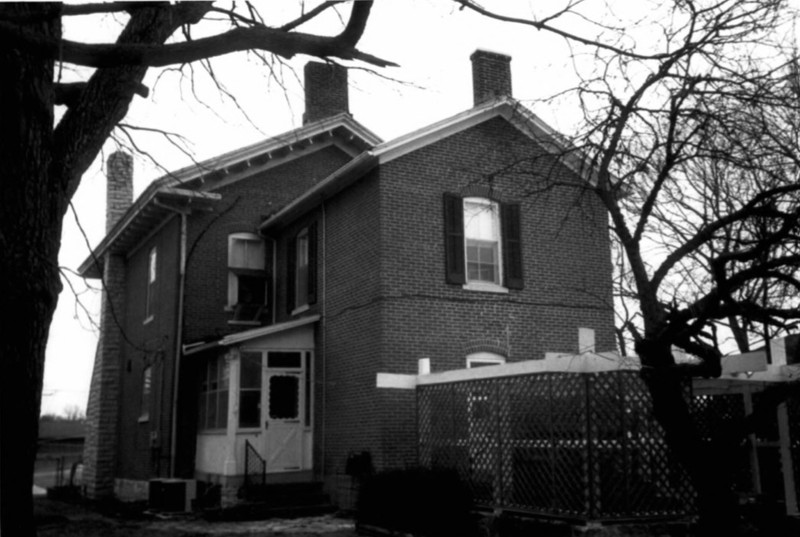 Staircase inside Mary and Oscar Burch House in 2002 photo (Beetem)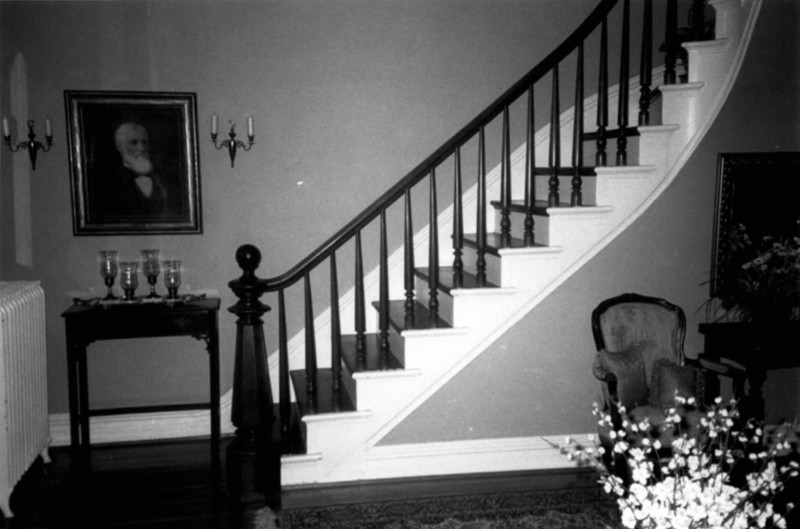 The Mary H. and Oscar G. Burch House was built in 1869.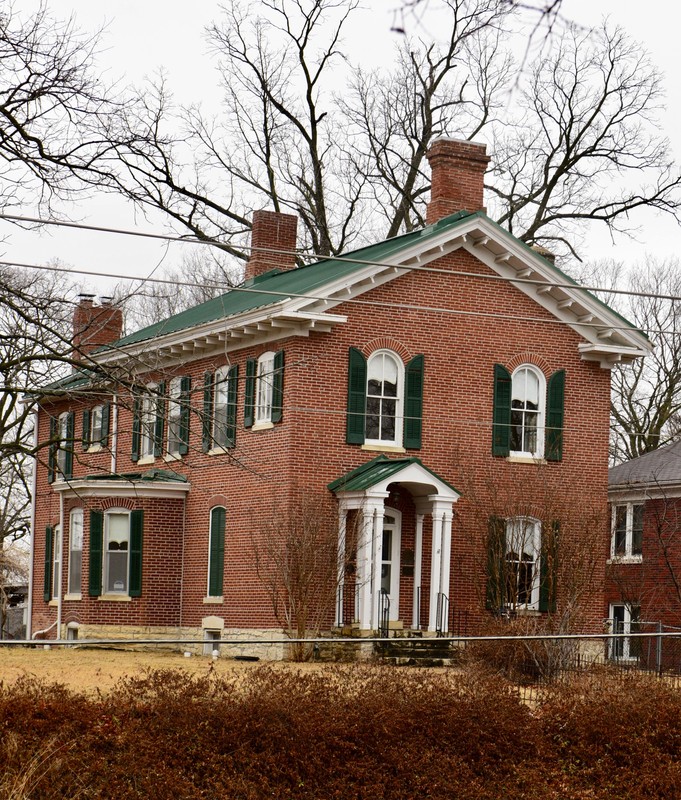 Backstory and Context
The round arched windows and wide eaves decorated in brackets mark the Italianate style of the Mary and Oscar Burch House. The German-inspired touches are the unpainted red brick walls and segmentally arched windows with wooden shutters. The original house is a two-story house located to the rear of the current house, facing the Capitol, and may be even older than 1869. The house rests on a limestone foundation and the roof is standing seam metal pierced by four chimneys (three of brick along the ridge peaks and one exterior of stone).
The house yard, set back from the road at the top of a long set of steps, is surrounded by a wrought iron fence. A garage that would have been a carriage house may date to around 1869 as well and is a contributing structure to the National Register nomination. Just inside the front door is a dramatic, sweeping staircase of walnut with evidence of careful craftsmanship. The front door opens directly into the parlor, with an original mantel. A small round abject visible about five feet off the ground in some locations is an historic speaker system, where folks could communicate with one another on separate floors. The house contains much of the interior integrity and has retained its function as a single-family dwelling.
Oscar Goodburn Burch was born in New York State in 1841 and moved with his family to Kentucky, Missouri, and then settled in Keokuk, Iowa. He enlisted in the Union Army in 1862, in the 19th Iowa Infantry, and fought in a number of battles in the Midwest. He spent some time as a prisoner of war and was honorably discharged in 1865. Soon afterwards, Burch came to Jefferson City, where his brother, Nelson, was located. Oscar was made the State Librarian and later served as deputy to Nelson, the clerk of the Supreme Court of Missouri. Oscar married Mary E. Hart, a girl from back in Iowa, in a ceremony in Kentucky in 1866. Mary and Oscar had five children. Oscar later went into the real estate and insurance business with two of his sons, Nelson C. and Edson.
Oscar worked with his brother in Nelson's newspaper, the State Journal. Oscar also contributed stories to the St. Louis Globe-Democrat. In the 1870s and 1880s, Oscar became postmaster, and then a bookkeeper for the First National Bank. In 1916, Oscar died in Jefferson City at age 74 and was buried in Riverview Cemetery. Mary followed in 1928.
Sources
Beetem, Jane Rodes. National Register Nomination for Mary H. and Oscar G. Burch House. National Register. Washington, DC. National Park Service, 2002.
Parenteau, Mary Legg. Oscar Goodburn Burch (1841-1916), Find A Grave Memorial. March 17th 2009. Accessed March 27th 2020. https://www.findagrave.com/memorial/34936921/oscar-g_-burch.
Image Sources
https://dnr.mo.gov/shpo/nps-nr/02001301.pdf

https://dnr.mo.gov/shpo/nps-nr/02001301.pdf

https://dnr.mo.gov/shpo/nps-nr/02001301.pdf

https://dnr.mo.gov/shpo/nps-nr/02001301.pdf

https://dnr.mo.gov/shpo/nps-nr/02001301.pdf

Wikimedia Commons: https://en.wikipedia.org/wiki/File:Oscar_G._and_Mary_H._Burch_House.jpg

Additional Information