A. E. Larson Building
Introduction
Designed by architect John W. Maloney, the historic A. E. Larson Building remains one of Yakima's most prominent landmarks. The eleven-story building was erected in 1931—the city's first skyscraper—and is a fine example of Art Deco architecture. It is named after its builder, businessman A.E. Larson, who believed that the building was necessary to further Yakima's economic growth. It continues to be an important office building today. It was added to the National Register of Historic Places in 1984 for its Art Deco architecture and impact on the city's development.
Images
The. A.E. Larson Building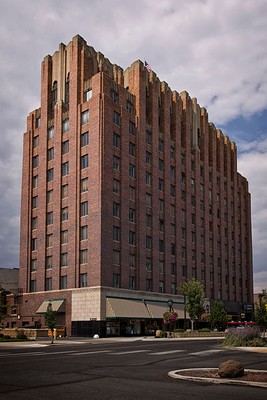 Backstory and Context
Architecture
The building exhibits a number of interesting features. These include setbacks on the top floors; a salmon-colored brick facade with trim consisting of various types of materials including granite, terra cotta, and bronze; and a main entrance with panels of bronze grillwork above the doors. The interior boasts an ornate main lobby, featuring a terrazzo and marble floor, Black and white Italian marble walls, bronze elevator doors with floral and geometric designs, and stained glass windows above the interior doors of the main entrance.
A.E. Larson
A.E. Larson was born in Minnesota and first came to Washington in 1884. He worked in the lumber industry before settling in Yakima in 1891. There, he started his business career by investing in a local lumber yard. In the coming years, he would make additional investments. Eventually, he started to erect a number of buildings as including the Yakima Opera House (originally called Larson's Theatre and currently closed as of March 2020) and the Donnelly Hotel. Larson also became involved in other activities as well. He was vice president of the Yakima First National Bank, president of the Sunshine Mining Company, and even owned a Ford franchise. He advocated for increased irrigation of the Yakima Valley, served as chairman of the local Democratic committee, was a founding member of the Chamber of Commerce, and served as president of the Yakima Rotary club. He died in 1934.
Sources
Lentz, Florence. "A.E. Larson Building." National Park Service - National Register of Historic Places Nomination Form. September 11, 1984. https://npgallery.nps.gov/GetAsset/4381144c-98b9-4534-9aaa-f1fdcc981b93.
Ward, Leah Beth. "Larson Building lobby is a gateway to grandeur." Discover Yakima Valley. Accessed March 28, 2020. http://www.discoveryakimavalley.com/annual2012/larson-building.html.
Image Sources
Steven Pavlov, via Wikimedia Commons: https://commons.wikimedia.org/wiki/File:Yakima,_WA_%E2%80%94_Larson_Building.jpg

Additional Information