Home Kitchen Garden Display
Introduction
Home and kitchen gardens were very important to families in the 1800s and 1900s: This is where the family raised their fruits, vegetables, and herbs for flavoring foods. The plots were smaller and more manageable than larger farms. Children were tasked with weeding, harvesting the gardens yields, bringing produce inside for washing and meal preparation. Our volunteer-led demonstration garden uses a "four square" design with raised beds. This allows for soil to thaw faster after the winters freeze so that planting can start earlier in the spring. The areas outside the fence grow herbs that would have been used for medicinal purposes and for cooking. They were used fresh, or tied in bunches and hung inside the Summer Kitchen to dry. This design is inspired by gardens used in the Pennsylvania Dutch tradition in Lancaster County, Pennsylvania. The Netzley Family immigrated to Lisle from that region and would have brought this farming practice with them. Gardeners of the past were fairly clever when it came to keeping their plants watered – and they still are! See if you can spot some of the ways that our gardeners help our plants to grow.
Images
Netzley/Yender House and Garden with Yender hay rake (bottom left)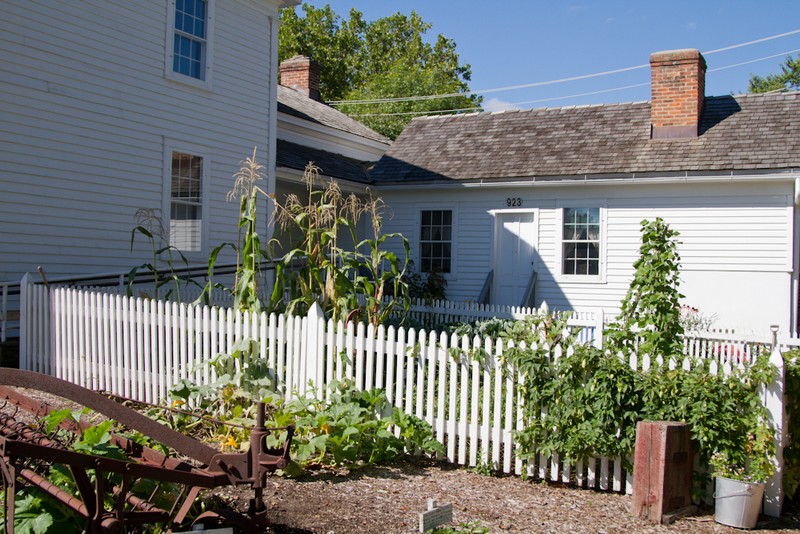 Volunteers tend and harvest the garden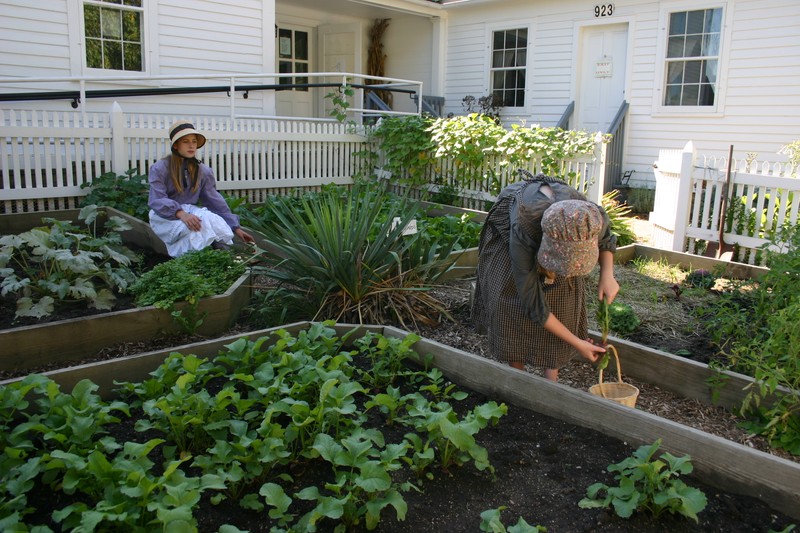 A four-square garden has four equal areas with different plantings and space between to walk and work. Notice the original water hand pump (left).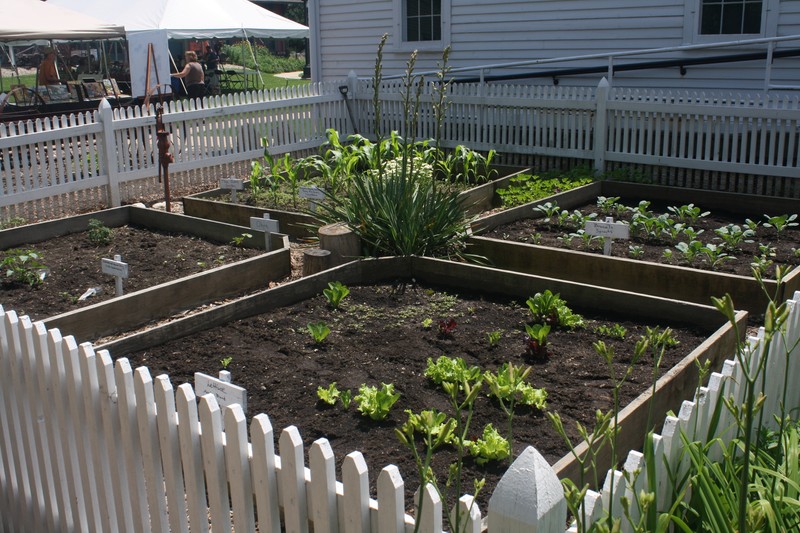 Herbs for flavoring food are planted outside the garden fence. These plants are used fresh or dried by hanging up in the Summer Kitchen.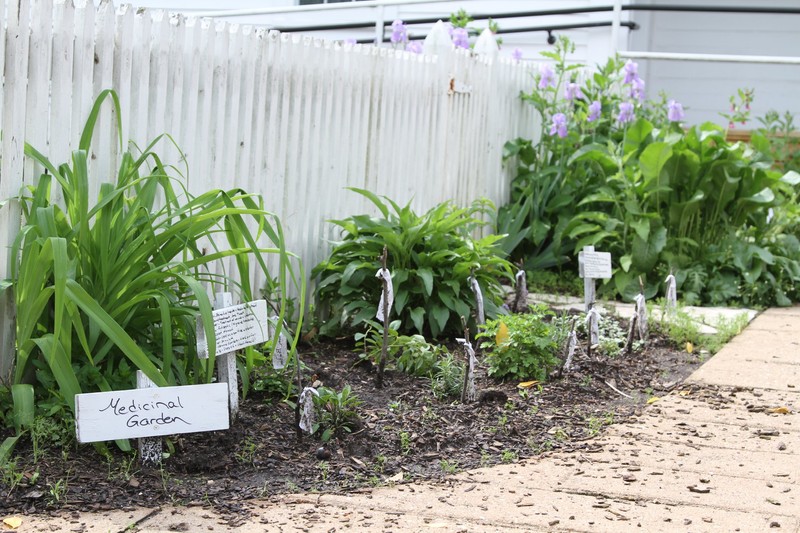 Yender family recipe for berries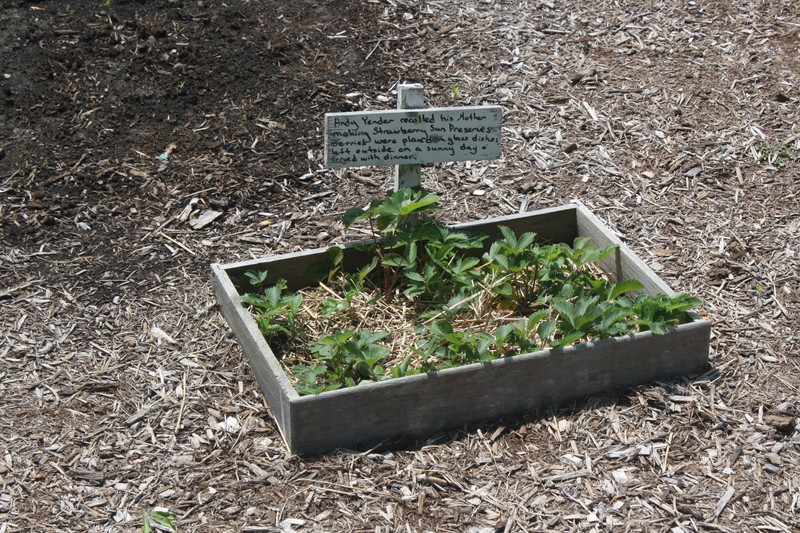 Yender family recipe for berries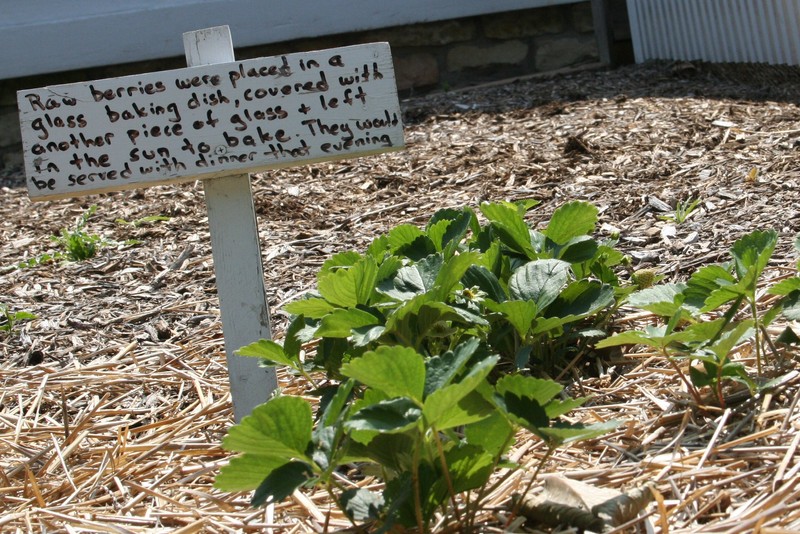 Backstory and Context
Four-Square Home Garden 
The home garden was an important fixture in daily life for centuries and before grocery stores became a universal community staple. A family grew as much food for their family as they could in their home gardens each year to make sure they had enough to eat. These plots were much smaller and more manageable than a larger farm, which was more time-intensive, labor-intensive, and typically more specialized. Home gardens grew vegetables, fruits, and herbs for flavoring foods as well as home medical remedies. Adults in the family, specifically the mother or oldest woman, would manage the garden and children would water plants and help to harvest. The father or oldest man in the family was usually tending the larger farm fields or doing other trade work to bring in money for the family, such as Blacksmithing or construction.
Our home garden exhibit is a four-square setup with an herb garden along the outside of the fence. This orientation contains four equal sized plots with tiny aisles between them. This allows us to pair plants that grow well together and access all planting areas without stepping on them. 
Our garden also contains a self-watering system: glass jars are buried in the ground and filled with water. Cotton strips are placed with one end inside the jar and the other end buried near the plant roots. The cotton strips absorb water from the jars, and the soil absorbs water from the cotton strips. You can try this in your own garden at home! 
Volunteers tend the garden all year long by planting historically accurate types of seeds, harvesting the yields produced, and wintering it for the cold season.
Sources
Resources collected and researched by The Museums at Lisle Station Park (MLSP) staff and volunteers
Additional Information