"Detroit's Own Polar Bears" in Northern Russia
Introduction
During the end of WWI, the "Detroit's Own Polar Bears" was the name of a U.S. regiment troops who were soldiers that deployed to Northern Russia. Even though the U.S. did not send these troops to Russia for a war of their own. Instead the troops were sent to assist allies in Russia by providing, securing, and recovering supplies and equipment for Russia's forces. Russia was in desperate need for assistance with maintaining standing ground against Germany and the Central Powers. This monument is to remember the soldiers who fought through harsh cold winters, with temperatures lower than 60 degrees, and some have lost their lives to help another country in need.
Images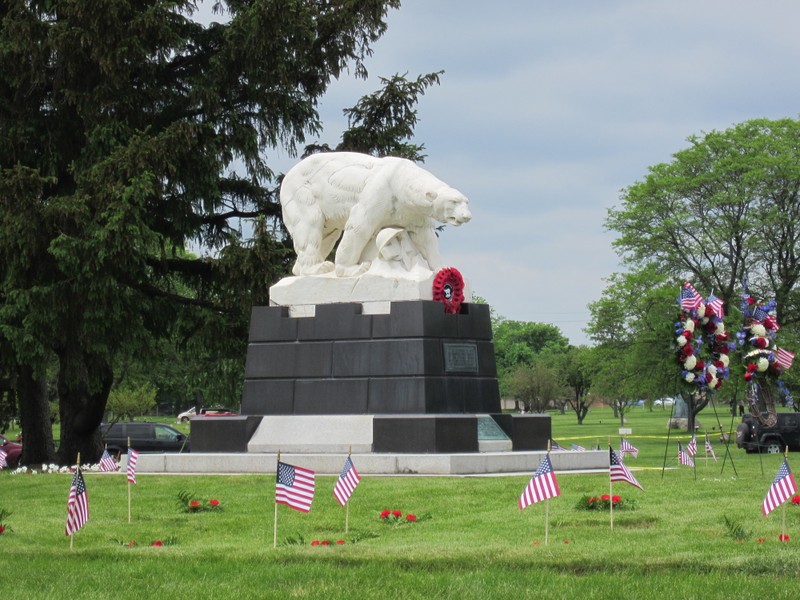 Route Plan used for the Missions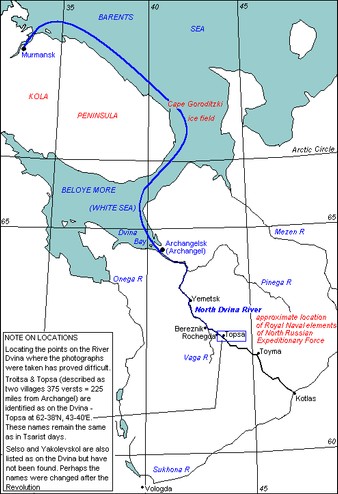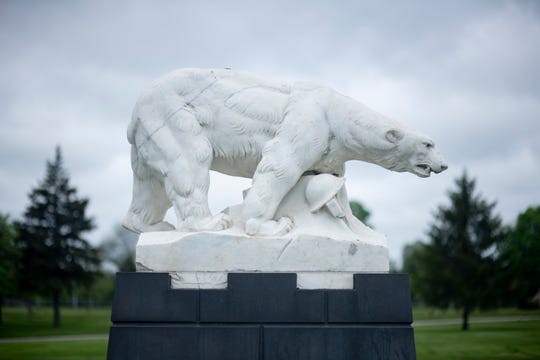 Backstory and Context
The Memorial
The marble Polar Bear statute has 56 former Polar Bear soldiers buried near it who are remembered for their courageous effort that was used to fight beside Russia. The 56 soldiers buried at this monument does not include the rest who lost their lives to these battles. The U.S. has record of 106 soldiers who died in battle, along with at least 109 soldiers lost due to either illness, and simply just missing. The 90th annual service occurred on Memorial Day in 2019 that contained hundreds gathered in the remembrance of these soldiers.
Who
The regiment consisted of Infantry, Engineers, Hospital and Ambulance companies that were sent to Russia.
The Troops' Purpose
The training that these troops went through was for the purpose of fighting in WWI but there was a change of plans. The "Detroit's Own Polar Bears" was the nickname for the small troops from the U.S. that stood by Russia when they were in need. It might seem that these U.S. troops were just 5,000 supply men but they had a few objectives to complete. Although there was not one set mission, President Wilson sent these small troops to ally with the forces of Russia to complete these objectives in 1918.
One of the first goals these troops had to complete was to help the anti-Communist Czechoslovak Legion regain equipment that was needed to defend against the communists aka the Reds (Bolsheviks). The Polar Bear soldiers had to defend the supplies that were hidden in areas such as Archangel and Murmansk. Russia forces were in the brim of losing the war against the communists due to high number of deaths of Russian soldiers in 1914 when they used all assets against the Central Powers. The Polar Bears main goal was to secure the supplies that was sent to Russia by the U.S.
Sources
Priest, Michael . "Detroit's Own Polar Bears" in Northern Russia, MHUGL. October 15th 2016. Accessed March 31st 2020. https://ss.sites.mtu.edu/mhugl/2016/10/14/detroits-own-polar-bears-in-northern-russia/.
Rubin, Neal. "'Polar Bear' Memorial in Troy marks a largely forgotten GI mission in WWI Russia." The Detroit News May 27th 2019. .
Image Sources
http://ss.sites.mtu.edu/mhugl/wp-content/uploads/2016/10/IMG_3661.jpg

https://ss.sites.mtu.edu/mhugl/2016/10/14/detroits-own-polar-bears-in-northern-russia/

https://www.detroitnews.com/story/news/local/michigan/2019/05/27/polar-bear-memorial-world-war-i-russia-troy/3745930002/

Additional Information