World War I Monument
Introduction
The World War I Monument faces East University Avenue in Burke Memorial Park, just east of the river crossing and north of East Sixth Street. Concrete steps lead up from the street to the pink Balfour granite monument. The monument was created by the well-known sculptor Charles Henry Niehaus (1855 - 1935) and was installed in 1925. The striking bronze relief sculpture features an angel recording names of those who died in the war, and the son of a deceased soldier. The monument is dedicated to all of the men and women of Polk County who died in World War I.
Images
2016 photo of WWI Monument in Des Moines by Carol Highsmith, Library of Congress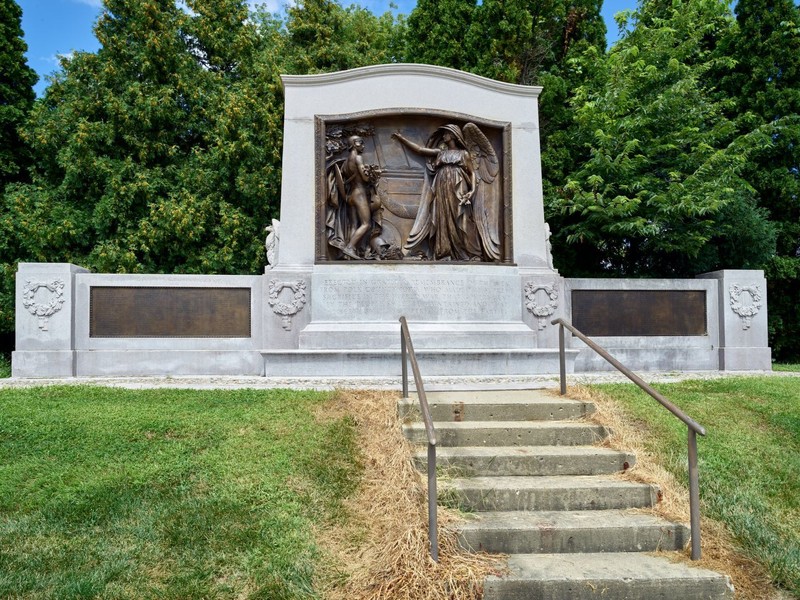 Photo of Charles Henry Niehaus in 1896 (photographer unknown, Lib. of Congress Prints & Photographs Division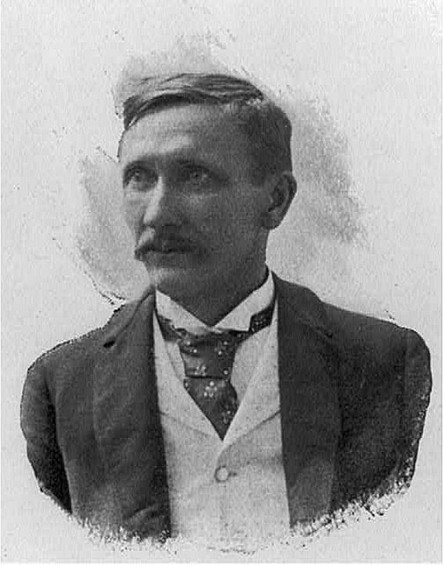 Backstory and Context
The Polk County World War I Memorial in Burke Memorial Park was created by the artist Charles Henry Niehaus. Niehaus was bornin Cincinnati, Ohio and did part of his artistic training in Germany at Munich's Royal Academy of Fine Arts. After he returned to Cincinnati in 1881, he was commissioned to create a number of statues. Some of his statues are displayed in the U.S. Capitol Building's Statuary Hall, including those of James A. Garfield, the U.S. president who had recently been assassinated; Henry Clay; and Oliver P. Morton. Niehaus also created different memorials for World War I on display in cities including one in Lincoln Park, Newark, New Jersey (1923).
One of the bas relief bronze figures are the Recording Angel, writing the names of the warrior fatalities into the Book of Necrology. In the other, a young man places his father's helmet and gun at the Nation's altar. About 115,000 Iowans served in the armed forces during World War I; over 3,500 did not survive the war. Many of them trained at Camp Dodge, a few miles north of Des Moines. Over 700 Iowan soldiers and nurses who died in Europe during the war are buried in France. One of the fallen was Captain Edward Fleur of Des Moines, who was killed in France in a German gas attack on October 21, 2018. Fleur was a Swedish immigrant who joined the National Guard in 1898. He married an Iowa girl of Swedish ancestry, Minnie Larson, in 1903. The widowed Mrs. Larson, a prominent member of the local community, helped to bring the remains of her husband and 40 others back to the U.S. from France for burial. She worked for Polk County until her death in 1930 and was instrumental in having this memorial constructed. A special exhibit on the war to mark its centennial was created by the State Historical Museum of Iowa in 2018, including items donated by the descendants of Captain Fleur.
Agriculture flourished in the state during the war, supplying corn, beef, and pork. Rationing was instituted during World War I and people were encouraged to grow Victory Gardens. Locals of German descent - a common heritage in Iowa - were sometimes persecuted. Ironically, Niehaus was the son of German immigrants.
Burke Memorial Park is under the jurisdiction of Des Moines Parks and Recreation, and contains picnic tables, a playground, tennis courts, a wading pool, and restrooms on nearly two acres.
Sources
Ferrall, Sharall. Memorials: W.P.A. Guide to 1930's Iowa World War Memorials , Iowa in the Great War 1914 - 1919. Accessed April 8th 2020. http://iagenweb.org/greatwar/memorials/iamemo.htm.
Gehr, Danielle. "WWI casualties exhibit honoring more than 4,000 Iowans to open in Des Moines." Des Moines Register (Des Moines, IA) May 25th 2018. online ed, News sec.
Greater Des Moines Public Art Foundation. World War I Monument, Charles Henry Niehaus, Public Artwork. January 1st 2019. Accessed April 7th 2020. https://dsmpublicartfoundation.org/public-artwork/world-war-i-monument/.
Greater Des Moines Public Art Foundation. Charles Henry Niehaus, Artist. January 1st 2019. Accessed April 7th 2020. Greater Des Moines Public Art Foundation. Accessed April 7th 2020. https://dsmpublicartfoundation.org/artist/charles-henry-niehaus/.
Image Sources
https://www.loc.gov/item/2016630112/

https://en.wikipedia.org/wiki/Charles_Henry_Niehaus#/media/File:Charles_Henry_Niehaus_1896.jpg

Additional Information