Private John L. Callicoat
Introduction
Private John L. Callicoat; Born 2 Oct 1888 – Scottown, OH; Died 4 Oct 1918 – France; Co. K, 336th Infantry Regiment, 168th Infantry Brigade, 84th Division - US Army
Images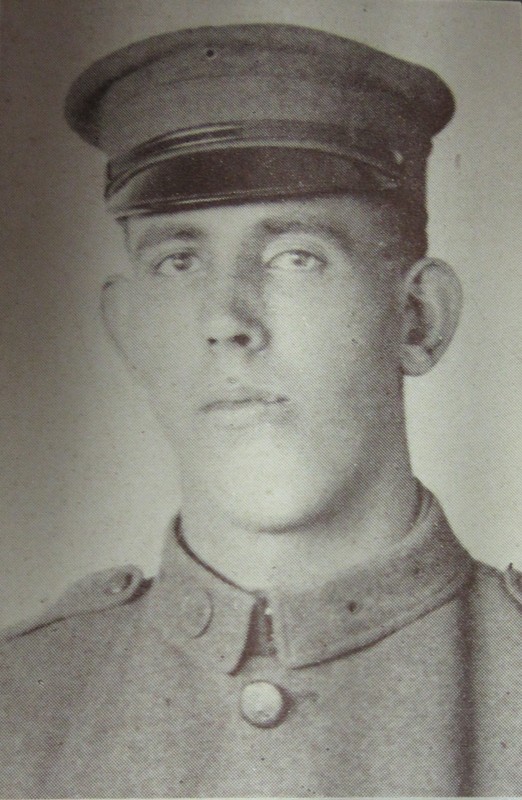 Backstory and Context
John L. Callicoat was born on October 2nd, 1888, in Scottown, Ohio, to H.F. and Barbara Callicoat. He enlisted on February 1st, 1912, and was assigned to Company I of the 7th Infantry Regiment, 3rd Division, US Army, by November 1st. He was discharged with the rank of Artificer (mechanical expert) on February 20th, 1915. He married Olga Callicoat, lived in Proctorville, Ohio, and worked as a farm laborer. He entered service again on July 22nd, 1918, and was sent to Camp Sherman, Ohio, for training. He was a Private, serial number 3534735, in the 29th Company of the 8th Training Battalion, 158th Depot Brigade at Camp Sherman until August 19th, 1918, when he was transferred to Company K of the 336th Infantry Regiment, 168th Infantry Brigade, 84th Division, US Army. He sailed for France on September 9th, 1918, and, not long after arrival, contracted pneumonia, dying on October 4th, 1918, (2 days after his 30th birthday) in France. However, it was said at home that he died in the sinking of the SS WARILDA:
PROCTORVILLE BOYS KILLED
NAME OF YOUNG OHIOANS APPEAR IN CASUALTY LIST…
John Callicoat Lost in Sinking of Warilda
The names of two Proctorville, O., boys appear in the casualty list today….
John Callicoat was lost in the sinking of the steamship Warilda. His next of kin is given as Mrs. Olga Callicoat, Proctorville.
 – Huntington Herald-Dispatch, November 14th, 1918
In fact, this hospital ship was sunk by a submarine on August 3rd, 1918, so this is definitely a mistaken report. His remains were sent home from Bordeaux on the USAT WHEATON on November 29th, 1920, arriving in Hoboken, New Jersey, on December 15th. He was buried in Pleasant Ridge Cemetery, Proctorville, Ohio.
[From In the Service of Their Country - used with permission of the author]
Sources
Woodard, Benjamin. In the Service of Their Country: The Story of the Soldiers from Cabell County, West Virginia, Who Gave the Ultimate Sacrifice in the Great War. Sixth Printing. Benjamin Woodard - Lulu, 2019.
Image Sources
The Honor Roll of Cabell County - Author's Picture (Benjamin Woodard)

Additional Information