Dr. Lawrason Brown Office and Residence
Introduction
The Lawrason Brown Office and Residence is a Colonial Revival house which was extensively remodeled in 1907 by Scopes and Feustmann for Dr. Lawrason Brown. Dr. Brown was the resident physician at Trudeau Sanatorium from 1901 to 1912. The living space was upstairs, and Dr. Brown's offices were on the left side of the ground floor. On the second floor was a large library that was used as the living room. There were two maids' rooms on the third, half-floor. The cellar contained Dr. Brown's laboratory and X-ray developing room. Dr. Brown lived in the house until his death on December 26, 1937. His wife stayed on until her death in 1956. The house was converted to four apartments by Evelyn Morgan and John E. Morgan, who bought the house from the Brown estate in 1956.
Images
Dr. Lawrason Brown Office and Residence (c. 2018)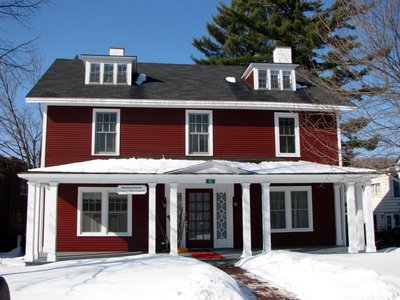 Sources
Lawrason Brown Office and Residence , Historic Saranac Lake Local Wiki. Accessed April 9th 2020. https://localwiki.org/hsl/Lawrason_Brown_Office_and_Residence.
Additional Information