Rachel Carson Historical Marker
Introduction
Rachel Carson, environmentalist, humanitarian, and author was born May 27th, 1907 in Springdale, PA and died on April 14th, 1964 in Silver Spring Maryland. Carson's roots came from Allegheny County where she grew up seeing pollution emitted by factories in Pittsburgh and had a love of nature instilled in her by her mother. She harnessed this passion and became one of the most notable environmentalists in human history. She is famous for writing her novel Silent Spring, which detailed the harmful effects the chemical pesticide DDT had on human life and nature. She started an environmental movement and improved the health of millions of Americans across the country. A historical marker honors Carson on Pittsburgh Street & Colfax Street in Springdale to remember her small-town roots and how she became a globally known name.
Images
Rachel Carson and her most famous book, Silent Spring. It detailed why the harmful pesticide DDT was toxic to the environment.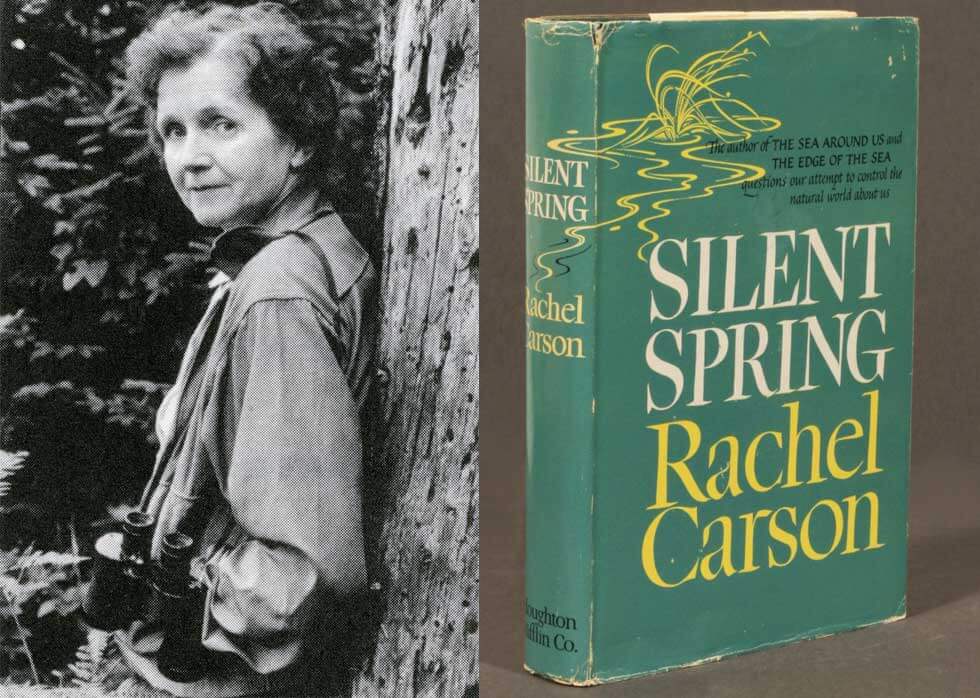 Rachel Carson Homestead. This is the same house that Carson grew up in many years ago.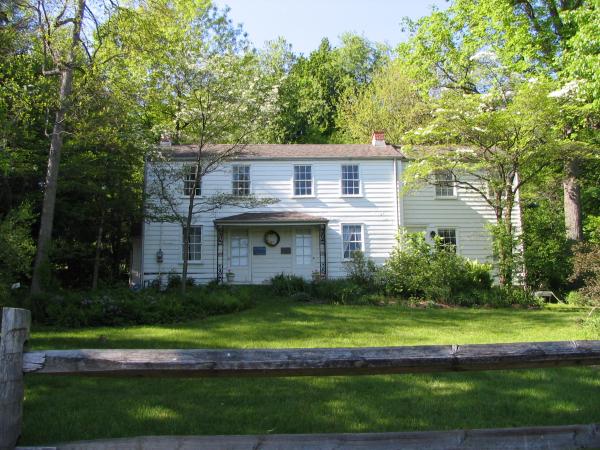 Rachel Carson doing research that helped to find why the chemical DDT was so harmful to human health.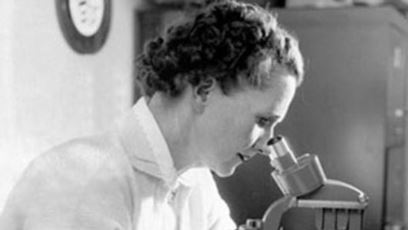 Rachel Carson Historical Marker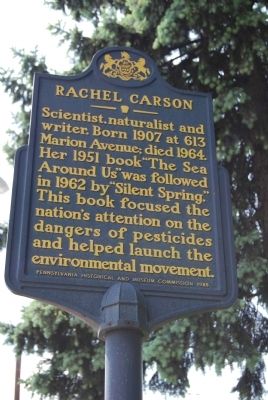 Rachel Carson reading another book about nautre, and how to preserve it.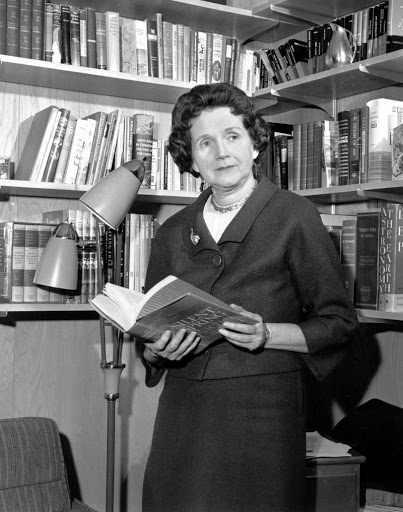 Rachel Carson examining a specimen during her time as a marine biologist.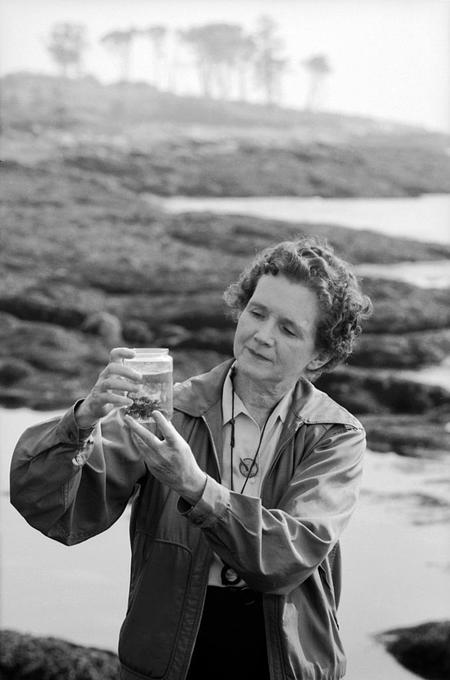 Rachel Carson testifying before Congress about why DDT should be banned from all use in the agriculture and big business industry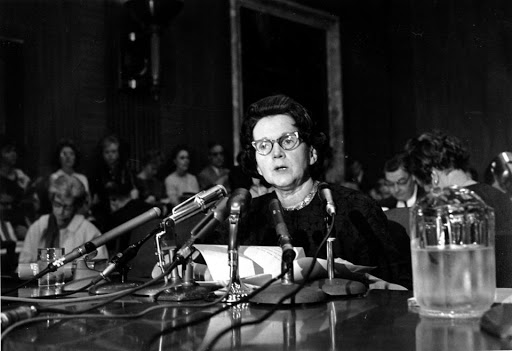 Backstory and Context
      Rachel Carson was known for many things throughout her lifetime. A bright student who turned her passions of writing and environmental science into her career that changed lives for people all over the globe. However, she started off as just a small-town girl that grew up to impact the nation. Rachel was born May 27th, 1907 in Springdale PA which is a part of Allegheny County. The house that she grew up in is now the Rachel Carson Homestead. The family lived here until the 1930's when they moved to Baltimore, but this four-bedroom rustic home is being preserved in Springdale PA. The current Homestead Association that maintains the house emphasizes the importance of it as it is the place where "Carson lived the early years of her life, where her sense of wonder was nurtured, and where the seeds of her environmental ethics were planted (Rachel Carson Homestead)."
           Growing up in Pennsylvania already gave Carson an advantage about knowledge on nature and wildlife. In her town of Springdale, it's said that Rachel could see the Alleghany river from her bedroom. Not far from the city of Pittsburgh, she noticed the pollution in the air that was emitted by factories and instinctively knew how bad that was for the environment. Her love of nature was instilled in her by her mother, and Carson would always be playing outside and exploring the land around the Homestead they owned. Rachel fell in love with nature, and how to take care of it. She harnessed this passion with the help of her mother and received a scholarship to Pennsylvania College for women, (Now Chatham University located in Pittsburgh PA), and intended to major in English, but changed it to Biology. After graduating in 1929, she attended John Hopkins University to get a degree zoology which she then graduated from in 1932. Rachel was a bright student who took her love of nature from her small homestead and put it towards an education where she would make discoveries that changed the world.
           Her career landed her in Massachusetts, becoming one of the first of two women to be hired by U.S. Bureau of Fisheries as a researcher and science writer. She also did freelance writing on the Chesapeake Bay topics for various publications including The Baltimore Sun. This is how she made her income, by writing about her passion of nature. It was a small income, but she was supporting her family and also expanding her knowledge of nature. During her time with the government's federal service she began to write books of her own. It started with Under the Sea-Wind and then her next book published in 1951 The Sea Around Us. These books gave Carson financial stability and recognition as a scientist. It was published after WWII and it was about the evidence of life and how the earth, moon and oceans formed along with their processes that make earth habitable. These novels paved that way for her most notable one published in 1962 called Silent Spring. Rachel was concerned with the disappearance of songbirds and analyzed the correlation of their disappearance with widely used chemical pesticides. 
           In Silent Spring Carson explained how DDT and other synthetic chemicals were killing far more species than they had targeted. She noticed the chemical remained in the air for years, and they were not only toxic to insects, but to all wildlife including humans. She stated, "For the first time in history, every human being is now subject to contact with dangerous chemicals from the moment of conception until death (Carson)". DDT was introduced during WWII as an effective way to kill insects that would eat farmer's crops. People were alarmed to read and hear about Carson's findings. However, the Chemical industries came after her and tried to discredit her work. She even had to bring her findings to Congress in 1963 to protect human health and the environment. She could not be disproved, and eventually in 1963 President Kennedy began to pass laws that made the use of the chemical DDT illegal. Rachel Carson was just a small-town girl who grew up running around the woods and playing in the river and had just single handedly taken down corrupt chemical industries that were violating the ethics code of protecting the people they serve.
           On April 14th, 1964, Rachel Carson passed away from a long battle with breast cancer in Silver Spring Maryland. She was only fifty-six. Carson was a writer, scientist, humanitarian, conservationist, and environmentalist. She noticed the changes in nature and linked them to the harmful chemical DDT. Carson died at a relatively young age, but her name still lives on and there are many organizations that honor her name and her legacy. A few of those institutions are The Rachel Carson Institution, The Falk School of Sustainability, and The Rachel Carson Center for the Environment and Society. Her goal was for human beings to see that we must take care of the earth for we aren't the only ones who live here, and it gives us the great gift of life. Carson started an environmental movement that still continues to this very day and has made great strides. As a young girl she saw pollution coming from factories in Pittsburgh, and with the help of her mother on the homestead she began to learn about nature and came to love it. Carson wanted nothing more than to end pollution and preserve nature, for she saw it as a beautiful thing that should be taken care of. A historical marker was put up on Pittsburgh Street & Colfax Street in Springdale, both in 1988, to remember where Carson came from and where her roots gave way to a love for nature that changed the world. 
Sources
About , Rachel Carson Homestead. Accessed February 19th 2020. https://rachelcarsonhomestead.org/about/.
Lear , Linda. Rachel Carson, The Life and Legacy, Rachel Carson, The Life and Legacy. Accessed February 8th 2020. https://www.rachelcarson.org/.
Rachel Carson Society, The Sierra Club Foundation. Accessed February 9th 2020. https://www.sierraclubfoundation.org/node/287/giving-societies/rachel-carson-society..
Quaratiello, Arlene R. Rachel Carson: A Biography. Santa Barbara, CA. Greenwood Publishing Group, 2004.
Rachel Carson, National Women's History Museum. Accessed February 15th 2020. https://www.womenshistory.org/education-resources/biographies/rachel-carson.
Souder, William. On a Farther Shore: The Life and Legacy of Rachel Carson.. Danvers. Crown, 2012.
DeMarco, Patricia. Pathways to Our Sustainable Future: A Global Perspective from Pittsburgh. Pittsburgh, PA. University of Pittsburgh Press, 2017.
Jezer, M. Rachel Carson: Biologist and Author. New York City , NY. Chelsea House, 1988.
Rachel Carson, National Women's History Museum. Accessed February 9th 2020. https://www.womenshistory.org/education-resources/biographies/rachel-carson .
Rachel Carson, Biography. July 26th 2019. Accessed February 13th 2020. https://www.biography.com/scientist/rachel-carson..
Image Sources
https://learningenglish.voanews.com/a/rachel-carson-1907-1964-her-books-helped-launch-the-environmental-protection-movement-in-the-us-87383487/116424.html.

http://explorepahistory.com/displayimage.php?imgId=1-2-1B66

https://www.google.com/search?q=rachel+carson&tbm=isch&chips=q:rachel+carson,g_1:environmentalist:OuvrKHqUAH0%3D&rlz=1C1CHBF_enUS860US860&hl=en&ved=2ahUKEwijr_L3zLHoAhUMNd8KHf5tA6sQ4lYoAXoECAEQFw&biw=1519&bih=722#imgrc=9NVkynZzqA1PYM

https://www.hmdb.org/m.asp?m=42648

https://www.loc.gov/item/93506538/

https://www.nrdc.org/stories/story-silent-spring

http://www.environmentandsociety.org/mml/photograph-rachel-carson-testifying-congress-1963

Additional Information