McKeen Memorial Hall, 1903-1904, at Phillips Academy
Introduction
Named in honor of Philena McKeen, principal of Abbot Academy from 1859 to 1892, this building was central to the academy's attempt to enlarge the campus following the master plan of 1886. It completed the Abbot Circle, the heart of the campus. The sparse ornamentation on the exterior is likely due to a restricted budget and an effort by the architects (Hartwell, Richardson, & Driver) to design a modern building, which would be compatible with the unfashionable Romanesque style of Draper Hall. McKeen incorporated the Davis Memorial Hall, an auditorium and gymnasium. For years after the merger of Abbot Academy and Phillips Academy, McKeen was used for storage. The interior was renovated in the early 1990s and now houses administrative offices of Phillips Academy and a community day care center.
Images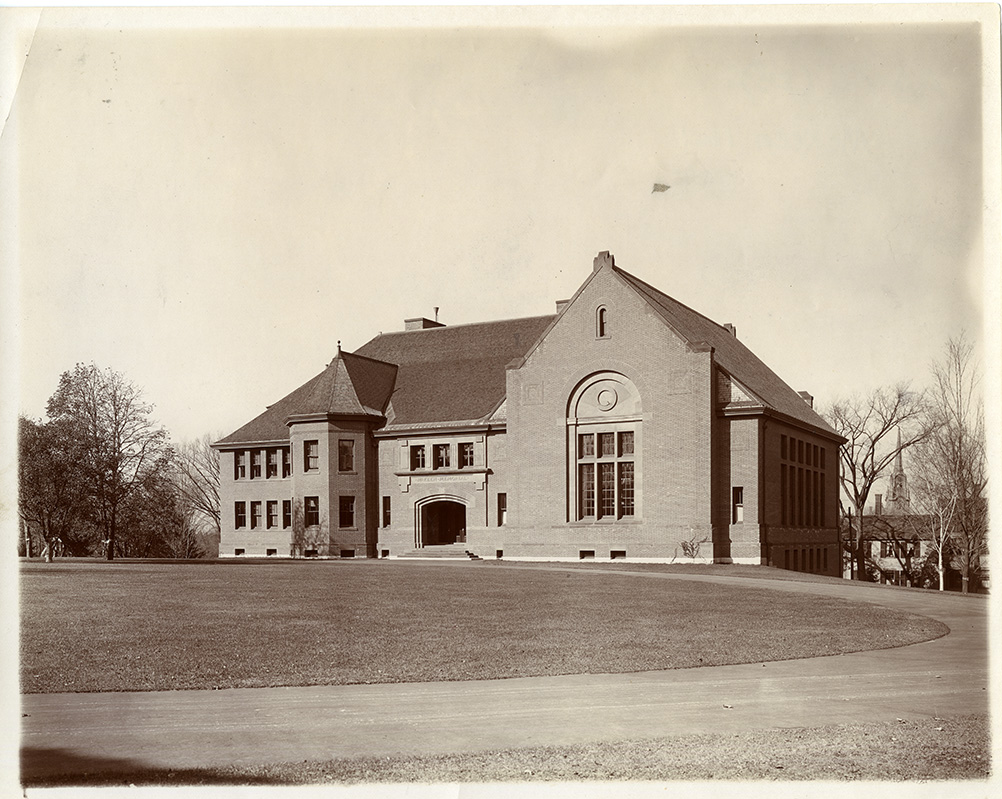 Backstory and Context
In 1859 Philena McKeen became principal of Abbot Academy, with her sister Phebe as first assistant, and led the "Fem Sem" for the next 33 years. Through the 1860s and 1870s the school expanded incrementally. By 1878, 22 acres had been acquired and landscaped with the Maple Walk and Oak Grove as key features. For Philena McKeen, the academy's late-19th-century growth was too slow. Industrialization in the United States created a prosperous white, middle class, many of whose daughters were being drawn to the more sumptuous accommodations of Smith, Vassar, Wellesley, and Bryn Mawr. To remain viable in the competition for young women, Abbot's leadership proposed a thorough redesign of the campus based on an ambitious plan by the Boston architectural firm of Hartwell & Richardson. However, the fund-raising effort the school launched in support of this renovation fell far short of the goal.
As a college education became increasingly available to women between 1892 and 1935, Abbot Academy sought to follow a dual purpose. It continued to offer its five-year Academic Course, which provided "finishing." As Philena McKeen wrote in her Sequel to Annals of Fifty Years: A History of Abbot Academy, Andover, Mass., 1879-1892, this meant education for life: "fitness for teaching, for travel, for educated society, for church work, for literary clubs, and more than all, for cultivated Christian homes." But, in addition, Abbot became a "fitting" school, introducing a four-year college preparatory curriculum for the growing number of students attracted to the expanding educational and career opportunities that were now more open to white women.
Sources
Academy Hill: The Andover Campus, 1778 to the Present. New York: Princeton Architectural Press, 2000.
Domingue, Robert A. Phillips Academy Andover, Massachusetts: An Illustrated History of the Property (including Abbot Academy). Wilmington, Mass.: Hampshire Press, 1990.
Lloyd, Susan McIntosh. A Singular School: Abbot Academy, 1828-1973. Hanover, NH: University Press of New England, 1979.
Montgomery, Susan J. and Roger G. Reed. Phillips Academy Andover: An Architectural Tour. New York: Princeton University Press, 2000.
Image Sources
Phillips Academy Archives and Special Collections

Additional Information