Sturgis Motorcycle Museum & Hall of Fame
Introduction
The Sturgis Motorcycle Museum & Hall of Fame is a non-profit organization dedicated to preserving and promoting the culture and history of motorcycling. To this end, the museum collects motorcycles and memorabilia, and honors the individuals in the hall of fame who have made an a positive impact in the motorcycling community. Visitors to the museum will see 85 vintage motorcycles on display, some of which are very rare, as well as art, photographs, patches, and a variety of other motorcycle-related items. Notable motorcycles include the 1982 Harley Davidson FXR Super Glide 2, the 1912 "Flying Merkel", a 1922 ACE Inline 4, and Cabana Dan's Triple Lindy. The museum also the story of the Sturgis Motorcycle Rally, which occurs every year in August.
Images
The Sturgis Motorcycle Museum & Hall of Fame was established in 2001.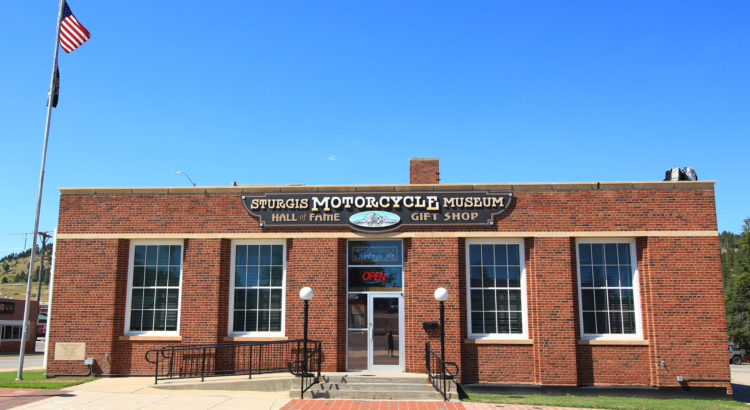 Backstory and Context
The origins of the Sturgis Motorcycle Rally date back to 1938 when a local motorcycle club called the Jackpine Gypsies held the first rally, which featured just one a race called the "Black Hills Classic." The club itself was founded by Clarence "Pappy" Hoel, who passed away in 1989. Over time, the rally grew and eventually included hill climb and motorcross races. Except during World War II, the rally has taken place every year since 1938. Today, it is one of the biggest motorcycle rallies in the world, attracting hundreds of thousands of people each year. The museum was established in 2001 and is located at the intersection of Junction Ave. and Main Street. 
Sources
Buttrell, Josh. "Motorcycles at the Museum." Sturgis Motorcycle Museum Magazine. 2019. Pages 49-51.
Heinrich, Aaron. "Sturgis Motorcycle Museum and Hall of Fame – a low-tech way to see two-wheeled history." August 12, 2016. https://newatlas.com/sturgis-motorcycle-museum-hall-of-fame/44706.
"Timeline." Surgis Motorcycle Rally. Accessed November 13, 2019. https://sturgismotorcyclerally.com/timeline.
Image Sources
Samuel J Greear, via Visit Sturgis

Additional Information