James Gordon Bennett Monument
Introduction
The James Gordon Bennett Monument in Herald Square is dedicated to the founder of the New York Herald newspaper and his son, James Gordon Bennett, Jr., who managed the paper after his death. The monument includes bronze sculptures of Minerva and two owls, which were part of the Herald building (now destroyed) designed by Stanford White in 1890.
Images
James Gordon Bennett Memorial (image from New York City Parks)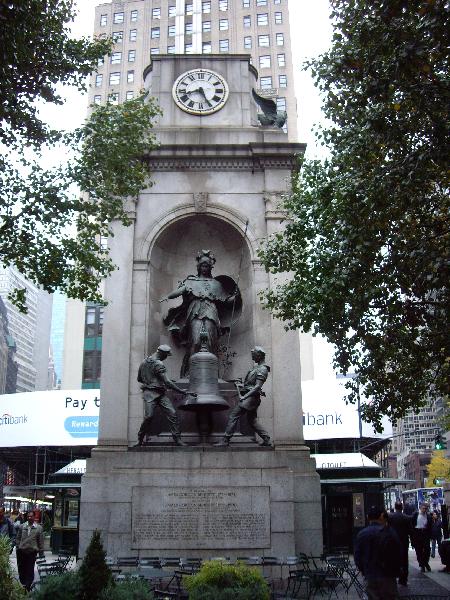 James Gordon Bennett Memorial marker (image from Historic Markers Database)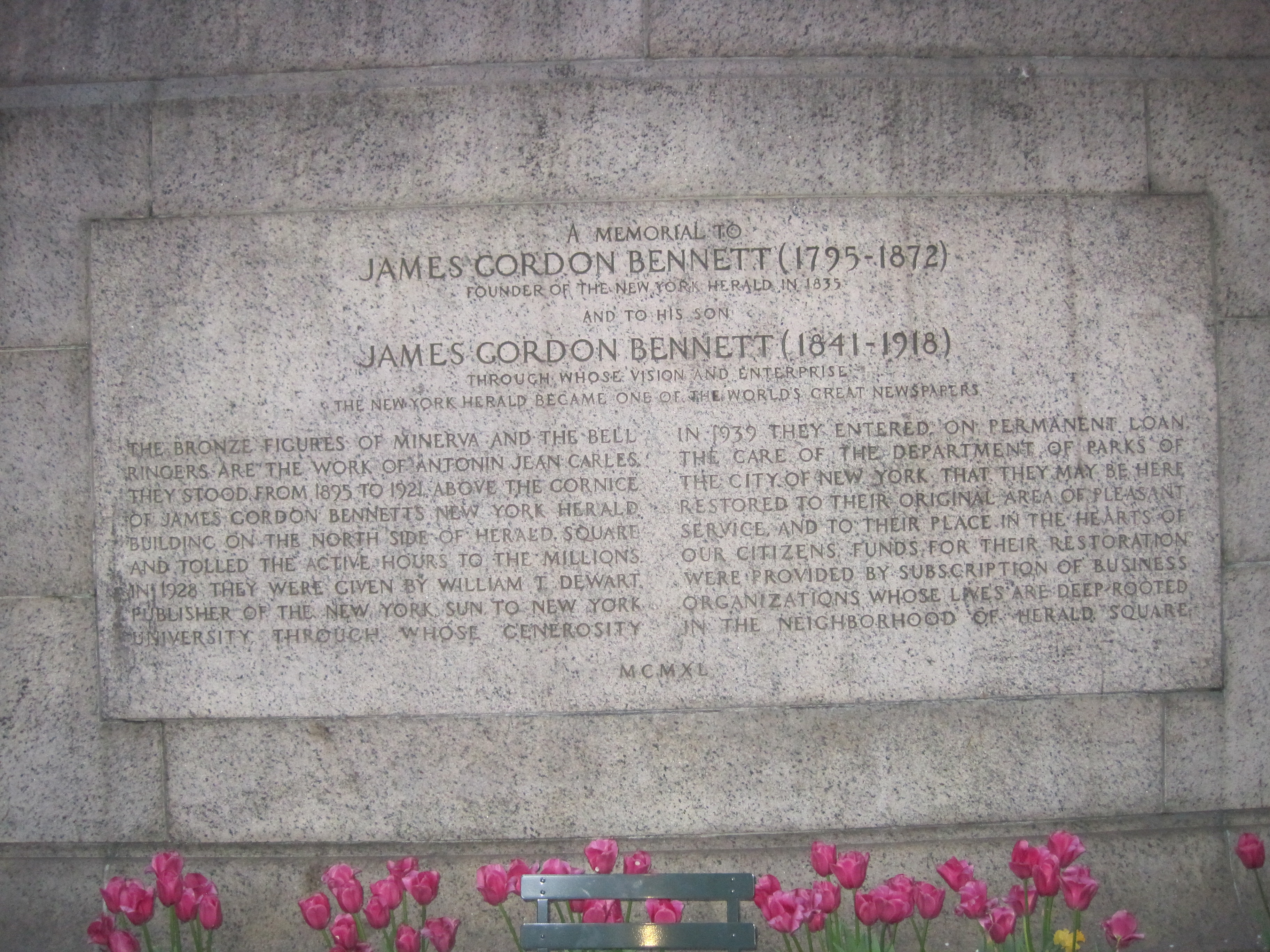 James Gordon Bennett, Sr. (image from about.com)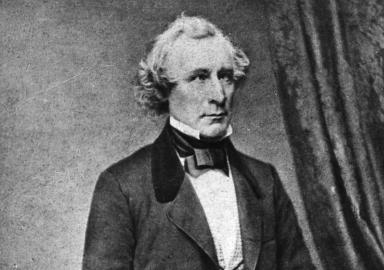 Backstory and Context
James Gordon Bennett, Sr. was born in Scotland on September 1, 1795, to a Roman Catholic family in a Presbyterian community. After studying at a Catholic seminary in Aberdeen, Scotland, he decided not to pursue the priesthood. Instead, at age 24, he emigrated to Nova Scotia in 1817. From there, he moved to Boston, where he worked as a clerk and proofreader for a bookseller and printer. During the 1820s, Bennett moved to New York City and worked as a freelancer in the newspaper business. He was hired by Aaron Smith Wellington of the
Charleston Courier
, but failed to fit into South Carolina society and returned to New York less than a year later. The innovative
New York Enquirer
hired Bennett as the first Washington correspondent for a New York City newspaper.
Upon his return to New York, Bennett attempted to start his own newspaper and failed twice. In 1835, he raised $500 and successfully founded the New York Herald, originally headquartered in a basement office. Amid fierce competition, Bennett managed to bring the Herald to the forefront not only in New York City but across America, where it enjoyed the largest circulation of any newspaper in the nation. This success was due largely to Bennett's innovative nature. His was the first newspaper to publish Wall Street stock prices and the first New York paper without political allegiances. Though he was publicly attacked and even beaten for his denouncements of political figures, Bennett was also seen as an honest voice in journalism. He hired investigative reporters to gather the news, was quick to adopt the telegraph as a means of receiving news from other cities in the 1840s, and used high-speed printing presses when they became available. In spite of the wealth Bennett accrued from the Herald's success, he remained an outsider in New York society. Whether it's because he preferred a private home life or because he offended society with his fierce editorials, outspoken opinions, and personal attacks (including mockery of rival publishers such as Horace Greeley and Henry J. Raymond) remains unclear. During the American Civil War, the Herald employed more than sixty reporters, and Bennett usually managed to publish news from the battlefield before anyone else.
When James Gordon Bennett, Sr. died on June 1, 1872, his son, James Gordon Bennett, Jr., took over the publication of the New York Herald. The younger Bennett had been educated in Paris and had served the Union during the Civil War. He was supposedly saved from running his ship aground by the hoot of an owl. This might explain his interest in the birds, which he expressed in the form of preservation editorials in the Herald, a collection of live owls, and his commission for the new Herald building in 1890. The new building, designed by architect Stanford White, was lined with twenty-six bronze owls and a statue of Minerva (the Roman equivalent of the Greek goddess of wisdom, Athena, who is symbolically associated with owls). The building no longer exists, but two of the owls and the statue of Minerva are now incorporated into the James Gordon Bennett Memorial in Herald Square.
Unlike his father, James Gordon Bennett, Jr. was a man who enjoyed the town, yachting, carousing, attending parties, and habitually driving naked through the streets in a coach. Though he kept up the New York Herald's sales and reputation, his own reputation did not fare so well. In 1877, while intoxicated at his fiancee's family New Year's party, Bennett urinated into the fireplace in front of the whole company. Caroline May (or her family) called off the engagement, and May's brother attacked Bennett with a horsewhip before challenging him to a duel. The duel ended with neither party injured, but Bennett left for France soon afterward to found the Paris Herald (now the International Herald Tribune) in 1887. While abroad, Bennett also funded the expeditions of Henry Morton Stanley (to Tanzania) and George Washington De Long (to the North Pole). Bennett died in 1918, and the New York Herald merged with Horace Greeley's New York Tribune (which might have horrified the elder James Gordon Bennett), forming the New York Herald Tribune, which operated until 1966.
The monument in Herald Square was dedicated in 1928.

Monument Inscription:
A MEMORIAL TO JAMES GORDON BENNETT (1795-1872) FOUNDER OF THE
NEW YORK HERALD IN 1835 AND TO HIS SON JAMES GORDON BENNETT
(1841-1918) THROUGH WHOSE VISION AND ENTERPRISE THE NEW YORK
HERALD BECAME ONE OF THE WORLD'S GREAT NEWSPAPERS
THE BRONZE FIGURES OF MINERVA AND THE BELLRINGERS ARE THE WORK OF ANTONIN JEAN CARLES. THEY STOOD, FROM 1895 TO 1921, ABOVE THE CORNICES
OF JAMES GORDON BENNETT'S NEW YORK HERALD BUILDING ON THE NORTH
SIDE OF HERALD SQUARE AND TOLLED THE ACTIVE HOURS TO THE MILLIONS. IN 1928, THEY WERE GIVEN BY WILLIAM T. DEWART, PUBLISHER OF THE NEW YORK SUN, TO NEW YORK UNIVERSITY, THROUGH WHOSE GENEROSITY IN 1928 THEY ENTERED ON PERMANENT LOAN, THE CARE OF THE DEPARTMENT OF PARKS OF THE CITY OF NEW YORK, THAT THEY MAY BE HERE RESTORED TO THEIR ORIGINAL AREA OF PLEASANT SERVICE, AND TO THEIR PLACE IN THE HEARTS OF OUR CITIZENS. FUNDS FOR THE RESTORATION WERE PROVIDED BY SUBSCRIPTION OF BUSINESS ORGANIZATIONS WHOSE LIVES ARE DEEP ROOTED IN THE NEIGHBORHOOD OF HERALD SQUARE.
MCMXL
Sources
"James Gordon Bennett." Green-Wood. Accessed Web, 5/18/17. http://www.green-wood.com/2010/james-gordon-bennett/.

"Herald Square." NYC Parks. Accessed Web, 5/18/17. https://www.nycgovparks.org/parks/herald-square/monuments/1042.

"James Gordon Bennett Monument." The Historical Marker Database. Accessed Web, 5/18/17. http://www.hmdb.org/marker.asp?MarkerID=84619.

McNamara, Robert. "James Gordon Bennett." ThoughtCo.. 4/5/17. Accessed Web, 5/18/17. https://www.thoughtco.com/james-gordon-bennett-1773663.

Scherer, Jenna. "The Fabulously Eccentric Life of James Gordon Bennett, Jr." Mental Floss. Accessed Web, 5/18/17. http://mentalfloss.com/article/64130/fabulously-eccentric-life-james-gordon-bennett-jr.


Additional Information