Former Home of Buffie Johnson and Tennessee Williams
Introduction
A small and relatively unassuming building on East 58th Street has been home to two of the twentieth century's most influential artists. In 1943, painter Buffie Johnson purchased the building for $2000 and lived there until 1950. For part of that time, she leased the ground floor to Pulitzer Prize-winning playwright Tennessee Williams.
Images
Former home of Buffie Johnson and Tennessee Williams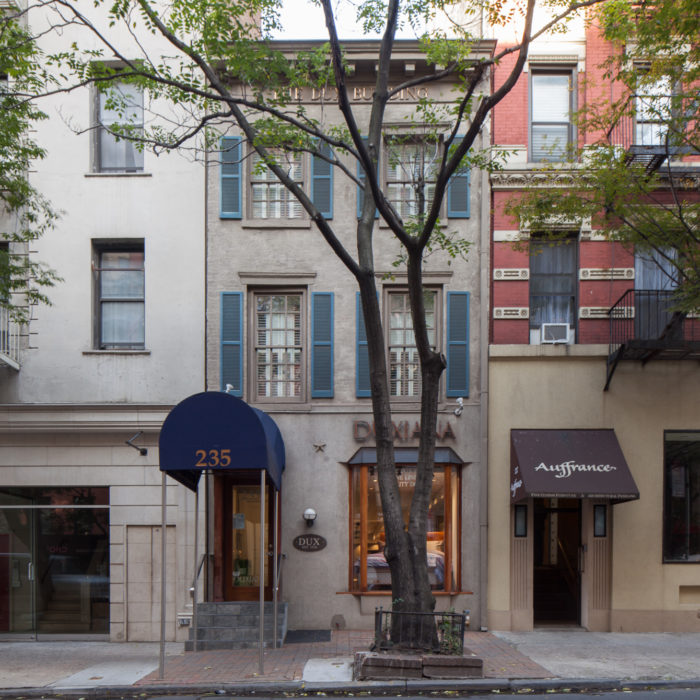 Buffie Johson, center, with Tennessee Williams to her left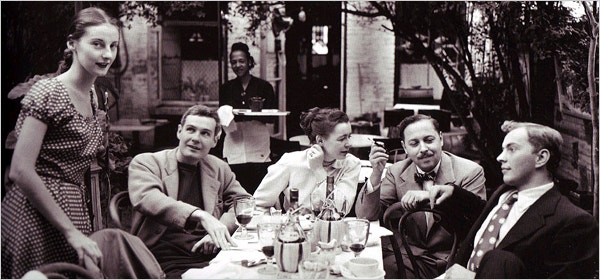 Backstory and Context
Buffie Johnson was a versatile and prolific visual artist, whose work spanned most of the twentieth century. She began showing her paintings in the 1930s and was still active near the end of her life in 2006. Her artistic style ranged from Abstract Expressionism to Surrealism.
In 1943, Johnson bought the building, then in a state of disrepair, on East 58th Street, for just $2000. Even then, that price was a bargain. Johnson enlisted the help of a friend, Tony Smith, who was a former student of Frank Lloyd Wright, to renovate the building. Together, Johnson and Smith created a whimsical, "wonder-filled paradise," that included an aviary and numerous free-flying canaries.
Johnson befriended many of the artistic and literary luminaries of the twentieth century, including Truman Capote, Greta Garbo, Gypsy Rose Lee, Jackson Pollack, Mark Rothko, Gore Vidal, and Andy Warhol, to name just a few. One of her friends (and the subject of a painting by Johnson) was the playwright Tennessee Williams.
In 1948, Williams began leasing the ground floor of the building from Johnson. Williams lived in the building with his lover, Frank Merlo, until the early 1950s, Williams was rapidly developing a reputation as one of the nation's finest playwrights, and it was during his time in the building that he won the 1950 Tony Award for The Rose Tattoo. The building was one of several New York residences the author would have over the course of his life.
Johnson moved to a house in the Hamptons in 1950 but continued to own the building until 1970.
Sources
Boyd , Tracy . The Artist's Houses: A Brief Remembrance , Buffie Johnson. Accessed August 26th 2020. http://www.buffiejohnson.com/www.buffiejohnson.com/The_Artists_Houses.html.
Buffie Johnson/Tennessee Williams Residence , NYC LGBT Sites . Accessed August 26th 2020. https://www.nyclgbtsites.org/site/buffie-johnson-tennessee-williams-residence/.
Fox, Margalit. Buffie Johnson, Artist and Friend of Artists, Dies at 94, New York Times . September 2nd 2006. Accessed August 26th 2020. https://www.nytimes.com/2006/09/02/obituaries/02johnson.html.
Additional Information