Esquina Latina Restaurant & Lounge
Introduction
Esquina Latina is a restaurant and lounge located on Liberty Street in a popular area of New Brunswick, New Jersey. The restaurant is located 10-15 minutes away from the College Avenue campus of Rutgers University. The site was opened in August of 2015 and is predominately Cuban but incorporates a mix of many other Latin cultures. This restaurant is meant to represent Latinos and Hispanics in the New Brunswick area, a location with an already large Hispanic community. The location is off of the popular roadway/ highway NJ 18 Service Road and is publicly accessible from 11:30am until 11:00pm.
Images
The full bar available to customers in front of one of two beautiful murals inside the restaurant.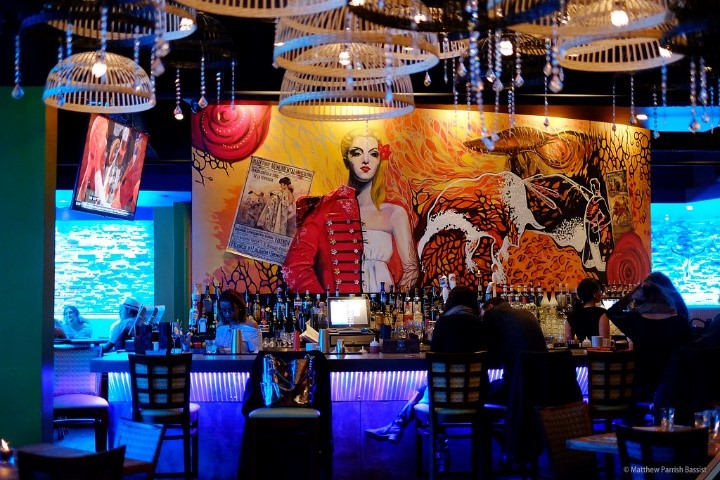 Showcased is some of the seating and the second of two beautiful murals inside the restaurant.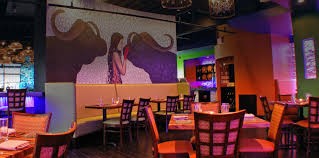 The outside of Esquina Latina, showcasing the outdoor seating provided to customers and the street accessibility.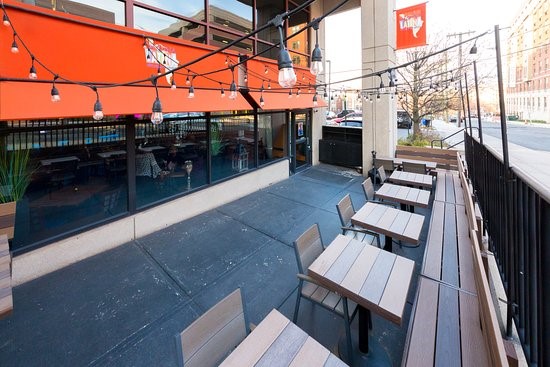 An aerial view of Esquina Latina showing surrounding streets and venues.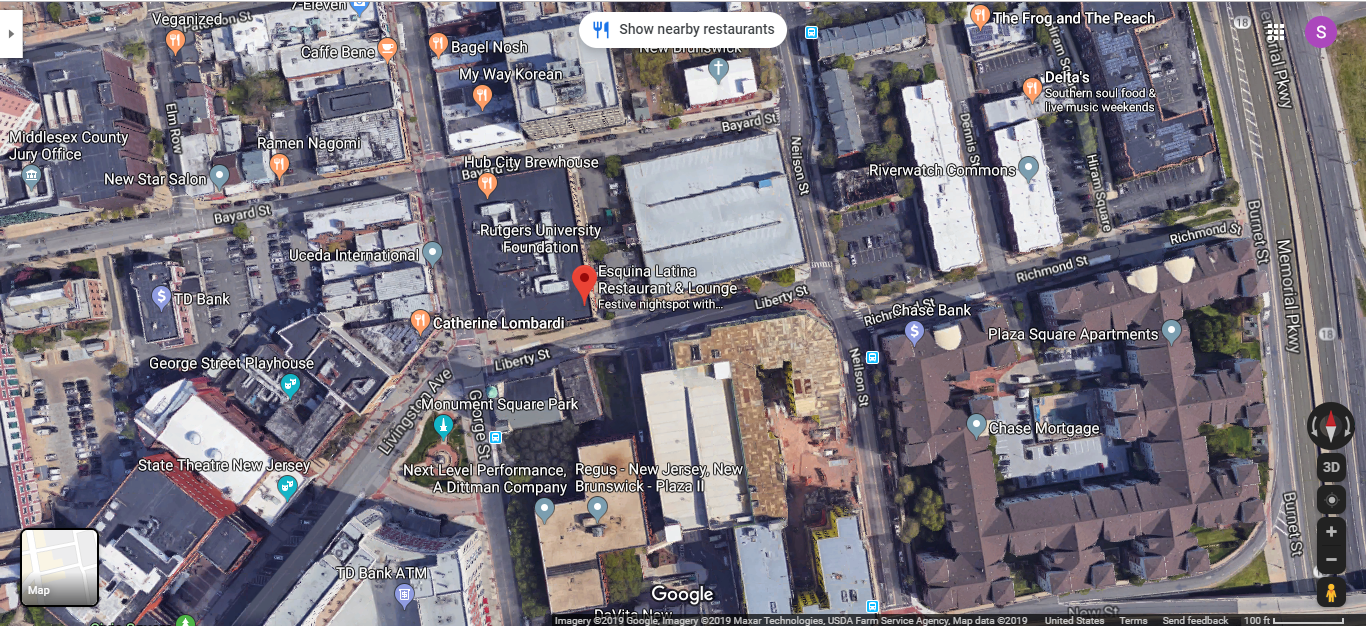 Backstory and Context
The city of New Brunswick is home to some very well known sites such as Rutgers University and the headquarters of Johnson & Johnson but it is mainly popular for having such a diverse ethnic community. Hispanic and/or Latino people contribute to this diversity tremendously by making up over fifty percent of the population currently living in New Brunswick. Of the people that identify as Hispanic or Latino at least fifty percent of them are Mexican ("Story Map Journal," 2019). Considering the large population of Mexican residents, the restaurant Esquina Latina is a significant cultural site because it helps to make people more aware of Cuban food and culture which is not as prominent in this community.
Due to the abundance of ethnic restaurants, it may be a common belief that food is not a significant component of Latin American culture. However, for many people of Cuban descent, authentic cultural food is important for establishing identity. Esquina Latina is important for establishing these identities because it offers a "positive nostalgia," connecting individuals to shared experiences of traditional cuisines and to the history of the country (Alfonso, 2012). It is also important for others who may not have a Cuban background to become more knowledgeable about how Cuban culture is different from other Latin American or Caribbean cultures.
Not only is Esquina Latina centered around the Spanish speaking country of Cuba but it is also owned and run by Latino people. Hispanics entering the entrepreneur field have been growing rapidly and positively contributing to the United States economy (Suarez, 2019). Research shows that Latino-owned businesses make up 8.3% of all businesses in the United States have generated 345 billion dollars in sales in 2007 alone (Suarez, 2019). Locations like Esquina Latina are essential to the nation and individuals as well. The opening of Latino-owned businesses can be an escape from things like labor market discrimination due to ethnic background or a lack of education, or lower wages at other jobs. This is especially important in areas like New Brunswick that contain a large amount of Latino people.
Additionally, local businesses help out the community they inhabit. A study found that immigrant businesses creates jobs, diversity, and promote active engagement in the communities they serve (Schuch, 2015). Esquina Latina promotes diversity through showcasing Cuban culture in a largely Mexican area while still trying to incorporate other Latin American cultures as well. The restaurant also promotes active engagement by providing easily accessible, positive and friendly experiences with the locals and tourists.
Esquina Latina is important for diversifying and contributing to the community as well as exposing the people to a good example of Cuban culture and cuisine. 
Sources
Alfonso, Iván Darias. "We Are What We Now Eat: Food and Identity in the Cuban Diaspora." Canadian Journal of Latin American and Caribbean Studies/Revue canadienne des études latino-américaines et caraïbes 37, no. 74 (January 1, 2012): 173–206. http://www.tandfonline.com/doi/abs/10.1080/08263663.2012.11006007.
Schuch, Johanna Claire, and Qingfang Wang. "Immigrant Businesses, Place-Making, and Community Development: a Case from an Emerging Immigrant Gateway." Journal of Cultural Geography 32, no. 2 (November 2015): 214–41. https://doi.org/10.1080/08873631.2014.995403.
"Story Map Journal." arcgis.com. Accessed November 20, 2019. https://www.arcgis.com/apps/MapJournal/index.html?appid=0d97b8053495480a9d1c7a34b6a616e4.
Suarez, Maria D. "An Assessment of Hispanic Entrepreneurship in the United States. (Report)." Journal of Multidisciplinary Research 8, no. 3 (September 22, 2016): 67–76.
Image Sources
https://www.google.com/imgres?imgurl=https%3A%2F%2Fs3-media2.fl.yelpcdn.com%2Fbphoto%2FeFgIaRiF6HUY5Ktw7oBrZw%2F348s.jpg&imgrefurl=https%3A%2F%2Fwww.yelp.com%2Fbiz%2Fesquina-latina-restaurant-and-lounge-new-brunswick%3Fpage_src%3Drelated_bizes%26start%3D80&tbnid=NMRlS56FRW6LZM&vet=10CA8QxiAoAWoXChMI8LD_tPO15QIVAAAAAB0AAAAAEBg..i&docid=IQInlNhZt1lolM&w=348&h=348&itg=1&q=esquina%20latina%20new%20brunswick%20outside&ved=0CA8QxiAoAWoXChMI8LD_tPO15QIVAAAAAB0AAAAAEBg

https://www.google.com/url?sa=i&source=images&cd=&cad=rja&uact=8&ved=2ahUKEwjz7eacxvflAhUlheAKHe5xCF8QjB16BAgBEAM&url=http%3A%2F%2Fwww.esquinalatinarestaurant.com%2F&psig=AOvVaw0Zre-7W99Ji88Z1DdavzRp&ust=1574296654391034

https://www.tripadvisor.com/LocationPhotoDirectLink-g46664-d8607884-i323535784-Esquina_Latina-New_Brunswick_New_Jersey.html

Additional Information