Tennessee Williams's Apartment
Introduction
This address was one of several places in New Orleans where renowned American playwright Tennessee Williams once lived. Although he only lived here a short time, it was in this apartment that Williams began to write his famous play A Streetcar Named Desire. The actual apartment that Williams lived in is no longer here, but the back staircase he used to access his living quarters still remains.
Images
New Orleans streetcar No. 952, built in 1923, the same model of streetcar that ran on the Desire Line, which went by Williams's apartment.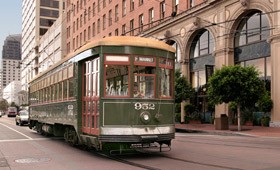 Backstory and Context
Renowned author and playwright Tennessee Williams moved to New Orleans in 1939, shortly after graduating college at the age of 28. Williams became part of New Orleans's gay elite, frequenting establishments such as Cafe Lafitte, and the city of New Orleans came to inspire much of his writing. Over the course of his time in New Orleans, Williams lived in several different properties in the French Quarter, but it was in this apartment on St. Peter Street that, inspired by the sounds of the Royal St streetcar that he could overhear from inside, he wrote his famous play A Streetcar Named Desire, for which he won a Pulitzer Prize.
Sources
"Tennessee Williams Biography." Biography. A&E Television Networks, LLC, 2 April 2014. https://www.biography.com/writer/tennessee-williams.
Langenhennig, Susan. "Take a tour through Tennessee Williams' many French Quarter homes." NOLA.com. Capital City Press, LLC, 20 March 2015. https://www.nola.com/entertainment_life/home_garden/article_8f19f76b-26c6-5959-a8a3-cc51df8612b9.html.
Image Sources
"No. 952: New Orleans, Lousiana." Market Street Railway. Accessed 16 December 2019. https://www.streetcar.org/streetcars/952-952-new-orleans-desire/.