Japanese Tea Garden, San Francisco
Introduction
In 1894, a Japanese Tea Garden was created in San Francisco's Golden Gate Park as part of the California Midwinter International Exposition of World Villages held in the park that same year. This event is more commonly known as the "World's Fair." The earliest version of the Japanese Tea Garden was built by George Turner Marsh for the exposition; however, the site was also expanded considerably by Makoto Hagiwara, who included many additional elements of traditional Japanese art, landscape design, and culture. Hagiwara lived in a dwelling on-site with his family for nearly fifty years while he cared for the plantings and oversaw the landscape. The Japanese Tea Garden is located in Golden Gate Park near the California Academy of Sciences, the de Young Museum, and the San Francisco Botanical Garden. Although there are daily admission fees, the admission is free when entering before 10:00 a.m. on Mondays, Wednesdays, and Fridays.
Images
Japanese Tea Garden in Golden Gate Park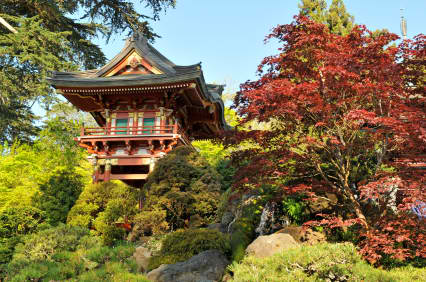 Japanese Tea Garden as seen in 1904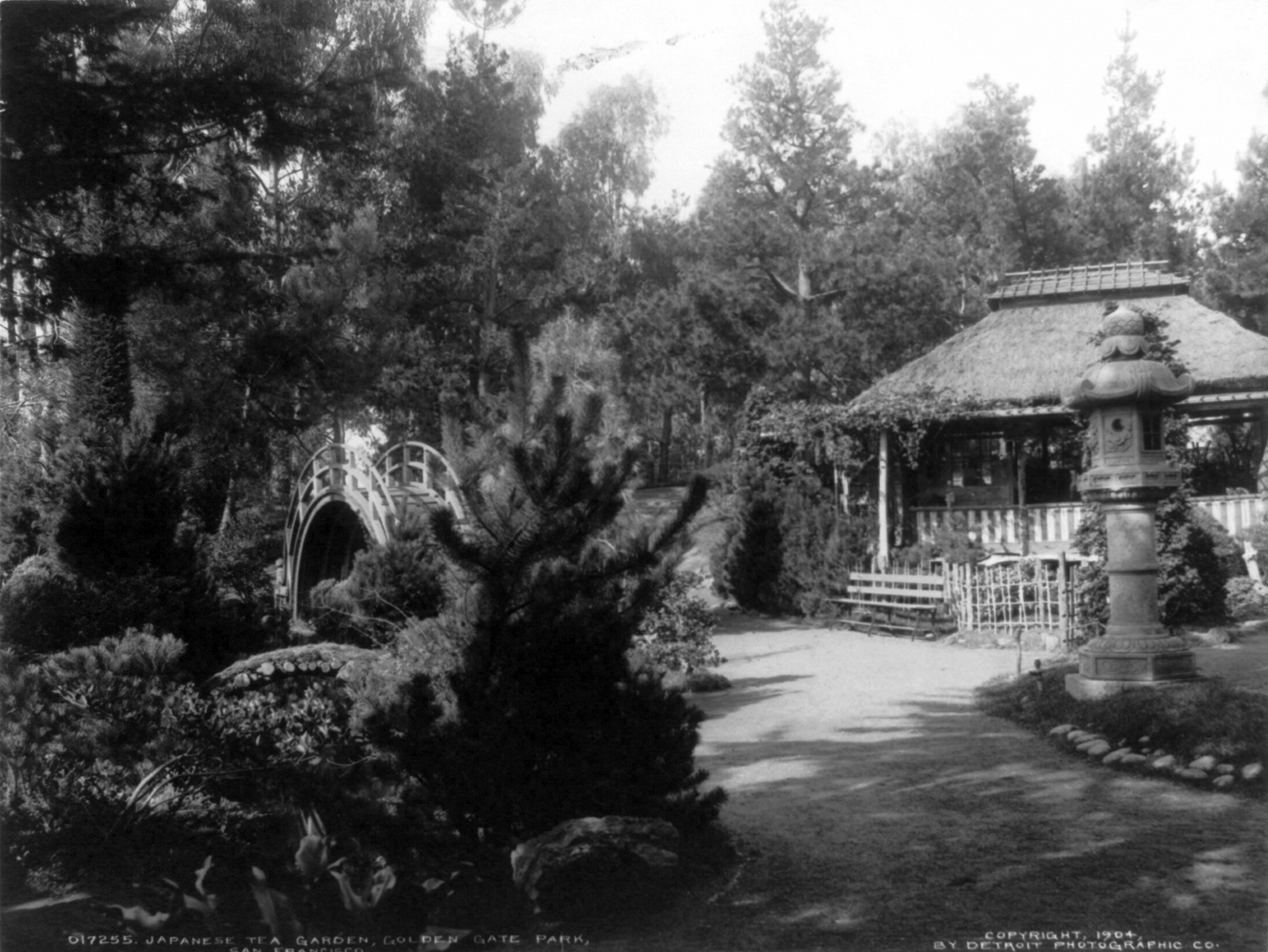 Backstory and Context
Built by George Turner Marsh and the landscape designer Makoto Hagiwara, the Japanese Tea Garden in Golden Gate Park was initially created to reflect a Japanese village for California's International Exposition of World Villages in 1894. The Exposition was held in Golden Gate Park and it featured temporary replica villages reflecting many cultures around the world. However, Hagiwara had a vision for expanding the Japanese Tea Garden beyond the early version in which it appeared for the International Exposition. Hagiwara envisioned that the Japanese Tea Garden would remain a permanent fixture in Golden Gate Park as a walkable landscape for numerous residents and visitors to experience throughout the years.
Under Hagiwara's expanded design plan, the Japanese Tea Garden grew to encompass five acres while incorporating many different design elements. These include a five-story stone Pagoda, a boat-shaped water basin, a clipped hedge in the form of Mount Fuji, crane statues, rock features, and a Dragon Hedge set against an illuminated bamboo background. There is also a sunken garden and a Zen garden, featuring bonsai trees, colorful azaleas, a river made of white stones, and a tumbling waterfall. Although the Japanese Tea Garden was modified since the 1894 exposition, the landscape contains several original features from the exposition, such as the Drum Bridge, which features a perfect circle.
When entering through the main gate, you will notice a Monterey Pine, which Hagiwara added to the entrance in 1900. Before this tree was relocated to the entrance of the tea garden, it stood on the windswept oceanfront side of Golden Gate Park. When exiting the garden through the main gate, you will also notice a large stone, featuring a bronze plaque that pays tribute to the garden's designer. Hagiwara and his family lived in a dwelling within the garden for nearly fifty years while he cared for the plants and the landscape. He also imported into this landscape many traditional elements of Japanese culture, such as rare Japanese goldfish, birds, plants, and statuary. The commemorative plaque that is dedicated to him reads:
"To honor Makoto Hagiwara and his family who nurtured and shared this garden from 1895-1942."
During World War II, Japanese Americans who were living in San Francisco faced harsh discrimination. Many families were rounded up and forcibly evacuated into inland internment camps, including some of Hagiwara's descendants. Amidst the wartime intolerance, the Japanese Tea Garden was renamed the Oriental Tea Garden. During this period, statues and plantings within the garden were often destroyed or were not able to be properly cared for. By 1952, however, efforts towards cultural reconciliation were undertaken to heal the wartime animosity. These efforts included restoring the name of the site to the Japanese Tea Garden and installing a 9,000-pound Lantern of Peace, a gift offering made by Japan in 1953.
Today, the Japanese Tea Garden in Golden Gate Park is a favorite spot for both locals and tourists. It is known for its tranquil atmosphere and it is sought out as a place for meditation and relaxation amidst the beauty of nature. There is also an Asian Art Museum and Gift Shop on-site, as well as a Tea House which serves traditional Japanese tea to guests.
Sources
"Japanese Tea Garden in Golden Gate Park", Golden Gate Park. Accessed December 3rd 2019. https://goldengatepark.com/japanese-tea-garden.html.
"Japanese Tea Garden: Golden Gate Park", San Francisco Parks & Recreation. Accessed December 3rd 2019. https://sfrecpark.org/destination/golden-gate-park/japanese-tea-garden/.
Seewald, Joel. "Japanese Tea Garden World Villages historical marker", The Historical Marker Database. Accessed December 3rd 2019. https://www.hmdb.org/Marker.asp?Marker=132112.
Image Sources
Wiki Commons

Library of Congress

Additional Information