Van Metre Ford Bridge
Introduction
Built in 1832, Van Metre Ford Bridge was constructed to improve transportation between the Virginia communities of Alexandria and Bath. Now located in West Virginia, the historic bridge spans Opequon Creek and was one of many transportation projects that resulted from the migration of people from eastern communities to Appalachia during the early 1800s. At the time of construction, stone bridges like this one were becoming more rare as rapidly-growing communities opted for wooden bridges that were cheaper and faster to build. The Van Metre Ford Bridge was in use by vehicles until a new, three-lane bridge was built next to it in 2016. Today, the historic bridge is open for pedestrian use. At the southeastern end of the bridge, a highway marker features the history and significance of the structure.
Images
Van Metre Ford Bridge. Photo by Michael Keller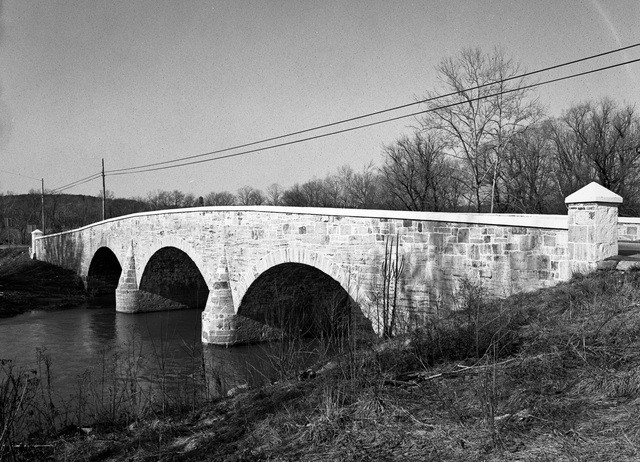 The highway marker on the bridge's southeast end. Photo by Beverly Pfingsten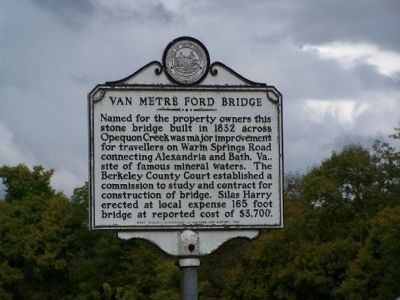 Backstory and Context
The Van Metre Ford Bridge is located just outside of Martinsburg, WV on County Route 36. The bridge was built to make crossing Opequon Creek easier for travelers on what was then known as Warm Springs Road. The project was funded in 1832 by the Berkeley County Court and built by Silas Harry, a private builder and stonemason. The cost of the bridge totaled about $4,550 and funds were raised via a county levy without much protest. Featuring three stone arches, the bridge is 165 feet long and constructed of ashlar limestone. Aside from resurfacing the road, the only changes to the bridge's original structure are repairs made to walls after being damaged in car accidents. 
Construction of the Van Metre Ford Bridge was part of the larger effort to build infrastructure to create access to the mountains. Major parts of this effort included National Road, which connected Cumberland, MD to Wheeling, WV and eventually Vandalia, IL, and the Baltimore and Ohio Railroad. The National Road project was still being completed in the 1830s and the B&O Railway lines were just being laid. The construction of the Van Metre Ford Bridge, though a small-scale project, was a part of this drive to create better transportation in the Appalachian region. By making the crossing of the Opequon Creek faster and cheaper for travelers, the region became more accessible for commerce. The economic development of Martinsburg and the rest of the eastern panhandle was made easier by the Van Metre Ford Bridge and other transportation developments like it in this period. During the Civil War, the bridge was often used by traveling Union and Confederate troops. 
The bridge was designed with this commercial travel in mind. Though narrow, the Van Metre Ford Bridge was made to be sturdy enough to support heavy loads. The use of stone materials rather than wood made the project more expensive but has allowed the bridge to function without issue since construction concluded in 1832. At the time, stone bridges were becoming less popular as wooden bridges were seen as cheaper options with more accessible materials. 
In March of 2015, plans for the construction of a new bridge over Opequon Creek were announced. Completed in 2016, the new bridge has three lanes while Van Metre Ford Bridge has just one. Though it has been retired as a primary bridge, the Van Metre Ford Bridge is still standing and is open for pedestrian traffic. On the southeastern side of the original bridge, there is a highway marker with a brief history of the bridge's construction and significance. 
Sources
West Virginia Highway Markers Database. West Virginia Department of Arts, Culture, and History. Accessed March 03, 2019. http://www.wvculture.org/history/wvmemory/hmresults.aspx?County=Berkeley&Title=&Words=&Op=AND.
Harding, James E. National Register of Historic Places Inventory -- Nomination Form. West Virginia Department of Arts, Culture, and History. October 07, 1976. Accessed March 03, 2019. http://www.wvculture.org/shpo/nr/pdf/berkeley/77001373.pdf.
Van Metre Ford Bridge. West Virginia Department of Transportation. Accessed March 03, 2019. https://transportation.wv.gov/highways/bridge_facts/stone-arch-bridges/Pages/VanMetreFordBridge.aspx.
Umstead, Matthew. Bridge completion anticipated for 2016 in Berkeley County. Herald-Mail Media. March 28, 2015. Accessed March 03, 2019. https://www.heraldmailmedia.com/news/tri_state/west_Virginia/bridge-completion-anticipated-for-in-berkeley-county/article_b4510fc6-d58b-11e4-9b15-6fd0d774f34d.html.
The National Road. National Parks Service. June 26, 2018. Accessed March 03, 2019. https://www.nps.gov/fone/learn/historyculture/nationalroad.htm.
Additional Information