Beaver Creek School Museum
Introduction
Beaver Creek Museum is a historical two room school house. The school house dates back to 1904 and includes many items from the time period.
Images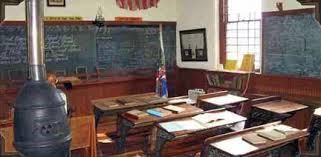 Backstory and Context
Beaver Creek School museum is located in Hagerstown Maryland. This old two room school house now operates as a museum for people to come and tour. The old school house is one of the few schoolhouses that still stand in the area. Beaver Creek Schoolhouse dates back to 1904. In the museum, there are not only the school items, but also items from what life was like here in the early 1900's. Going to this particular museum allows adults and children alike to take some time out of the busy present and experience the simplistic past. Admission is $8 dollars. Tours are available April through November by appointment only.
The Beaver Creek school house is two rooms. It was the school house for the area, Washington County. The schoolhouse was built in 1904. The schoolhouse served as the school for all children. Generally there would be children from the first to the eighth grades in the two rooms. The number of students who attended the school would vary. The school house has no electric and only a wood burning stove for heat. There is a teacher's desk and student's desks made of wood.
Within Beaver Creek schoolhouse, chalkboards were used to teach the children there lessons. Because of the variety of students, the lessons were very basic and practical. Within the schoolhouse today, there are items that are authentic of the time. The school items and other items were donated by a family from Washington County. The donations were made by the owner of the schoolhouse and her family who want to keep the history of the schoolhouse alive.
In the museum today, there are both school items as well as items from the past. Children's toys and sleighs are among some of the different items that you will have the privilege of seeing at Beaver Creek School Museum. In the early 1900's life was much simpler. Music, arithmetic, history, reading, and English use to be the main subjects taught at the Beaver Creek schoolhouse. There is a hand crank organ, a record player, and many other musical instruments that are in the museum. These items help bring the school house to life.
Sources
"Beaver Creek School . Hagerstown, Maryland." Beaver Creek School . Washington County Historical Society. Hagerstown, Maryland. Washington County Historical Society, n.d. Web. 02 Nov. 2014. .