Train Station
Introduction
Between E German and E High Sts., on Audrey Egle Dr. The Norfolk and Western Railroad built the passenger station in 1909. Waiting rooms and rest rooms were segregated. After nearly a half century of service, passenger traffic ended in 1957 and the station closed, to be used by the railroad for storage. In 1996 the railroad deeded the passenger station to the town for $1.00, and the building was restored and redesigned as a multiple use facility.
Images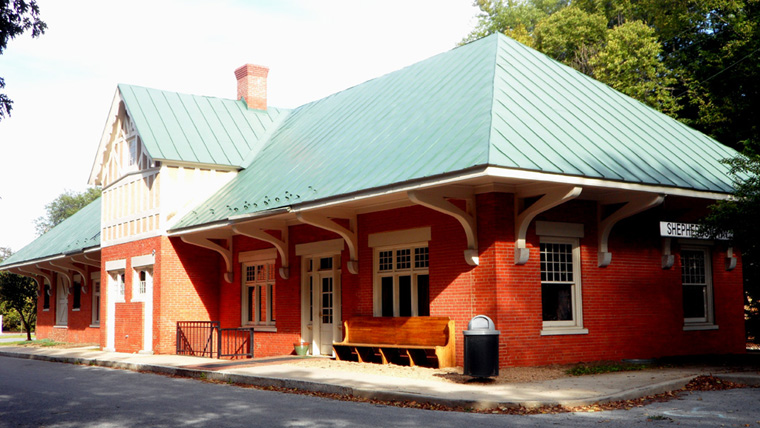 Backstory and Context
The first train station in Shepherdstown was built around 1880. The wooden structure built on S. Princess street was built be 1884, because The Shepherdstown Register reported that the safe was robbed. This first station served both freight and passenger trains. The current station was built just for passengers and the old station continued to serve freight trains.[1] The new station was completed in 1909. The station was a gem for the community, the design was the Norfolk and Western's top of the line blueprint. The station had a 250-foot shed along the tracks so that people could wait outside no matter the weather. The station was segregated with one waiting room for whites and one for colored people. The station had many modern conveniences for the time: restrooms, running water, heating system, drainage system, and electric lights.[2]
In 1957, the Shepherdstown Station was closed due to the Norfolk and Western losses. There was less of a need for trains as the automobile became more popular, after WWII. For a while, the railroad used the station for storage, until the Corporation of Shepherdstown wanted to preserve the station. In 1992. Shepherdstown got the last of the funding to begin the project and preserve the building for community and health services.[3] The Corporation of Shepherdstown bought the station from the railroad in 1996. The construction was finished in 2001. Today the building is managed by the Station at Shepherdstown, Inc.
Sources
When Trains Came to Shepherdstown. The Station of Shepherdstown. Accessed July 14, 2017. http://stationatshepherdstown.com/our_history.htm.


Additional Information