Coralie Franklin Cook House
Introduction
Author-Uploaded Audio
Coralie Franklin Cook was an 1880 graduate of Storer College in Harpers Ferry, West Virginia. She taught Elocution and English at Storer College from 1882 through 1893. According to Historic Harpers Ferry, Coralie Franklin Cook purchased this home in Harper's Ferry in 1884. Coralie Franklin Cook, having been born into slavery, is notable as the first descendant of a Monticello slave to graduate college. Additionally, she became a distinguished professor at Howard University, writer, and suffragist.
Images
Coralie Cook with her husband, George William Cook National Baha'i Archives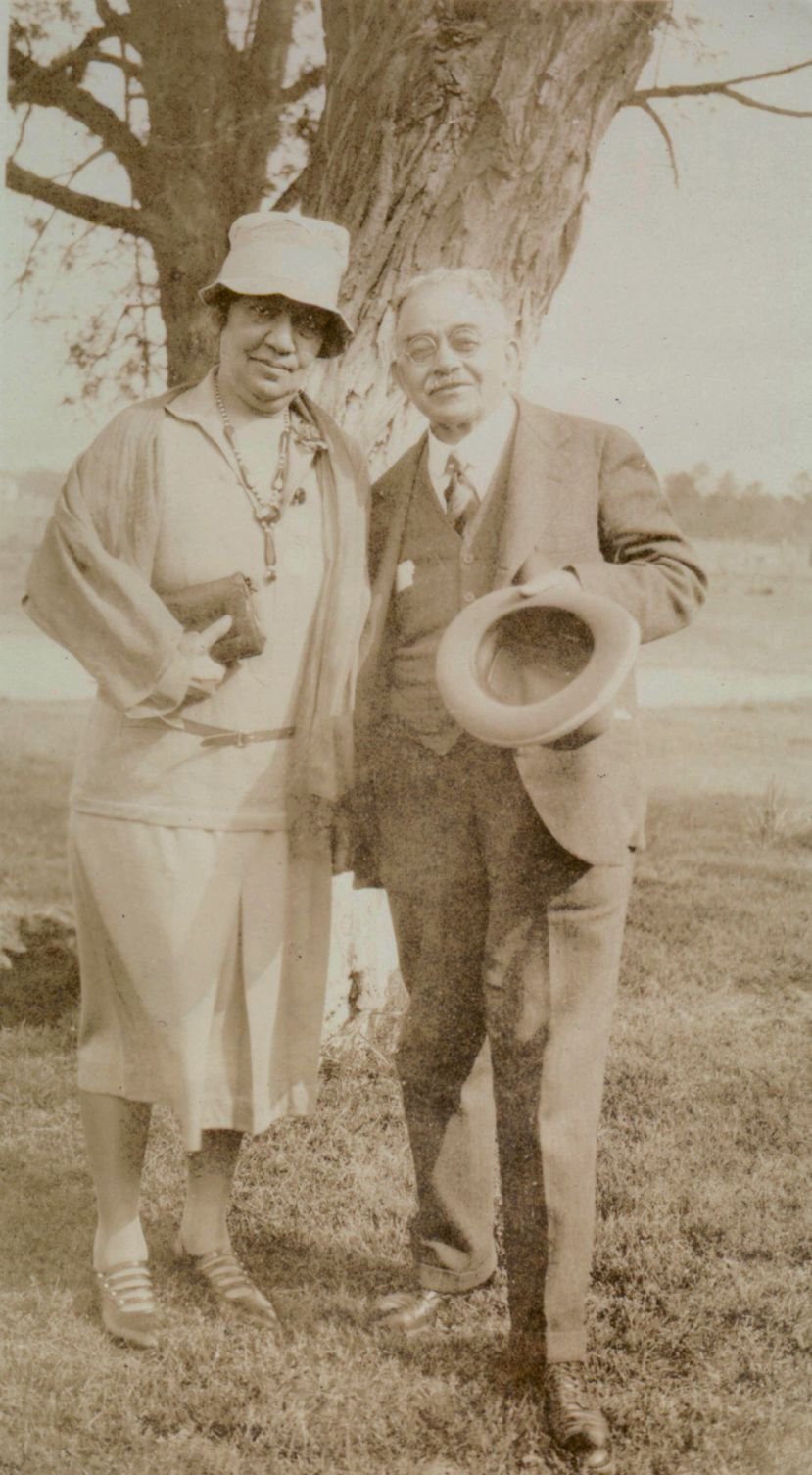 A section of writing submitted to Storer College, and presented to alumni, by Coralie Franklin Cook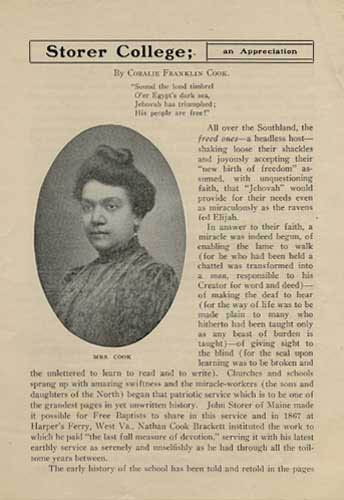 Coralie Franklin Cook West Virginia University Libraries
Portrait of Coralie Franklin Cook, sometime after 1899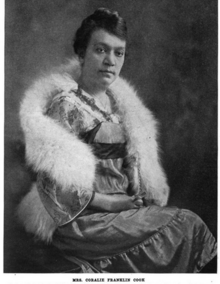 Backstory and Context
Author-Uploaded Audio
Coralie Franklin, later Cook, was born into slavery in 1861 in Lexington, Virginia. She was the daughter of Albert Franklin and Mary Elizabeth Edmondson Franklin. Coralie Franklin Cook is regarded as the first descendant of Monticello slaves to graduate from college. She is a direct descendant of Elizabeth "Betty" Hemings, the mother of Sally Hemings, a slave under the ownership of Thomas Jefferson and mother to six children of which he fathered. 
Coralie graduated from Storer College, a historically Black college located in Harpers Ferry, West Virginia. While attending Storer, Franklin Cook studied English. In 1881, Coralie Franklin Cook continued her education through institutions in Philadelphia and Boston where she studied elocution. In the years following her graduation, Coralie taught elocution and English at Storer College as an assistant professor from 1882 until 1893. Sometime during her eleven years with Storer College, Franklin-Cook did teach briefly at a school in Hannibal, Missouri.
In 1893, Coralie moved to Washington D.C., where, for five years, she served as Director of the Home for Colored Children and Aged Women. Franklin Cook was also a celebrated member of the Colored Women's League and spoke at the convening in Atlanta in 1895. In 1896, she helped to form the National Association of Colored Women. After having lived and worked in Washington for half a decade, Coralie married George William Cook in 1898. Cook was a renowned professor and dean of Howard University, and according to The Journal of Negro History, served the university as a professor of commercial law, dean of the school of commerce and finance, business manager, secretary, acting president, alumni secretary, and member of the board of trustees. The couple had one child, a son, named George William Cook, Jr.. Coralie and George were married for thirty-three years, separating only at the time of his death on August 20, 1931. Coralie Cook Franklin passed died in 1942, at the age of eighty-one.
Coralie Franklin Cook continued her impressive career into her marriage and motherhood, teaching Elocution and English at Howard University. She also served as chair of the oratory department and founded the school of expression at the Washington Conservatory of Music. Coralie Franklin Cook served for twelve years as a member of the District of Columbia Board of Education. Throughout her life, Franklin Cook was a champion for all women and a devoted suffragist. She addressed the National Council of Women in February of 1899, and she was the only African American woman invited to speak at Susan B. Anthony's Jubilee Celebration in 1900. However, according to the Thomas Jefferson Foundation and the Monticello Society, despite playing an active role in the women's suffrage movement, she felt as though the campaign did not stand up and support women of color and openly critiqued it as such.
Coralie Franklin Cook purchased this home, at 509 Fillmore Street in Harpers Ferry, from Storer College in 1884, while she was teaching at the institution. Coralie and her husband owned the property until 1918. As of 2017, the property includes no historical marker of the life and legacy of Coralie Franklin Cook. 
Sources
African American Families of Monticello. Monticello.org. https://www.monticello.org/getting-word/people/coralie-franklin-cook.
Coralie Franklin Cook House. HistoricHarpersFerry.com. http://www.historicharpersferry.com/index_eecms.php/export/sites/coralie-franklin-cook.
Terborg-Penn, Rosalyn. African American Women In The Struggle For The Vote, 1850--1920. Bloomington, Indiana. indiana University Press, 1998.
Coralie Franklin Cook Storer College. https://storercollege.lib.wvu.edu/catalog/wvulibraries:1229.
Coralie Franklin Cook: Interesting Career of Colored Woman Who is to Lecture Here Soon. www.newspapers.com. November 28, 1902. https://www.newspapers.com/clip/8816646/coralie_franklin_cook_1902/.
Slowe, Lucy D. "Notes." The Journal of Negro History, vol. 16, no. 4, 1931, pp. 480–482. JSTOR, JSTOR, www.jstor.org/stable/2713877.
Additional Information