Grave of Aaron Burr
Introduction
Aaron Burr (1756-1836), arguably one of American history's most infamous figures, is buried at this spot in Princeton Cemetery. Burr is most known for killing Alexander Hamilton, one of the country's Founding Fathers, in 1804. Aaron Burr was the third vice president of the United States under the presidency of Thomas Jefferson. Aaron Burr died of a stroke at the age of 80.
Images
Aaron Burr died in 1837 from a stroke.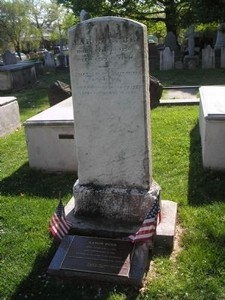 Aaron Burr spent several years in Europe following the trial over the duel with Alexander Hamilton.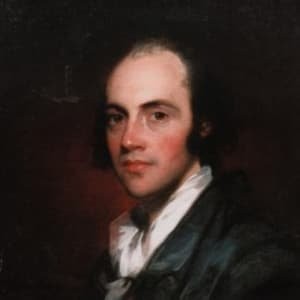 Backstory and Context
Aaron Burr, Jr. was born to Reverend Aaron Burr and Ester Edwards Burr in Newark, New Jersey on February 6, 1756. At the age of two, Burr became an orphan along with his older sister, Sarah. They moved from family to family growing up. When Burr was 13, he was accepted to Princeton University. He graduated with his Bachelor's of Arts degree in 1772 when he was 16 years old but continued studying theology at Princeton afterwards. In 1775 Burr began studying law. His studies were soon put on hold as he enlisted in the Continental Army to fight the British in the Revolutionary War.
During the Revolutionary War many generals were impressed with Aaron Burr's spirit and leadership. In the spring of 1776, he was placed on George Washington's staff but later returned by choice to the battle fields on June 16. This later led to estrangement between George Washington and Aaron Burr as Washington did not recognize Burr for his actions. Aaron Burr was promoted in July 1777 to lieutenant colonel and commanded a small army during his service. After suffering a heat stroke during the Battle of Monmouth on June 28, 1778, Burr's health gradually began to decline. This limited his ability to perform in the Continental Army. Burr resigned from the Continental Army in March 1779, when he resumed studying law. He graduated and married Theodosia Barlow Prevost in 1782 and began practicing in 1783.
Heavily involved in politics, Aaron Burr ran for president in 1796 but came in fourth. He continued his political career in New York. After a close race in the election of 1800 against Thomas Jefferson, Burr was appointed vice president for Jefferson. The election drove a wedge between Alexander Hamilton and Aaron Burr. While Burr was Jefferson's vice president, the two did not fully trust each other. Because of this, Jefferson was to drop Burr from his ticket in the 1804 election. Burr ran for governor of New York but lost. Feeling that many people were against him and that Alexander Hamilton was the reason, Burr began exchanging heated letters with Hamilton and then challenged Hamilton to a duel. While duels were illegal in New York, the men decided to meet in Weehawken, New Jersey. Dueling was also illegal in New Jersey, but the punishment was less severe. On July 11, 1804, the men began their duel. They both fired shots, and Hamilton was struck above the hip, later dying from his wounds.
Aaron Burr fled to South Carolina where his daughter lived and where he later returned to complete his term as vice president. In 1807 Burr was charged with treason and went to Richmond, Virginia for trial. While he was acquitted for treason, his political career was over. From 1808 to 1812, he lived in Europe. Burr returned to the United States in 1812 and changed his last name to Edwards. On July 1, 1833, Burr married Eliza Jumel. Only four months after their marriage, Jumel contacted Alexander Hamilton, Jr. to file for divorce against Burr because she felt that her fortune was dwindling due to Burr's neglect. On September 14, 1836, the divorce was finalized. On this day Aaron Burr also suffered a stroke, from which he later died in 1836. He was buried in Princeton, New Jersey alongside his father.
Sources
"Aaron Burr." The Historical Marker Database. Accessed June 19, 2017. https://www.hmdb.org/marker.asp?marker=32652.

"Aron Burr." NNDB. Accessed June 19, 2017. http://www.nndb.com/people/184/000022118.

Photo: Bill Coughlin, via The Historical Marker DatabaseAaron Burr. Biography. April 14, 2016. Accessed December 05, 2018. https://www.biography.com/people/aaron-burr-9232241.


Additional Information