Hotel Fort Des Moines
Introduction
Hotel Fort Des Moines has been a Des Moines landmark since it was built in 1919. Local architect firm Proudfoot, Bird & Rawson designed it and its construction was financed by a number of notable businessmen. The hotel is eleven stories tall, reaching a height of 140 feet, and is in the shape of an "H". At the time of its completion, the hotel was the largest in Iowa. It temporarily closed in 2015 so that an extensive $50 million dollar renovation project could begin. As of April 2019, it is unclear when work will be completed. Several presidents and celebrities have stayed at the hotel including Harry Truman, George H.W. Bush, Charles Lindbergh, Elvis Presley, and even Soviet Premier Nikita Kruschev. The large ballrooms were used for caucuses and political rallies. The hotel was added to the National Register of Historic Places in 1982.
Images
Hotel Fort Des Moines was built in 1919 and has remained a key landmark in the city's history.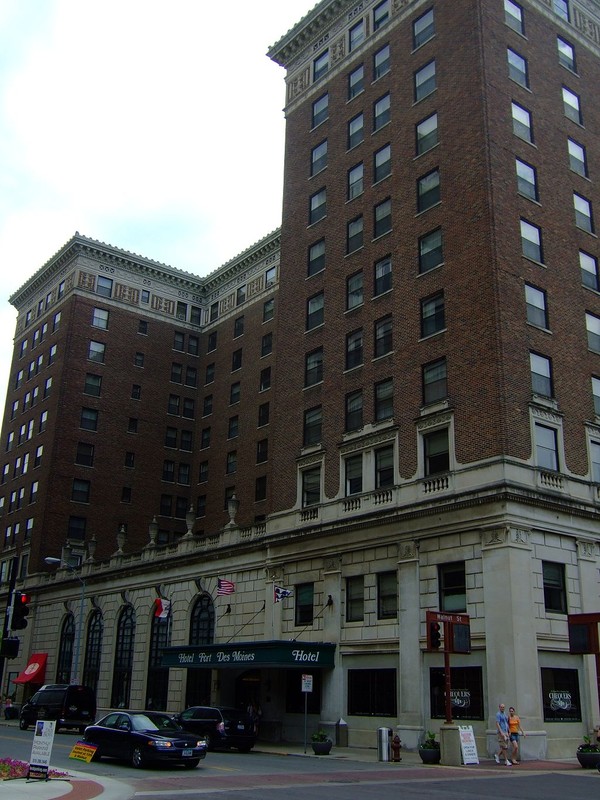 Backstory and Context
Renovations began because the hotel was in a serious state deterioration (for example, elevators were not working nor were phones in hotel rooms) that was hurting its reputation. As a result, the hotel has been receiving a complete overhaul from top-to-bottom, including the restoration of the two-story lobby, which was turned into one story in 1962 to create more meeting space.
Sources
Aschbrenner, Joel. "Hotel Fort Des Moines to close Friday for renovation." Des Moines Register. November 12, 2015. https://www.desmoinesregister.com/story/money/business/development/2015/11/11/hotel-fort-des-moines-close-renovation/75584218.

Barbara B. Long & Ralph J. Christian. "Hotel Fort Des Moines." National Park Service - National Register of Historic Places Nomination Form. September 16, 1982. https://npgallery.nps.gov/NRHP/GetAsset/NRHP/82002636_text.

Gaines, John. "Historic Hotel Fort Des Moines a 'crown Jewel'." The Hawk Eye. February 4, 2019. https://www.thehawkeye.com/news/20190203/historic-hotel-fort-des-moines-crown-jewel.

Norvell, Kim. "Take a sneak peek inside Hotel Fort Des Moines' $50 million top-to-bottom renovation." Des Moines Register. January 15, 2019. https://www.desmoinesregister.com/story/money/business/development/2019/01/14/downtown-des-moines-historic-hotel-fort-des-moines-construction-hawkeye-hotels-development/2506845002.

Photo: Wikimedia Commons
https://en.wikipedia.org/wiki/Hotel_Fort_Des_Moines#/media/File:Hotel_Fort_Des_Moines.jpg

Additional Information