Historical Marker- Birthplace of Danny Barker
Introduction
This historical marker indicates the birthplace of Danny Barker. Barker is best known for his musical accomplishments, but was also a historian, teacher, author, actor, and a painter. He played on over 1,000 records during his illustrious musical career.
Images
Birthplace of Danny Barker, historical marker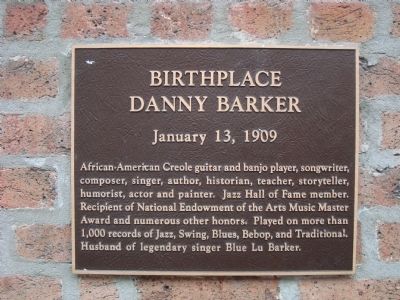 Danny Barker marker, street view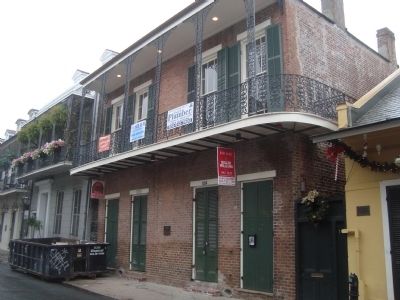 Danny Barker on the banjo, circa 1957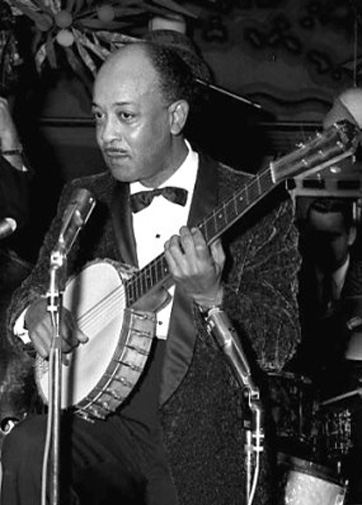 Buddy Bolden and the Last Days of Storyville, book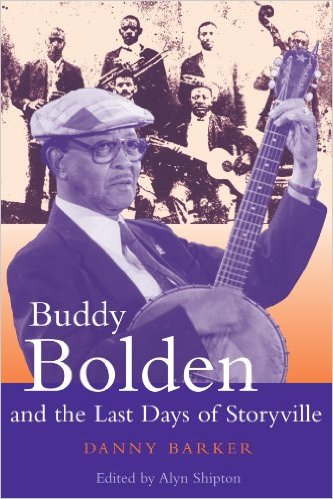 Danny Barker and Louise "Blue Lu" performing together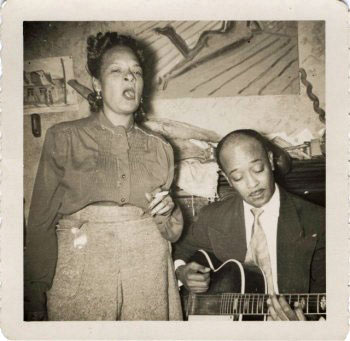 Backstory and Context
Danny Barker (January 13, 1909-March 13, 1994) was born in New Orleans to a musical family. He was the grandson of Isidore Barbarin, a notable bandleader, and the nephew of Paul and Louis Barbarin, who were drummers. The first instruments he learned to play were the clarinet and the drums. He later switched to a ukulele his gave him and later still learned to play the banjo. Barker played rhythm guitar for bands such as Cab Calloway, Lucky Millinder, and Benny Carter during the thirties. He played with a number of legendary musicians, including Jelly Roll Morton, James P. Johnson, and Mezz Mezzrow. He married singer Blu Lu, who he also recorded and toured with. Blue Lu Barker was inducted into the Louisiana Blues Hall of Fame in 1997.
Danny Barker's first music group was a street band called the Boozan Kings. Before moving to New York in 1930, he also toured throughout Mississippi with Little Brother Montgomery. Shortly after moving to New York, he played with Fess Williams, Billy Fowler, and the White Brothers. He collaborated with Buddy Harris in 1933 and with Albert Nicholas in 1935. From 1937-38 he worked with Lucky Millinder and with Benny Carter later in 1938. During the fifties, he traveled to California to record with Albert Nicholas.
He moved back to New Orleans in 1965 and began working as a curator's assistant at the New Orleans Jazz Museum. He started the Fairview Baptist Church Marching Band in 1970. This later became the popular Dirty Dozen brass band. He was also the bandleader for the French Markey Jazz Band during this period of his life.
Sources
http://www.hmdb.org/marker.asp?marker=51525

http://www.jazzbanjo.com/jbartist/images/barkercover3.jpg

https://en.wikipedia.org/wiki/Danny_Barker

https://en.wikipedia.org/wiki/Blue_Lu_Barker

Barker, Danny and Alyn Shipton. A Life in Jazz. New York: Oxford University Press, 1986.

Levin, Floyd (2002). Classic Jazz: A Personal View of the Music and the Musicians. University of California Press. p. 191.

Parsonage, Catherine (2005). The Evolution of Jazz in Britain. Ashgate Publishing, Ltd. p. 111.

Gillis, Frank (1989). Oh, Didn't He Ramble: The Life Story of Lee Collins as Told to Mary Collins. University of Illinois Press. p. 44.

DeVeaux, Scott (1997). The Birth of Bebop: A Social and Musical History. University of California Press. p. 209.

Bolden, Buddy. "New Orleans Jazz and Caribbean Music".

Chilton, John (1985). Who's Who of Jazz: Storyville to Swing Street. Da Capo Press. p. 20.

Koster, Rick (2002). Louisiana Music: A Journey from R&B to Zydeco, Jazz to Country, Blues to Gospel, Cajun Music to ... Da Capo Press. p. 64.

Wald, Elijah (2004). Escaping the Delta: Robert Johnson and the Invention of the Blues. HarperCollins. p. 84.

Burns, Mick (2006). Keeping the Beat On the Street: The New Orleans Brass Band Renaissance. Baton Rouge: LSU. p. 16.

Balliett, Whitney (2000). Collected Works: A Journal of Jazz 1954-2000. St. Martin's Press. p. 268.

Additional Information