Civil War Monument
Introduction
Located in Monument Square at the busy intersection of Main Street (Route 125) and Kenoza Avenue (Route 110), Haverhill's Civil War Monument is perhaps its grandest local monument. It was erected less than four years after the end of the war, though planning for it had actually begun during the war. The soldier at top is meant to represent Major Henry Jackson.
Images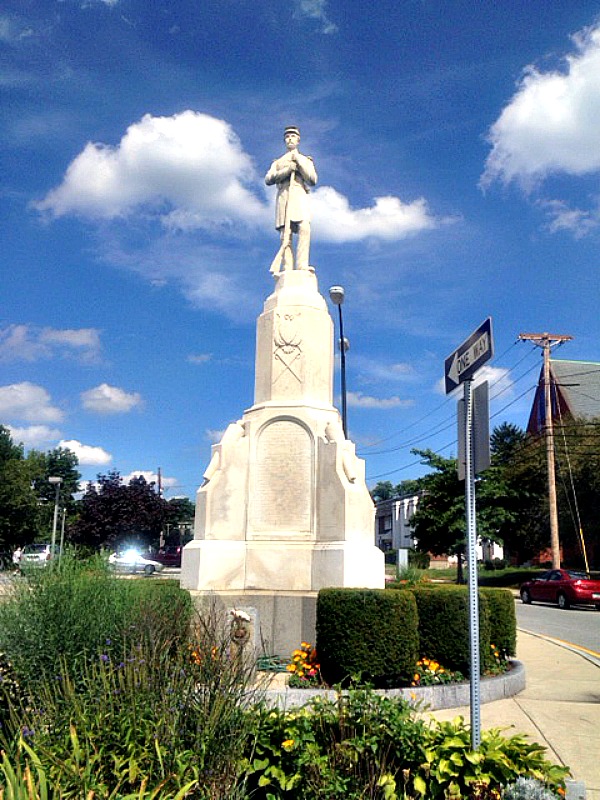 Backstory and Context
The city dedicated this monument July 4, 1869, less than four years after the end of the Civil War. Located in the center of town, at a busy intersection, and facing the existing City Hall at the time, the placement of the monument and the swiftness of its erection indicate the war's importance to the city's population, a proclamation to the sacrifices made to preserve the nation.
The monument is made of pure white Sicilian marble and stands 26 feet tall. It is topped with a statue of a volunteer soldier, 8 feet 4 inches in height, with musket at parade rest. The monument actually consists of 12 marble pieces: the 4 canons, the soldier, 3 lower pieces and a 4 piece base, that interlock with each other. The monuments base is engraved on its sides with the names of the 183 veterans who lost their lives during the war, as well as an inscription that reads:
In grateful tribute to the memory of those who on land and sea died that the Republic might live, this monument was erected by the city of Haverhill.
The soldier on top was meant to represent a specific Haverhill resident, Major Henry Jackson, who died in battle in 1862. In fact, it was Jackson's death that had started the conversation and movement for a monument to be created even while the war was still raging on.
The monument's artist, Calvin H. Weeks, was a former mayor of Haverhill whose business was on Main Street across from the common (GAR Park). One of Weeks's stone-carvers, Patrick McLaughlin, also a Haverhill resident, was given the task of carving the statue. He used his 26 year-old son, Frank McLaughlin, as a model for the carving. Frank McLaughlin was himself a Civil War Veteran having served in the 50th Massachusetts Infantry and the 17th Massachusetts Infantry
Due to traffic problems in 1999, the monument was moved 40 feet east from its original placement, and no longer faces City Hall (which has also changed in location over the years). A wrought iron fence that originally surrounded the monument now encircles the Korean War Monument in GAR Park.
Sources
Auger, Michael. Tour the War Monuments of Haverhill, Massachusetts. Haverhill, MA. Buttonwoods Museum.
Haverhill, Massachusetts Civil War Monuments Project. December 17th 2018. Accessed May 22nd 2020. https://macivilwarmonuments.com/2018/12/17/haverhill/.
Additional Information