World War II Memorial
Introduction
Haverhill's World War II Memorial was erected in 1990 due to a widespread community effort to honor the the men and women who had served in that conflict. It also contains two time capsules that are to be opened in 2090. The dedication was attended by George S. Patton's son and Deputy Secretary of Defense Donald J. Atwood.
Images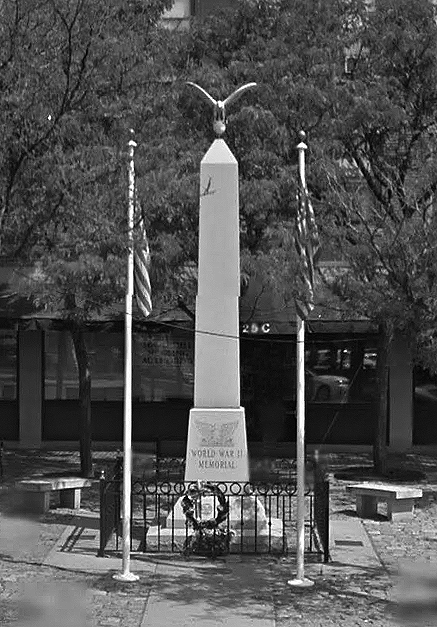 Backstory and Context
The memorial was primarily the dream of Nicolas Hideriotis, a D-Day survivor, who was moved by the continuing attrition of his fellow Second World War veterans, dying un-honored and un-memorialized for their bravery. Chapter 20 of the DAV (Disabled American Veterans) donated $16,000 for its construction. The foundation of the memorial was donated by James A. Mahoney & Sons. The fence encircling it was donated by Haverhill Ornamental Iron Works. It was also sponsored by the Haverhill 350th Anniversary Committee, The Haverhill Community Events Commission and the Demoulas Foundation.
The memorial was constructed with Barre, Vermont granite. The memorial has two time capsules buried under granite blocks. The capsules are scheduled to be opened in 2090, a hundred years after the memorial's dedication. They contain a book entitled "Haverhill in World War II", historical articles written by a columnist from the Haverhill Gazette, and a variety of war memorabilia.
A ceremony dedicating the memorial was held inside the City Hall auditorium, with a 21-gun salute taking place outside across from the Elks Club. George S. Patton's son was among the dignitaries present along with Haverhill native and Deputy Secretary of Defense Donald J. Atwood. In 1995 another ceremony was held to commemorate the 50th year anniversary of the war's end. On May 8, 1998 a closing ceremony took place at which time the copper eagle was placed on top of the obelisk. Two flagpoles, a concrete walkway with a medallion containing a large bronze star were also added at this time. Medals were "minted" to commemorate the closing ceremonies, with one being sent to President George Bush who now displays it among the archives in his presidential library.
Each side of the memorial is engraved; on one side is the dedication: The Monument is in honor of the men and women of Haverhill who served from 1941-1945. A second side reveals a quote from George Washington. The third side has a quote from poet John Greenleaf Whittier, with the final side (facing the street) featuring an eagle and the symbols for the four armed service branches that served during the war (the Air Force was not a branch till after this conflict).
Sources
Auger, Michael. Tour the War Monuments of Haverhill, Massachusetts. Haverhill, MA. Buttonwoods Museum.
Additional Information