RLC Backyard - Water Tower & Horno
Introduction
Water and food are central to daily life. When Temple's workers lived in the adobe, they pumped water from the nearby river utilizing a water ram. This was effective until the 1860s, when a severe drought caused the river level to drop, so they dug a well in the garden and used a well sweep to pump water into the cistern. When Jotham Bixby and his family moved into the adobe in 1866, they dug a new well and built this raised water tower. They also added a windmill to the water tower, to help pump the water from the well up into the tank. In the 1930s, Rancho Los Cerritos was finally connected to the City's water system and electric grid, but Cornell incorporated the old water tower as another garden element. The Spanish word for oven is "horno." The horno you see here (whitewashed, beehive-shaped structure) was built of adobe bricks by volunteers in 1988, to resemble the one that was once located near the ranch's kitchen in John Temple's time. Temple's horno was used for baking by the Bixby's Chinese cook, Ying, in the 1870s, although he also had a wood-burning stove in the house. This horno is used for special occasions, and it must be re-plastered with mud and then whitewashed annually. In the 1930s, Rancho Los Cerritos was finally connected to the City's water system and electric grid. DIRECTIONS: Follow the pathway to the north (toward your right), as you approach the horno, which will take you back toward the historic adobe building.
Images
Horno being re-plastered (2000s)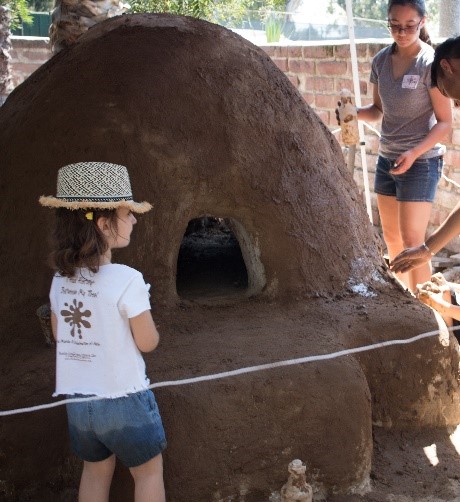 Llewellyn Bixby Sr posing by water tower (1930s)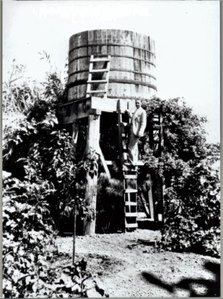 Water tower with windmill (early 1900s)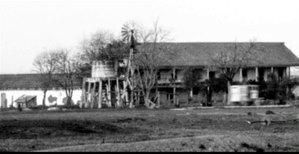 Backstory and Context
Rainwater is never a given in this region! When another drought gripped Southern California in 1894, RLC owner Jotham Bixby was desperate to quench the thirst of his grounds and livestock so he hired a "rainmaker" for $100 ($3K in today's dollars). Payment was contingent on the production of two inches of rain. Unfortunately, the rain did not fall. The re-created water tower (minus its windmill) resides in its original location near the capped well. 
When Rancho Los Cerritos was connected to the City's water supply in 1931, Cornell's newly installed gardens could be easily irrigated with a sprinkler system. Nonetheless, Cornell incorporated the old water tower as another remnant of the historic tapestry of the estate's unusual garden. Cornell also sited a secondary orchard around it, mixing in some ornamentals as well. With more avocados, persimmons, pineapple guava, and jujubes, it seems there is a subtle reminder that California's agricultural concerns are only possible when water is nearby. Only a few of the secondary orchard's trees remain in this area.