RLC Backyard - Introduction
Introduction
If only these plants could talk! Several of the trees in this area were planted when John Temple built the adobe, more than 175 years ago. Some of them were planted when Jotham Bixby owned the property in the 1880s. The majority of the garden is based upon the 1930s landscape installed by Ralph Cornell, or later. In the 1840s, Temple added a formal two-acre garden behind his adobe with raised beds and cultivated plants, which are rare in arid Alta California, and he enclosed the space with a tall redwood fence to keep his livestock out. In the 1930s, Cornell Changed the shape of the garden, added a forecourt for guest parking, and installed a doorbell outside the gate, which ensured that visitors entered the landscaped garden before the home. For generations this space has served as a place for respite and recreation and continues to do so today.
Images
Jotham, Margaret, George & Susan Bixby in Backyard (1872)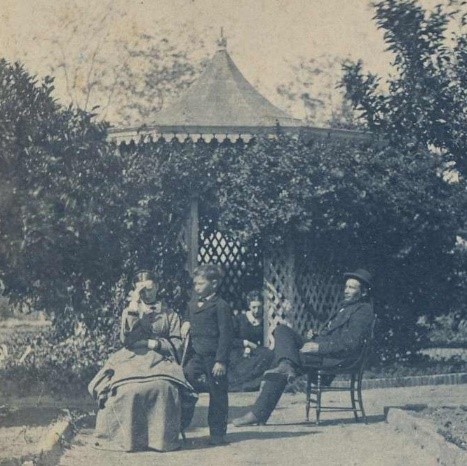 Llewellyn & Avis Bixby's grandchildren playing croquet on the lawn (1940s)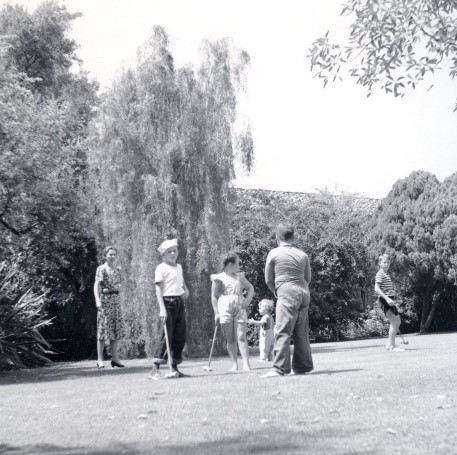 School children playing with hoops on a field trip (2000s)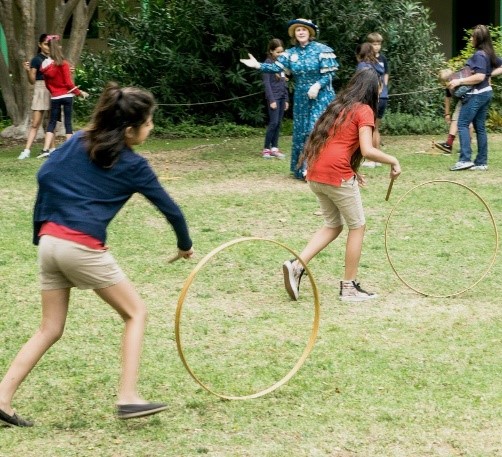 View of RLC Backyard in 1870s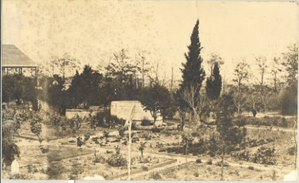 View of RLC Backyard Today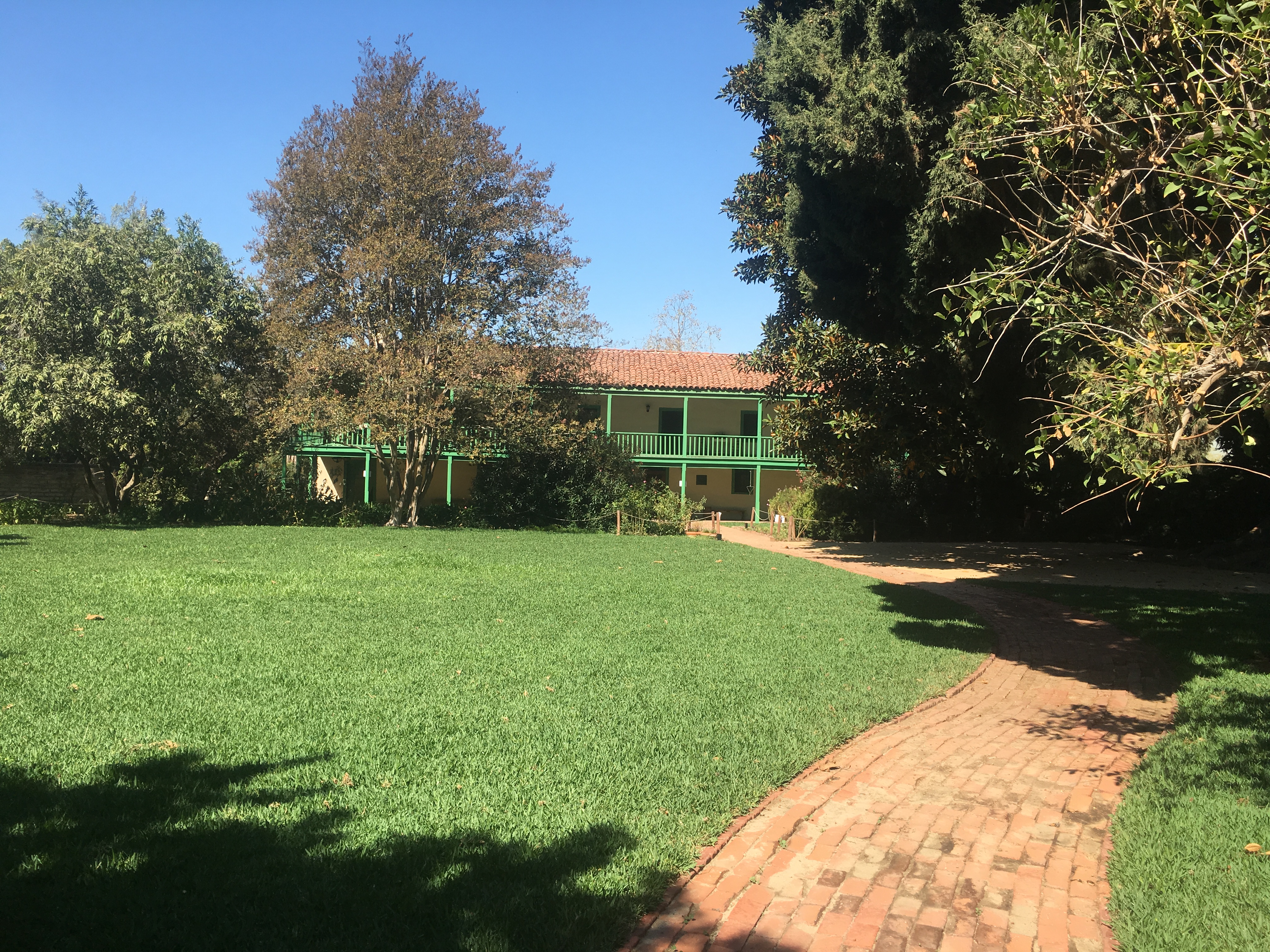 Backstory and Context
John Temple's workers constructed a grand two-story adobe as the headquarters for his cattle ranch (1844), but the adobe never became his primary residence. He continued to live above his mercantile in the pueblo of Los Angeles. Yet here he installed a colonial-style garden reflecting his New England roots that quickly became quite the showplace. Temple requested seeds from Massachusetts, but the majority of plant material was sourced locally – all of it exotic to the Yankee – including Mission grapes, figs, pomegranates, and oranges.
When Flint, Bixby & Co. purchased Temple's 27,000-acre rancho (1866) for $20,000, their deed included the 10,000 square-foot adobe, the brand, and the remains of Temple's two-acre garden. Southern California had suffered a devastating flood and two-year drought earlier in that decade, which would certainly have impacted Temple's garden. Unlike Temple, Jotham Bixby made the adobe his family home. He introduced two Moreton Bay Fig trees (1880 ca.) into the landscape, shortly before moving to town and leasing the property to tenants. Those fig trees eventually grew together, into one spectacular specimen that is now considered the showpiece of the backyard.
The tenant period (1880s-1920s) saw a dramatic change in the backyard. Since the tenants needed to provide food for their families, row crops replaced any remaining ornamentals. There were also pigs apparent in some of the old photos, and a chicken coop was referenced in at least one oral history of the period.
Llewellyn Bixby Sr. purchased the remaining 4.7-acre parcel from the family holdings (1929) and hired landscape architect Ralph Cornell to design an estate garden. Bixby had no doubt heard family stories about his uncle's garden, and Cornell embraced the concept of preserving mature trees and honoring the family legacy in his landscape design.
Today, the Rancho Los Cerritos backyard is a serene, historic setting that entices visitors to stroll, to explore, and to return time and again. It is also a popular venue for weddings, celebrations, and public events.
Additional Information