RLC Backyard - Herb Garden
Introduction
Especially for Families! Planned and planted by volunteers from the Junior League of Long Beach in the 1980s, the herb garden supports our award-winning school tour program. It is divided into four sections – culinary, medicinal, dye, and potpourri – to show how the herbs are useful in different ways. The four quadrants surround a central sundial, which was dedicated to Jotham Bixby in the 1920s. Can you guess which bed is which? Bonus Question: Can you tell what time it is? (Check the "Backstory" for hints!)
Images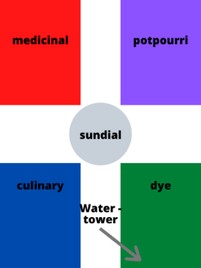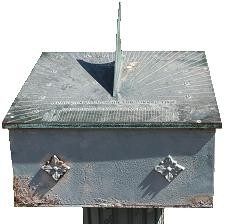 Backstory and Context
Hints for identifying herb garden beds:
Aloe is used for burns, and rosemary for rinsing wounds (medicinal).
Bay leaves and fennel help flavor meats and sauces (culinary).
Indigo can color cotton blue, while tansy can color wood green to protect it from termites (dye).
Lavender repels wool moths, even if humans find it soothing (potpourri).
Hints for bonus question:
If the sun is shining, look closely at the sundial. Note: depending on the season, you may need to add/subtract an hour for daylight savings time.