Case Library, Baker University
Introduction
Case Library is a native limestone structure built from 1904 to 1907 near the southwestern corner of the Baker University campus, facing Eighth Street. The building was designed by a professional architect from Vincennes, Indiana; the plans were altered by a Baker professor before construction. The two-story, semi-rectangular neoclassical building's hipped roof is hidden by a parapet wall. The building's central three-bay pedimented pavilion projects from the nine-bay main façade. Lighter-colored limestone is used for the water course, belt courses, the pavilion's base, and part of the entablature. While the outside of the building retains a high degree of architectural integrity, the interior basement and two floors have had many alterations, including a major renovation in 1969.
Images
Photograph of west facade of Case Library in 2009 (KSHS database)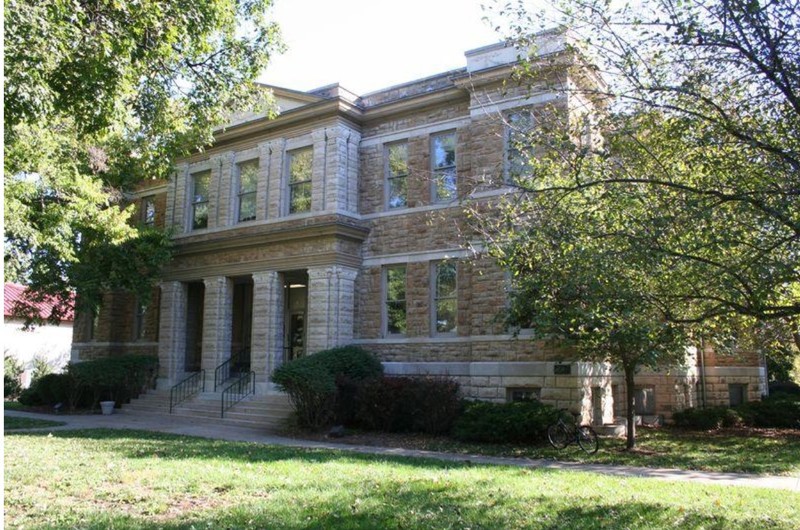 Case Library on 1912 Sanborn map of Baker University campus (p. 1)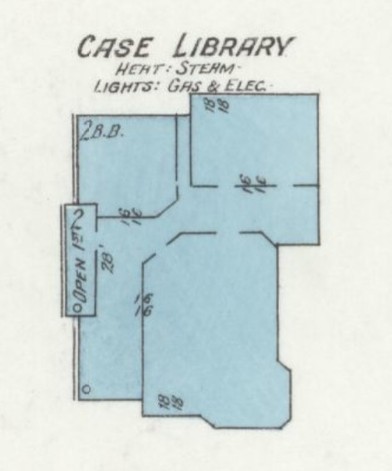 Backstory and Context
The architect for Case Library - also known as Case Hall - was J.W. Gaddis. The plans were revised by William Charles Bauer. Case Library was the fifth building constructed on the Baker University campus and was the school's first library building. Prior to its construction, books were housed in part of the science building, Parmenter Hall. The building is named for a University Trustee from 1883 to 1921, Judge Nelson E. Case, who donated initial seed money for its construction in 1898. Andrew Carnegie contributed $25,000 for construction of the building in 1906, plus an additional $12,000 for books and equipment. The building cost about $52,000 to complete.
The initial design for the building was not approved as-is, and a University professor of physics and chemistry, Dr. William Charles Bauer, was tasked with altering the plans. Bauer removed some of the Romanesque elements and created a more Neoclassical appearance; he also added increased shelving space for books twofold. The library contained around 17,000 bound volumes when it opened in 1907, with nearly a thousand of them donated by Judge Case. At that time, the university enrollment was 780 and the town's population was 1,600. The library building is now flanked by masonry buildings constructed on campus in the 1960s. By 1985, students at the university numbered 739 and Baldwin City's population had grown to nearly 3,000.
When Case Library was nominated to the National Register in 1986, it housed a library as well as classrooms and offices for departments of education. philosophy, sociology and psychology. the building is listed for its significance in architecture (Criterion C) and for its historical association with Baker University (Criterion A). Baker University was chartered while part of the Kansas Territory in 1858 and is Kansas' oldest institution of higher learning still operating under its original charter. Baker was founded by the Kansas Education Association of the Methodist Episcopal Church. The building is no longer the campus library but continues to hold several departmental office spaces. Baker University is a private university that now offers degrees from undergraduate through doctoral levels.
Sources
Baker University. Campus Attractions at Baker University, About Baker University. Accessed June 17th 2020. https://www.bakeru.edu/about-baker-university/visitors/.
Hagedorn, Martha Gray. NRHP Nomination Form for Case Library, Baker University. National Register. Washington, DC. National Park Service, 1986.
Loughlin, Amanda. 045-0340-00011 Baker U. - Case Library, 800 Grove St. Baldwin City, Kansas Historic Resources Inventory. Accessed June 12th 2020. https://khri.kansasgis.org/index.cfm?in=045-0340-00011.
Image Sources
https://khri.kansasgis.org/index.cfm?in=045-0340-00011

https://www.loc.gov/item/sanborn02896_004/

Additional Information