The Emmons Apartments
Introduction
The Emmons Apartments were built by Arthur S. Emmons in 1911. Emmons was the son of a Delos W. Emmons, who was a prominent figure in Huntington and Collis P. Huntington's brother-in-law. The first building became known as Emmons Sr. once the second building, Emmons Jr., was built in 1924, and they quickly became known as luxurious places to live. In 2007, a fire started in the closet of Emmons Jr., quickly spreading and ultimately claiming the lives of nine people. The buildings were damaged and subsequently demolished, and the lot currently remains empty.
Images
A photo of the Emmons Sr. apartment building circa 1911, photo courtesy of Patrick Morris.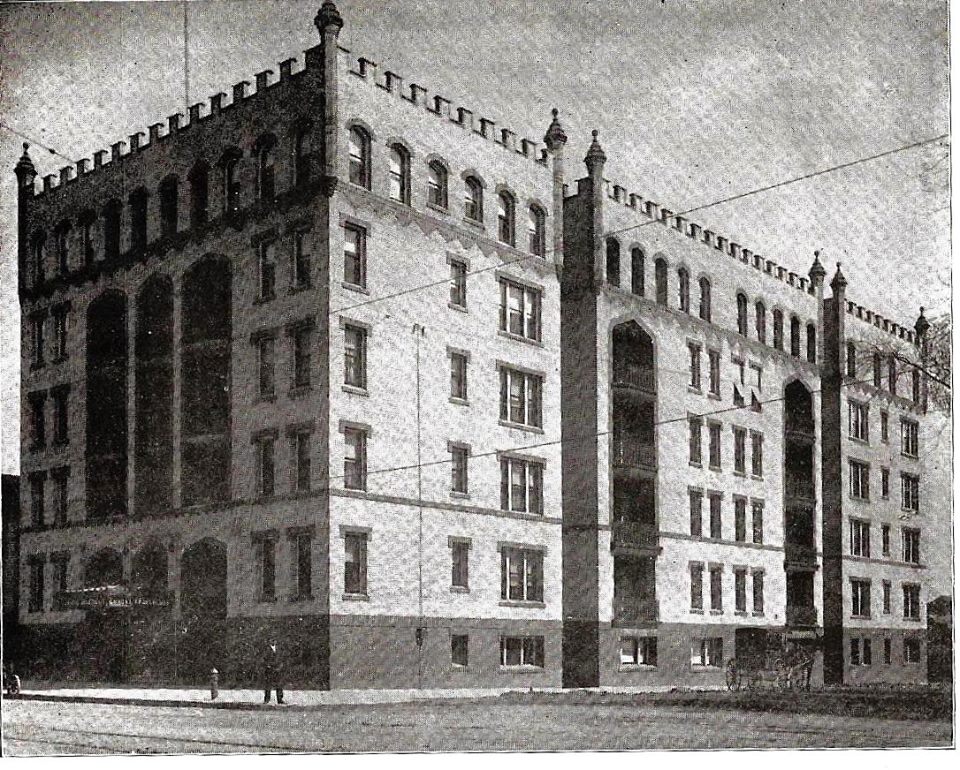 An advertisement for the Emmons Sr. apartment building circa 1917, photo courtesy of Patrick Morris.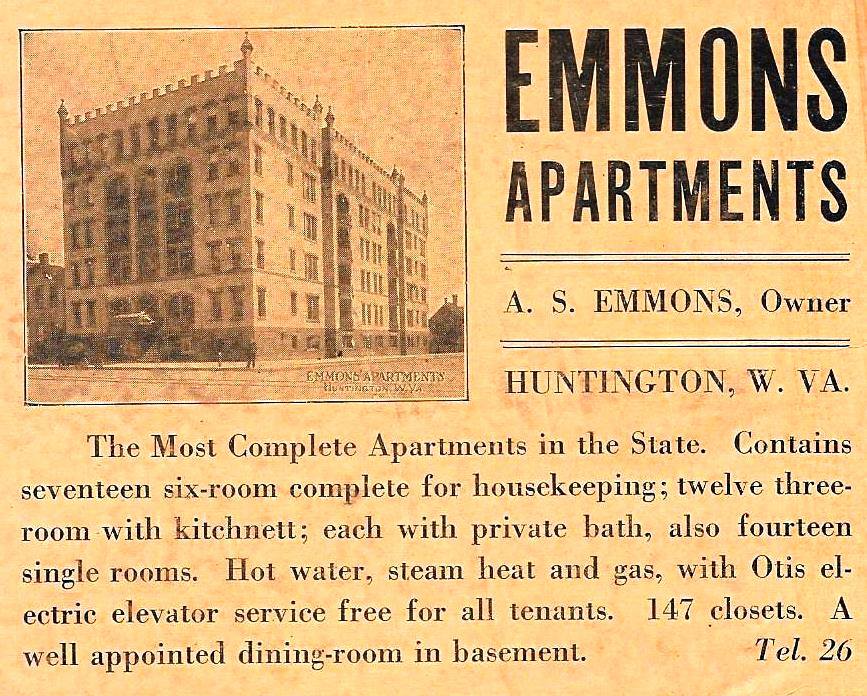 Photo of the Emmons apartments circa 2006, photo courtesy of Patrick Morris.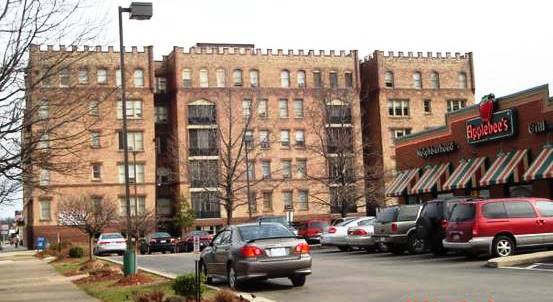 Backstory and Context
History of the Apartments
Delos W. Emmons was the brother-in-law of Huntington's founder, Collis P. Huntington. Huntington could spend very little time in the city himself, so he placed his relative in charge of the city in his absence. His relative grew quite successful during his time at the helm. Delos W. Emmons oversaw the first land sales in the town and served on the first City Council. Emmons also was the director of the Bank of Huntington. However, one of his sons, Arthur S. Emmons, left an indelible mark on the town when he sought to erect apartments. The first apartment building that he built, Emmons Sr., was a six-story brick structure that Arthur S. Emmons saw as his investment in Huntington's future. Quoted in a The Huntington Advertiser article published in 1911, Emmons claimed that, "Huntington is a progressive city and my faith in its future led me to take the initiative in planning and erecting this building."
Emmons, with very few exceptions, chose local merchants and industries to complete his building. When it was finished, it contained twenty-nine apartments, with ten of them having three rooms plus a bathroom, and the others having six rooms each and equipped for housekeeping. The building was outfitted with steam heat, hot and cold water, gas, and electricity. It also had a phone system and telephone wires installed for twenty-five telephones that connected each apartment with the office, kitchen, janitor, and front door, at 'considerable cost'. He did not seem to spare much expense on the apartment building, which was evident by the fact that more than half of the apartments were claimed before it was even opened. It was shaping up to be a popular place to live at the time. Emmons believed that his apartment building would be one of many structures to make Huntington the 'first city in the state'. Emmons Jr. was erected in 1924 to complete the structure.

The Emmons Apartments Fire
On Saturday, January 13, 2007, a fire started in a living room closet in Emmons Jr., which spread to the adjacent Emmons Sr. building. Because Emmons Jr. was built in 1924 and did not fit the definition of a 'high-rise' building, the building code did not call for a sprinkler system. When the fire started inside of the closet, the fire spread into vertical and horizontal openings throughout the building itself, which helped to spread the fire fairly quickly. Other issues seemed to have been apparent, such as smoke detectors in certain units having been taken off the walls instead of having the batteries replaced. No exact cause of the fire was ever determined after investigation. Ultimately, nine people lost their lives. The fire convinced some building owners around Huntington to install sprinkler systems, thicker walls and other fire deterrents into their own buildings. It also made residents aware of the importance of fire alarms and having emergency plans. The demolition of the buildings was delayed around ten months while the investigation into the fire was still pending, but the demolition finally began October 3, 2007. As of 2017, the lot where the two buildings stood is still empty.
Sources
"Emmons Holds Faith in City." The Huntington Advertiser (Huntington), February 24, 1911, 1-1.

Casto, James E.. Lost Huntington: The Emmons Apartments. The Herald-Dispatch. March 10, 2014. Accessed March 15, 2017. http://www.herald-dispatch.com/special/lost_huntington/lost-huntington-the-emmons-apartments/article_26366c50-f65d-5f43-b16d-940da55ec5b9.html.

Morris, Patrick. Facebook. July 27, 2016. Accessed May 03, 2017. https://www.facebook.com/photo.php?fbid=1366957853333814&set=gm.1764123650478377&type=3&theater.

Nash, Bishop. Emmons Fire Still Stings After Nine Years. Herald-Dispatch. January 13, 2016. Accessed May 03, 2017. http://www.herald-dispatch.com/news/emmons-fire-still-stings-after-nine-years/article_035c02d8-b9b6-11e5-8dec-b7ff24c281fb.html.

Hardiman, Jean. Emmons Should Be Down By Monday. Herald-Dispatch. November 02, 2007. Accessed May 03, 2017. http://www.herald-dispatch.com/news/emmons-should-be-down-by-monday/article_5f500b86-e38a-52ae-9016-ba317f2437de.html.

Johnson, Curtis. Impact of Emmons Apartment Fire Lives On. The Herald-Dispatch. January 12, 2008. Accessed May 03, 2017. http://www.herald-dispatch.com/news/impact-of-emmons-apartment-fire-lives-on/article_fda08a3c-dfde-578b-a023-50dc223d9b94.html.


Additional Information