Hinton Confederate Monument
Introduction
Dedicated in 1914, this monument was built in honor to Confederate soldiers and supporters from Summers, Greenbrier, Monroe, Mercer, and Raleigh Counties. The movement to build a Confederate monument in Hinton in the early 20th century may seem surprising at first, as West Virginia was formed in opposition to Virginia's decision to secede from the United States. However, many residents of Hinton and other Southern counties supported the South. More importantly, a nostalgic view of the antebellum South and the perception that those who defended slavery were standing against modernization and the growth of the federal government took hold in many communities following the turn-of-the-century. As the nostalgic view of the "Old South" grew, members of groups such as the Daughters of the Confederacy began erecting Confederate monuments in the Border States like Kentucky and West Virginia during the early 1900s. Although the majority of residents in West Virginia remained loyal to the United States, there are more Confederate monuments in southern West Virginia than monuments dedicated to those who defended the Union.
Images
Confederate Monument (Photo by Steven Hart)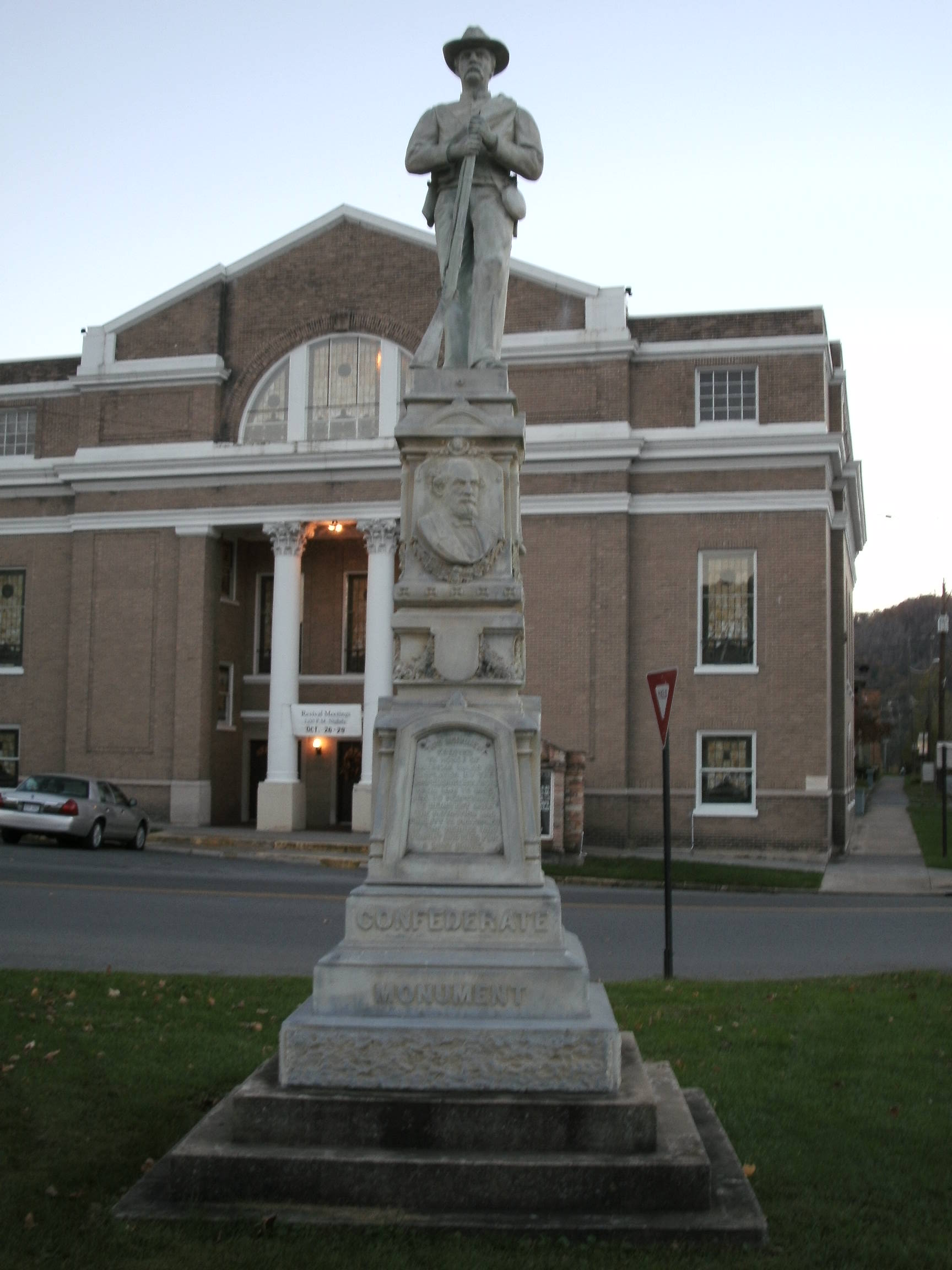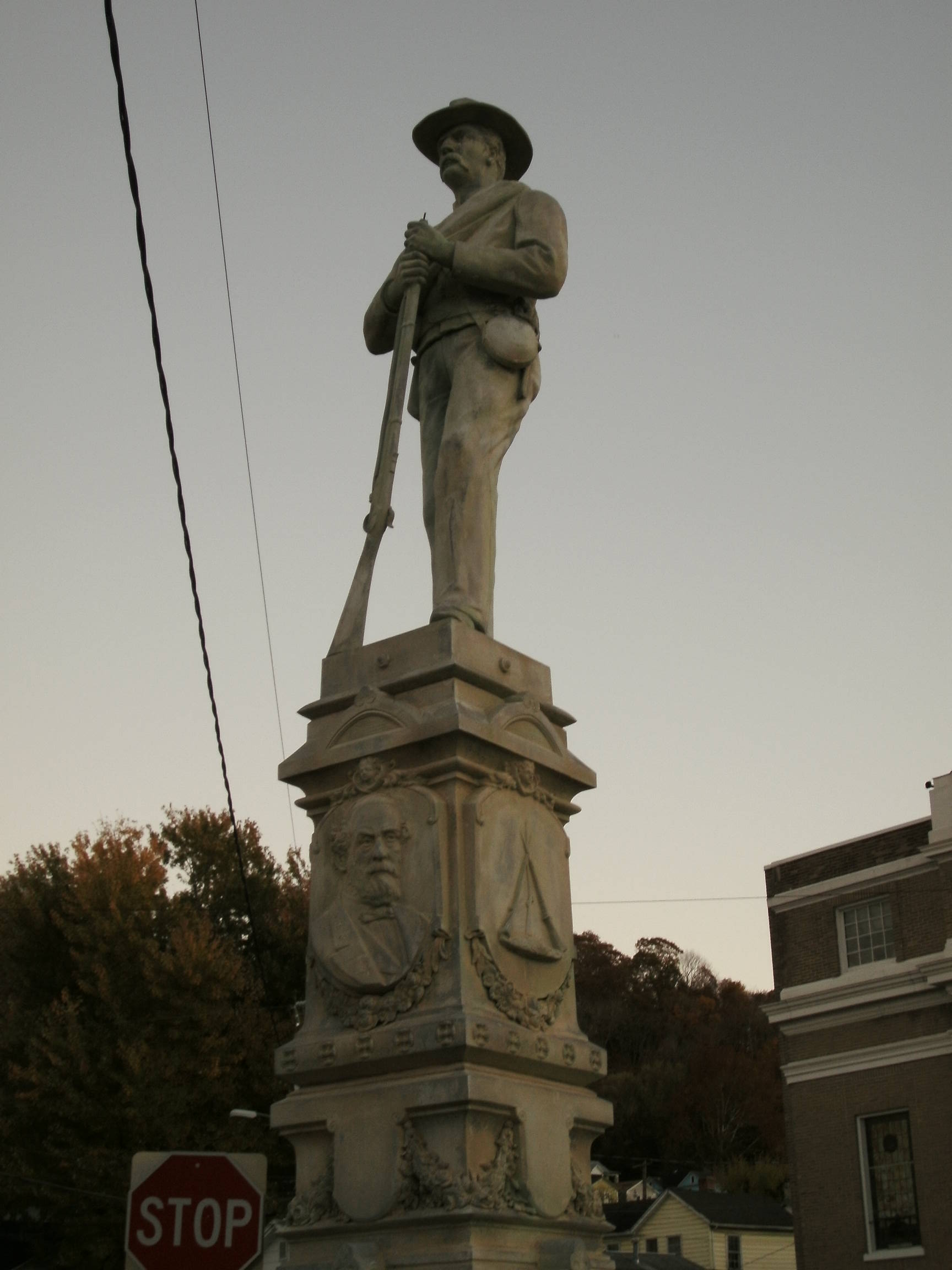 Front side inscription. (Photo by Steven Hart)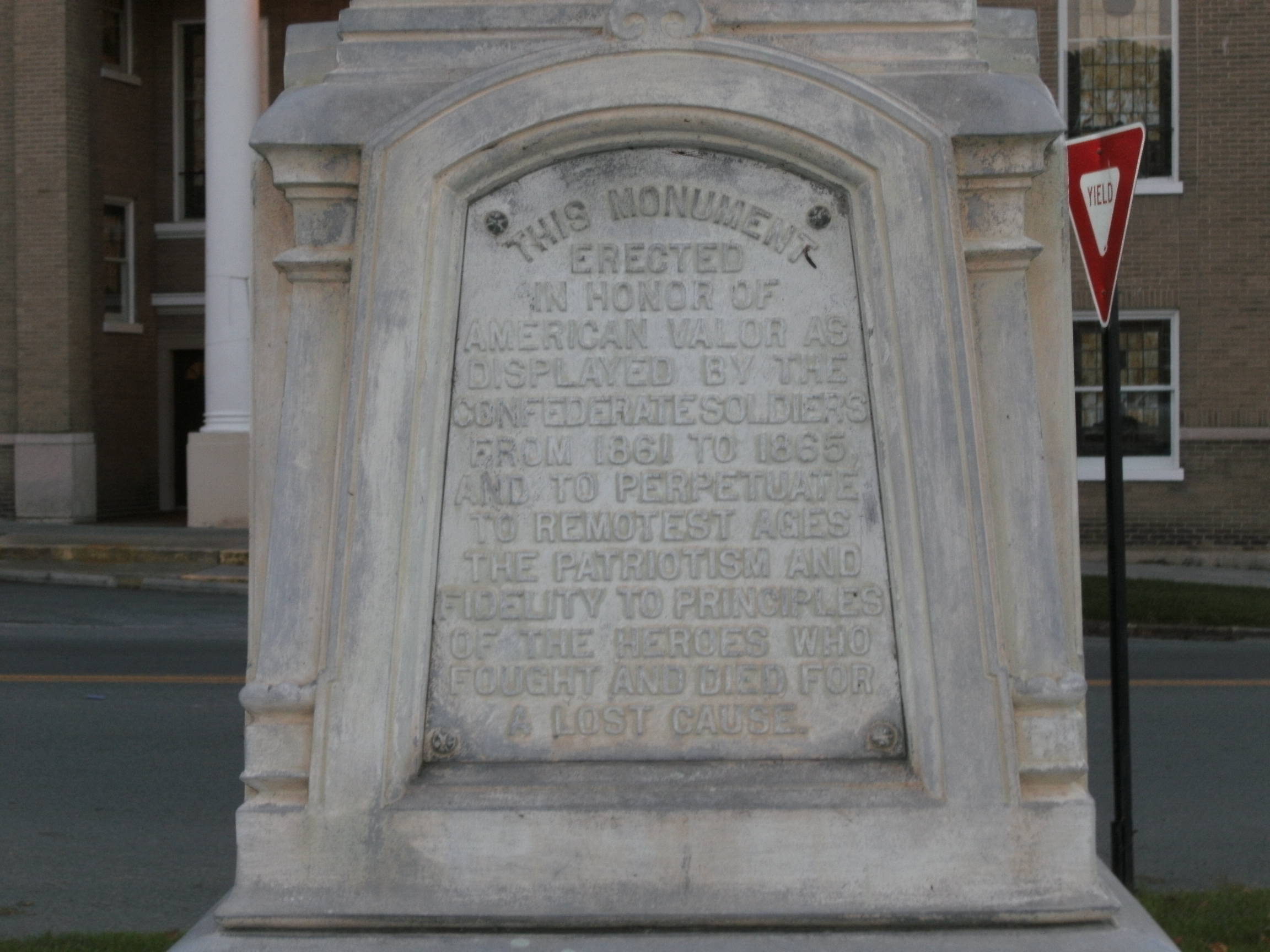 Left side inscription. (Photo by Steven Hart)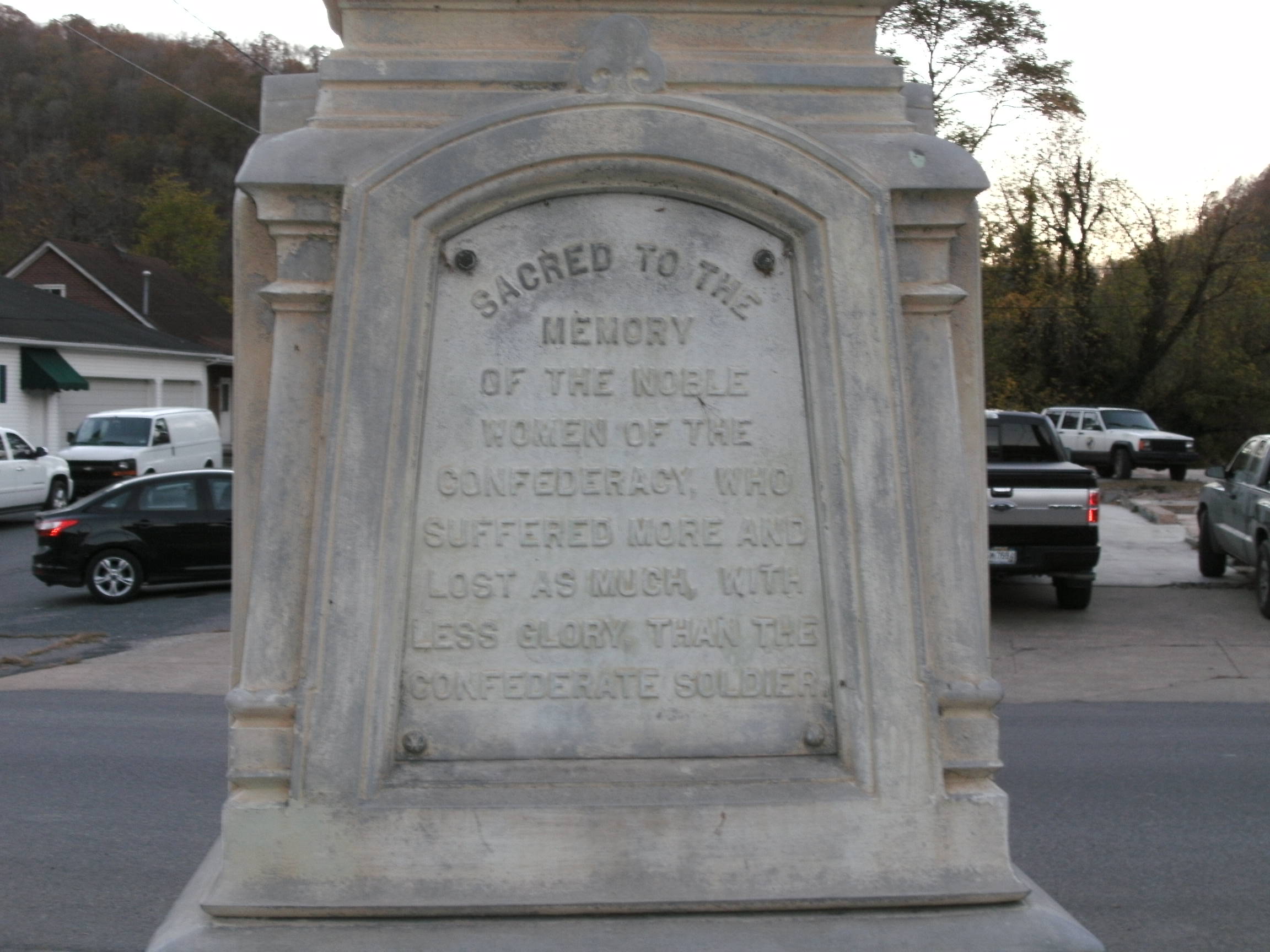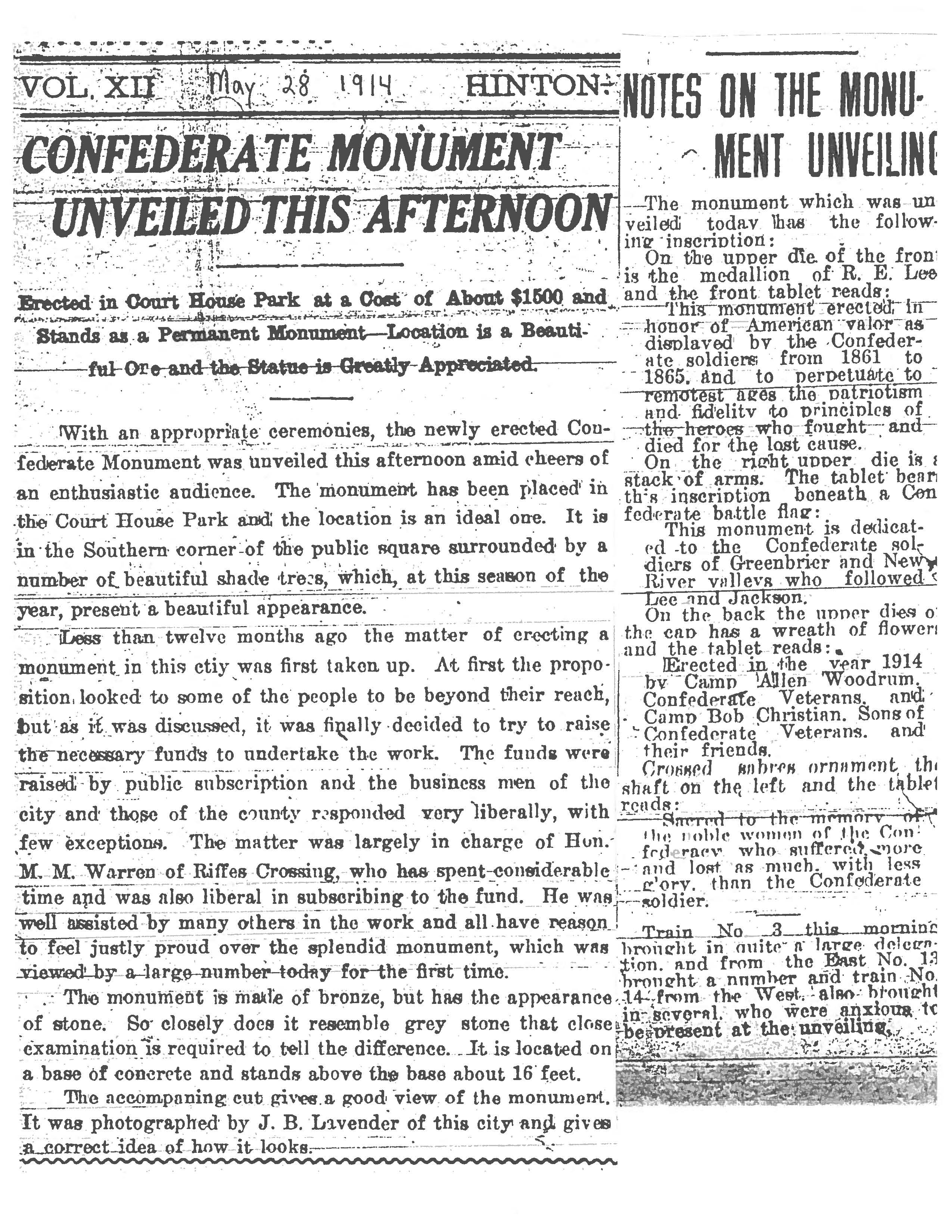 Backstory and Context
The area of that is now known as Summers County, West Virginia, was first surveyed in 1671, by the Batts and Fallam expedition. By the 1770's settlers had moved into the surrounding area, building homes along the Greenbrier, Bluestone and New Rivers. Fort Culbertson was built at Crump Bottom, in 1773, by Andrew Culbertson. This outpost was the westernmost settlement in the county. Some of these settlements were destroyed or abandoned during the French and Indian War. New settlements were rebuilt around 1760, only to suffer the same fate in 1763 during Pontiac's Rebellion.
Throughout the 1770's, settlers would once again move back into the area. These new settlements along three rivers flourished until the Civil War started. During the war, a large percentage of the soldiers who supported the Confederacy were from this section of West Virginia where loyalties were divided. Many of the volunteers joined Pickett's New River Regiment which was part of General Lee's Army of Northern Virginia. Others joined Bushwhacker militia groups that terrorized pro-Union and even neutral civilians throughout the region.
There were a few skirmishes in Summers County. Union troops won control of Pack's Ferry in a skirmish. This was significant as the ferry was the only way to cross the Bluestone and New Rivers at the spot where they met. In August 1862, Ohio soldiers under Colonel Rutherford Hayes captured the Mercer Saltworks which were located on Lick Creek.1
Early in the 1900's, some of the residents of Hinton wanted to erect a statue to honor Confederate veterans. This effort began with a modest dedication ceremony of a Civil War era cannon at the town square. In 1913, businesses and organizations raised funds to purchase this bronze statue. Many of the surviving soldiers, some who lived out of town and were brought in on special C & O Railroad passenger trains, attended the unveiling ceremony. 2
The text of the statue reads as follows: "This monument erected in honor of American valor displayed by the Confederate soldier from 1861 to 1865 and to perpetuate to remotest ages the patriotism of the heroes who fought and died for the lost cause." A second inscription on the right side of the statue states: "This monument is dedicated to the Confederate soldiers of Greenbrier and New River Valleys who followed Lee and Jackson." The left side of the statue has the following inscription: "Sacred to the memory of the noble women of the Confederacy who suffered more and lost much with less glory that the Confederate soldier." And on the rear of the statue is the inscription: "Erected in the year 1914, Camp Allen Woodrum, Confederate Veterans and Camp Bob Christians, Sons of Confederate Veterans and their friends." 3
Sources
(1) http://www.wvencyclopedia.org/articles/623 (2) http://hin.stparchive.com/Archive/HIN/HIN03022010p02.php (3) (Ibid.)
Additional Information