Pavilion X
Introduction
Pavilion X is located on the east side of the terraced lawn at the point where it makes its steepest drop. This Pavilion has a much narrower gallery than the others and features Greek-style columnns that sit flat on the ground. The cornice is decorated in the Doric style. Beginning in 2009, work began on restoring Pavilion X to more closely resemble its original appearance. The biggest change was the construction of an attic parapet, the original having been removed as early as the mid-1800s for unknown reasons.
Images
Pavilion X on the U.Va Campus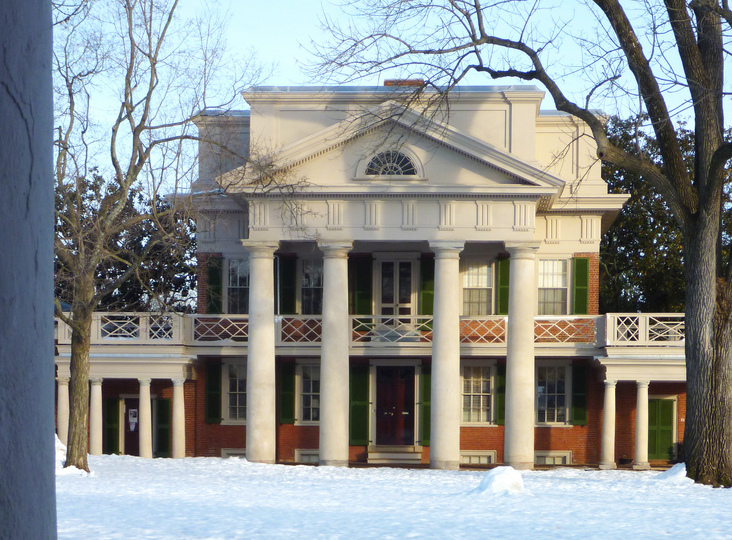 Backstory and Context
Ten Pavilions are situated along the east and west sides of the University of Virginia's Academical Village. Centered around the Lawn, the Academical Village was designed by Thomas Jefferson as a unique environment where students and faculty could live and study. Each pavilion represents an academic discipline as conceived by Jefferson, an order of ancient architecture, and was intended to be occupied by a professor of the "useful science" with which it was associated. No two Pavilions in the Jeffersonian Precinct of the U.Va campus are exactly alike.

The first resident of Pavilion X was Robley Dunglison, Professor of Anatomy and Medicine. One anecdote describes Dunglison inquiring as to whether his Pavilion was a suitable location for classroom dissections, prompting Jefferson to design an Anatomical Theatre. The theatre stood west of the West Range until the 1930s. Another former occupant of Pavilion X was beloved Professor of Law, John A. G. Davis, whose tragic murder outside his front door is often cited as the inspiration of the Honor System.

Sources
Kelly, Matt. "Jefferson's Parapet to be Restored at Pavilion X." UVAToday (Charlottesville), June 23, 2009. Accessed April 4, 2017. http://news.Virginia.edu/content/jeffersons-parapet-be-restored-pavilion-x.

Spencer, Hawes. "Pavilion X shows its (new) colors." The Hook (Charlottesville), n.d. Accessed April 4, 2017. http://www.readthehook.com/68124/pavilion-x-shows-its-new-colors?quicktabs_1=1.

"The Lawn." Wikipedia, the Free Encyclopedia. Accessed March 23, 2017. http://en.wikipedia.org/wiki/The_Lawn.

"U.Va. Web Map: Pavilion X." The University of Virginia. Accessed April 4, 2017. http://www.Virginia.edu/webmap/popPages/pavilion10.html.

Pavilion X After Renovation; image by local louisville; cropped by User:Ibn Battuta - Flickr: Dana Buntrock, Pavilion X@ U Va., CC BY 2.0, https://commons.wikimedia.org/w/index.php?curid=12882060.

Pavilion X in 1911; image by Holsinger, Rufus W., 1866-1930, Public Domain, https://commons.wikimedia.org/w/index.php?curid=5290038.

Additional Information