Neville Public Museum
Introduction
The Neville Public Museum is a museum located in Green Bay, Wisconsin. The current building was constructed in 1983. The museum specializes in the natural history and human culture (encompassing art, history, and science) of northeast Wisconsin and the Upper Peninsula of the state of Michigan. It contains over one million historical artifacts, archaeological objects, photographs and film. It is accredited by the American Alliance of Museums. Currently, it offers a variety of educational programing including and international film series and natural history lectures.
Images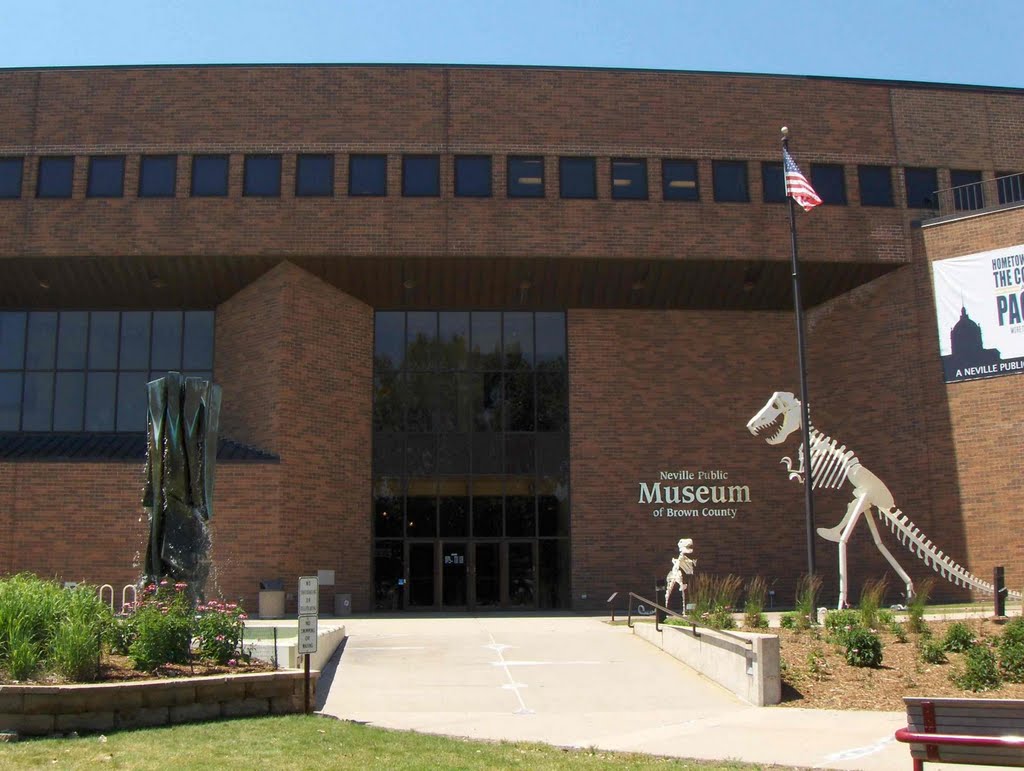 Another view of the museum entrance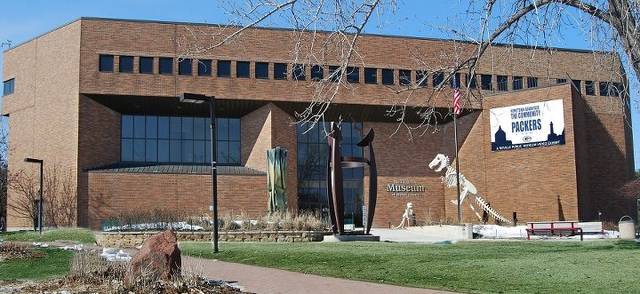 Closeup shot of the dinosaur sculptures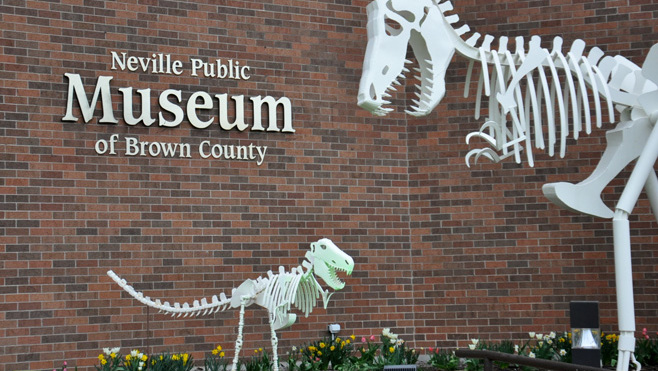 Backstory and Context
The museum's history extends back to 1915 when the Green Bay Art Club held an exhibit of rare and historical objects from Green Bay and its eastern suburb of De Pere. The exhibit was a great success and the club incorporated itself as the
Board of the new Green Bay Public Museum in December that year.
Gradually, the museum grew too large, which prompted the club to request space at a local library. The museum grew in the coming years, collecting more local artifacts as well as various objects from around the world. Eventually, the the museum outgrew the library and its officials told the board that the museum need to move to another building.
In 1923, successful businessman George Mason and his wife donated $60,000 to build a new museum, which opened in July 1927. It was named the Neville Public Museum after Mrs. Mason's parents, Mrs. and Mr. Neville, who worked towards civic development in Green Bay. A new organization, the Neville Public Museum Corporation, was founded and it owned and managed the entire collection. The city of Green Bay paid the museum's employees.
By 1962, Brown County agreed to take some of the responsibility of financially supporting the museum, as many of the visitors came from outside the city. The museum continued to grow in the following years and by 1970 it was clear that a new, larger museum was needed to accommodate the increasing size of collections. A campaign to garner support and funds for a new building began. This included opening up membership to anyone; previously museum membership was by invitation-only.
A referendum was held in 1980 and %66 of the voters in Brown County voted yes to support the museum's construction with taxpayer funds. The new museum opened in 1983 and it was paid for with a combination of funds from the city, the county, and the foundation. The county took over the museum's finances and operations and obtained full ownership of all the collections and the building. The foundation agreed to take over control of the fundraising. In 2004, the museum began to charge admission fees and expanded its the hours. It also opened new program spaces, the Discovery Room and Studio 210: Working Regional Artists. Today, the museum continues to develop new programs to help fulfill its mission.
Sources
http://www.nevillepublicmuseum.org/history
Additional Information