First Presbyterian Church (1925)
Introduction
Author-Uploaded Audio
Predating the official founding of New Tacoma by eight months, seven people met with the regional Presbytery on July 27, 1873 to form "The Tacoma Presbyterian Church". This eventually became today's First Presbyterian Church. The financial crash of that year scattered many in the small congregation, but the church was reinstated on September 11, 1877. This church has a long history in Tacoma.
Images
First Presbyterian Church (2020)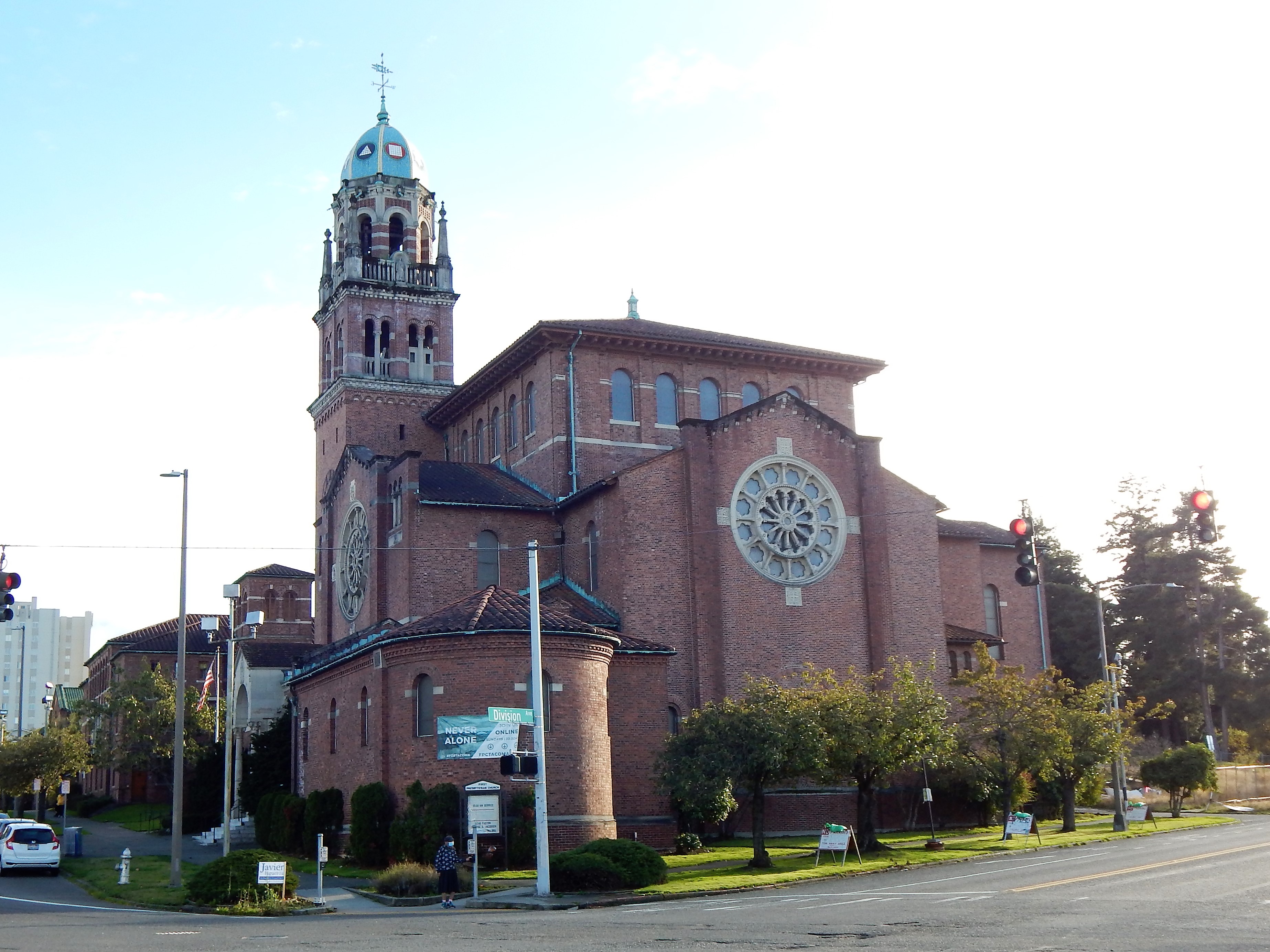 First Presbyterian Church (1925)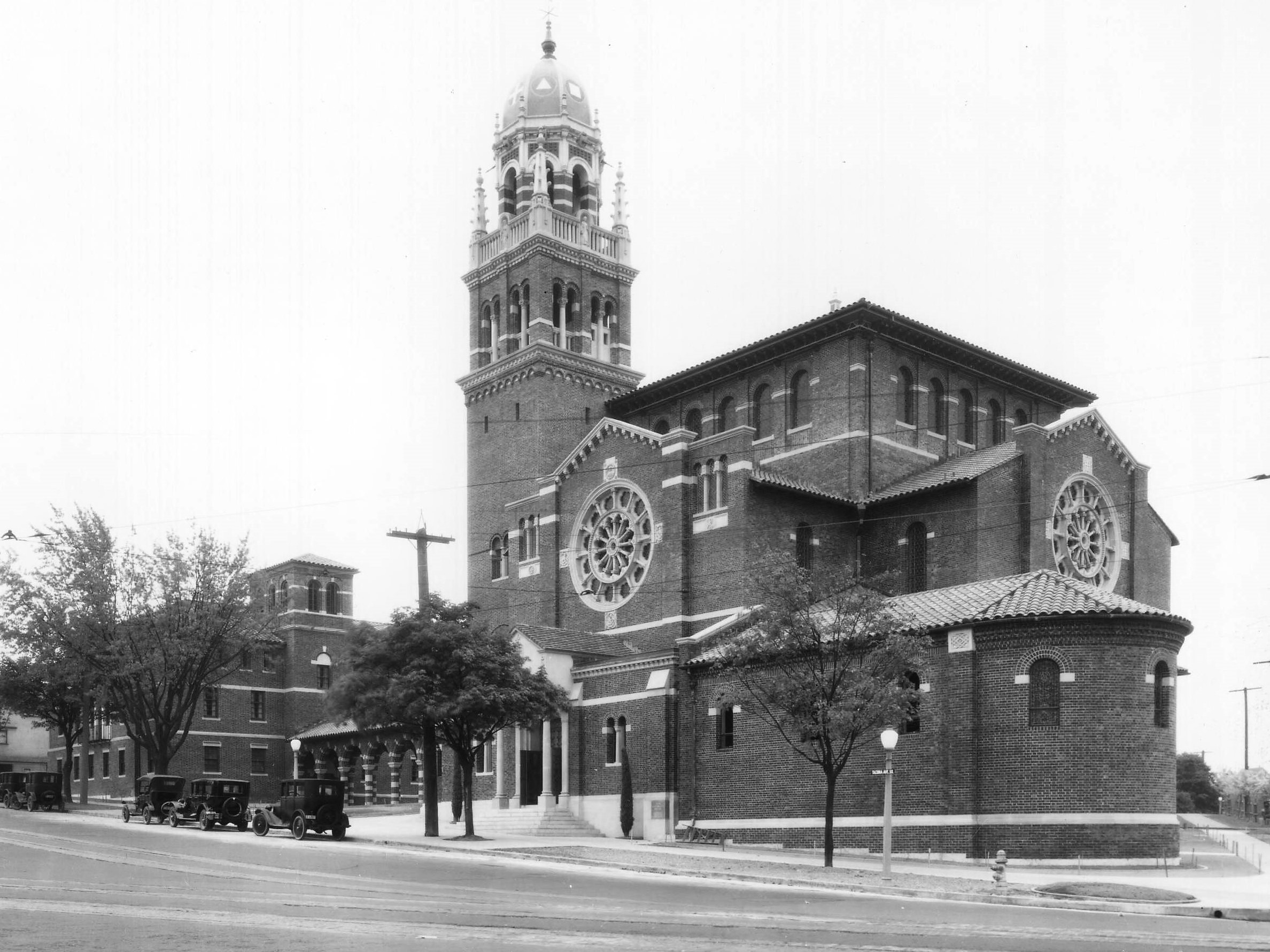 First Presbyterian Church (1927)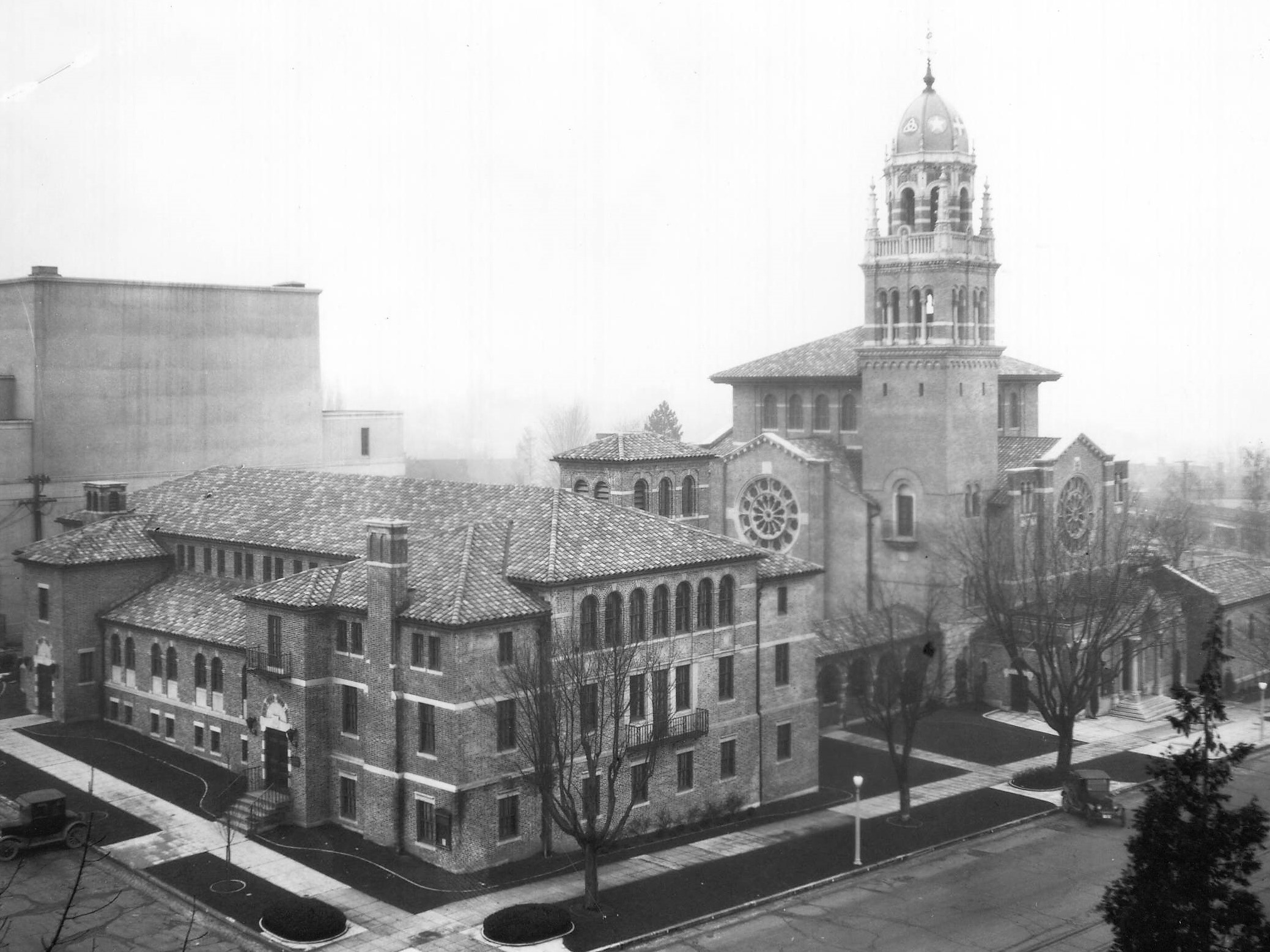 Backstory and Context
Author-Uploaded Audio
Over its many years the congregation has worshipped in three different church buildings and one town hall as well as in a large tent. The first church was erected in December 1882 at 11th and Broadway (where the Woolworth building is now). As the city grew, the congregation built again in June 1890 at South 10th and G Streets, near the old Pierce County Court House.
The church expanded rapidly under the leadership of Dr. Clarence W. Weyer, who came in December 1915 and started eleven Sunday Schools throughout Tacoma which later became Presbyterian churches. These were the turbulent years of World War I. The church expanded so rapidly that planning began in 1921 for the current church building.
Designed by the famous Boston church architect Ralph Adams Cram, this masterpiece in Romanesque architecture has an 1,100-seat sanctuary and 150-seat chapel, social halls, and educational spaces for Sunday and weekday activities (including a preschool and elementary). The building is rich in Christian symbolism expressed in stone, wood, stained glass and mosaic. When it was built it had the largest Reuter pipe organ west of the Mississippi. It's still used to this day for Sunday morning worship services.
Under the leadership of Dr. J. Renwick McCullough, from 1936 to 1949, the church congregation grew to its maximum size. During World War II the church opened its doors and beds for servicemen; and the ladies of the church cooked meals for them every weekend. Over the period of McCullough's ministry the church sent out over 20 missionaries around the world.
Another dynamic pastor, Dr. Albert J. Lindsey, came in 1949. He enlarged the church's vision to world-wide missions and radio ministry. Week-long missions' conferences were held yearly as well as week-long Vacation Bible Schools for children. The Tacoma Bible Institute, which Dr. Lindsey founded and served as president for its first ten years, held classes two nights a week. He started a 15-minute daily radio broadcast, called "Good News", on a local radio station until he retired in 1983. "Good News" reached thousands of people all over the Northwest.
In December 1986 First Presbyterian purchased the Buckley-King Mortuary building to provide the church with additional office and meeting space. A new pastor, Rev. Eric Jacobsen, was installed in June 2005. His vision of reaching out to the neighborhood has sparked renewed growth and vitality; and his leadership is providing new direction for this historic urban church.
Learn more about this building by following the links below.
Sources
THS Research Volunteer. Tacoma Historical Society. Accessed October 14th 2020. www.TacomaHistory.org.
Image Sources
Ed Mattison, Tacoma Historical Society volunteer

Tacoma-Pierce County Building Index (

Tacoma-Pierce County Building Index (BU-11536)

Additional Information