Achilles House (1889)
Introduction
Author-Uploaded Audio
This Queen Anne home, built for Henry L. and Gertrude Strong Achilles in 1889, is the mirror image of the home at 412 North C St. Architect Frederick A. Sexton "flipped" the plan of the two homes. The Achilles and the Fitches were part of a group that moved to Tacoma from Rochester, New York. Gertrude was the daughter of Henry A. Strong, who later became the first president of the Eastman Kodak Company. It was Strong who held title to the home.
Images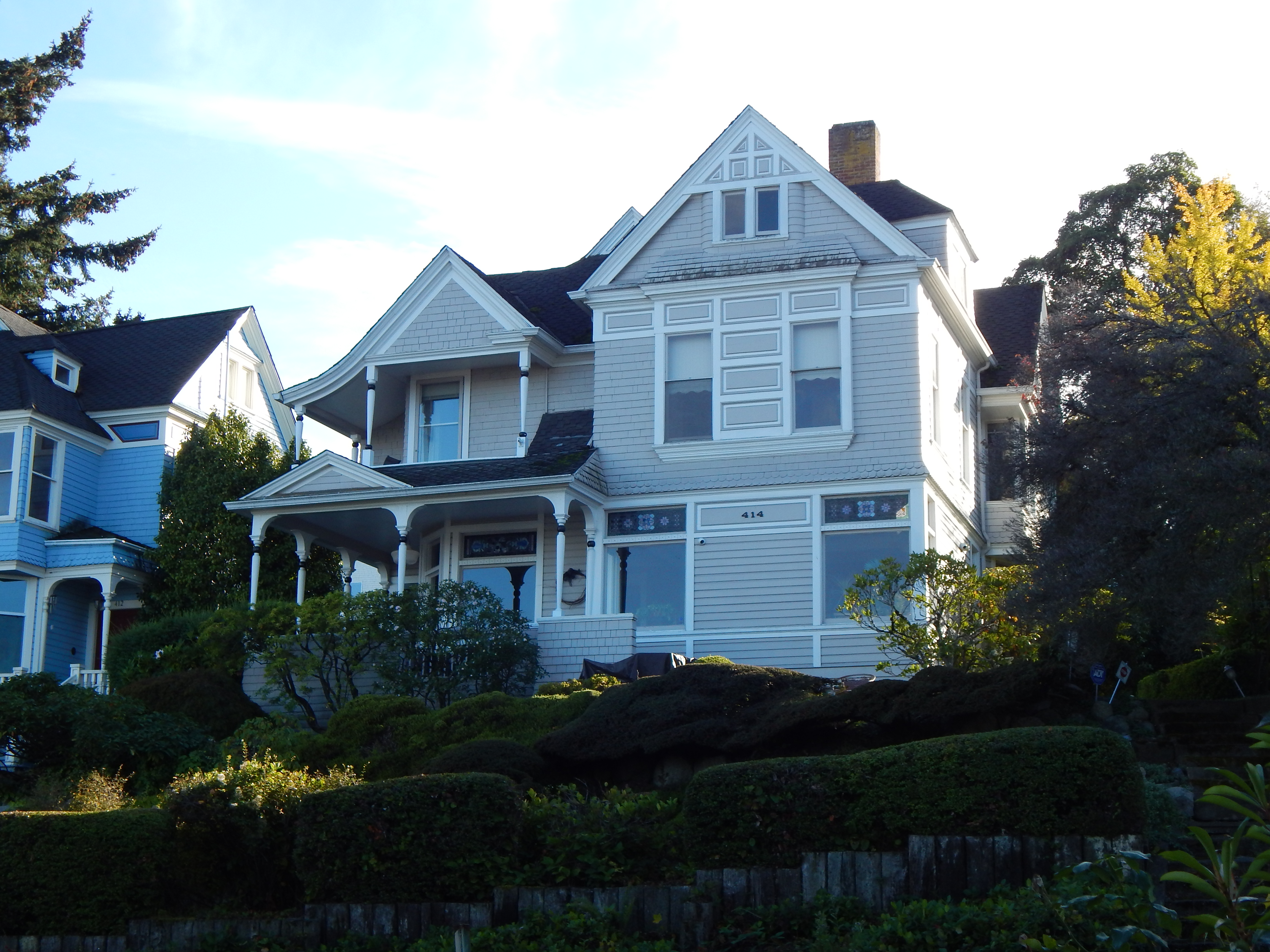 Achilles House (circa 1924)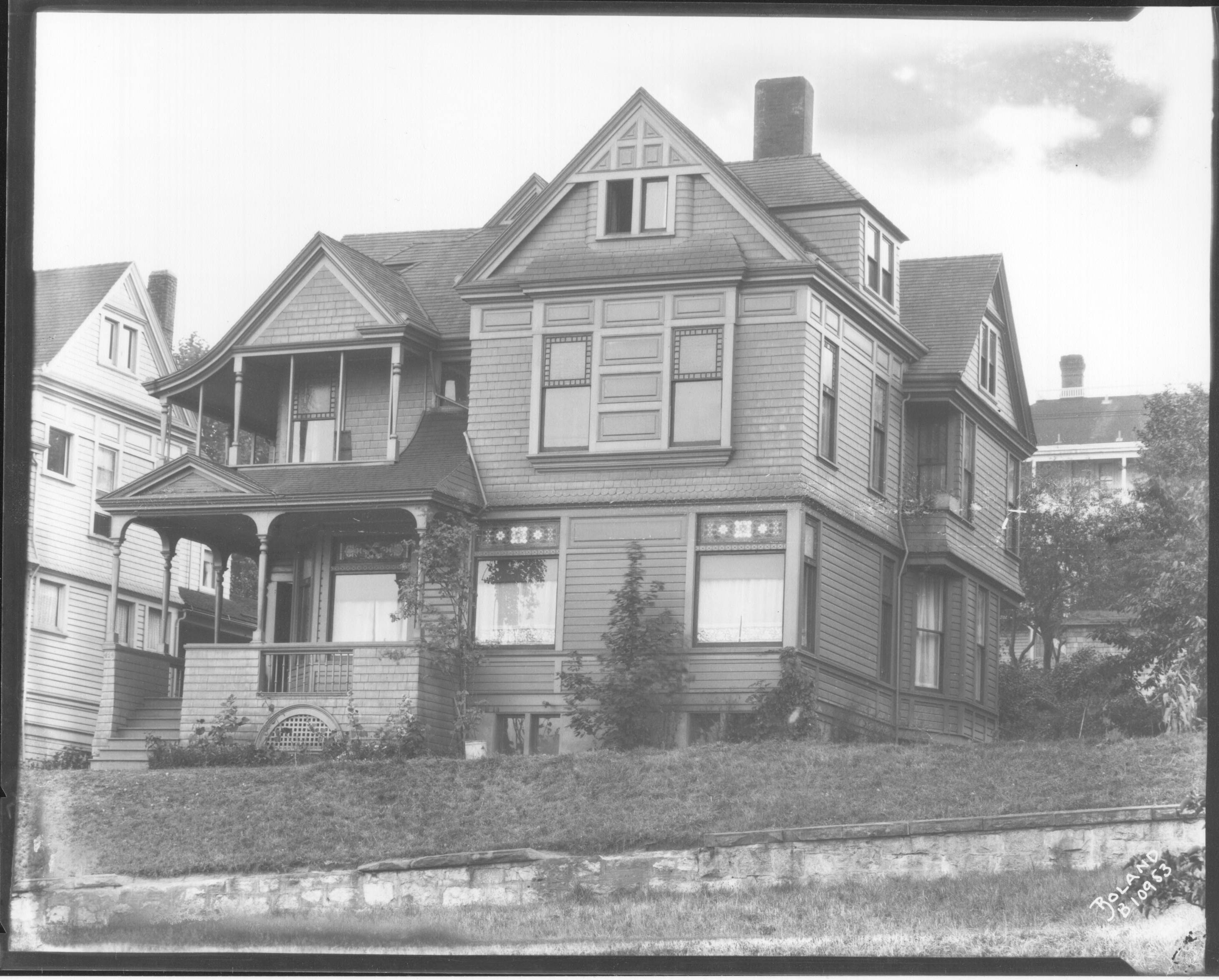 Backstory and Context
Author-Uploaded Audio
Henry Achilles, who was the half-owner of the Pacific Storage and Warehouse Company, relocated to Rochester in 1896. The home was rented for many years. Alexander and Mary Stacy Thomson lived here from 1897 to 1907. Alexander, an immigrant from Scotland, was in the exporting business. Mary Stacy Thompson was an early student at Annie Wright. She was socially active in Tacoma and a charter member of the local Red Cross, was for many years editor of the Society Page of The News Tribune. The home was purchased in 1925 from the Henry Strong estate by Helen Curlette, who, with her husband, Harry Curlette, lived in the home until 1962.
Alan and Elodie Vandevert, owned the home from 1966 to 1987. Alan was the corporate secretary of Weyerhaeuser and the chair of the Tacoma Community College board of trustees. Elodie taught English at Annie Wright Seminary, was an assistant editor of a dictionary project at the University of Puget Sound, and served as the interim headmistress at Annie Wright for the academic year 1982-83. Current owner Marianne Taylor bought the home in 1992.
The large, paneled, fir front door of the home is just the same as that of its sister house next door. The original matching front door of the entry hall was removed in the remodel, resulting in an L-shaped foyer. The home retains its original bannister and original pressed-tin stairway ornamentation. The living room has its original stained glass windows, painted fir floors, and fireplace — with tiles and oak surround. The dining room has striking, diagonally-laid Black and white tiles and period furniture appropriate to the 125-year-old home. The dining room fireplace retains its original green tile and carved surround. The kitchen is updated with a cooktop in a large island and a generous sitting area, which overlooks the garden. A study and office area adjoins the kitchen, and there is a half bath beyond.
There are four bedrooms and two baths on the second floor, which retains its original doors and woodwork. The master bedroom on the left front of the home has its own master bath. One bedroom is used for arts and crafts. There is an antique oak child's wardrobe in the rear bedroom.
Sources
THS Homes Tour Research Volunteer. www.TacomaHistory.org. Accessed October 14th 2020. https://www.tacomahistory.org.
Image Sources
Ed Mattison, Tacoma Historical Society volunteer

Tacoma-Pierce County Buildings Index, Tacoma Public Library (BU-10154)

Additional Information