Dunkirk Glass Company
Introduction
South Charleston was named for its location on the south bank of the Kanawha River, bloew the mouth of Elk River opposite the city of Charleston. Kanawha Land Company formed the city by combining three farms and securing titles to approximately 2,000 acres in 1906. Dunkirk Glass Company was one of the first companies to relocate to South Charleston for its fine resources that it provided. In 1907 Dunkirk established a factory and devoted its plant to the production of pressed and blown decorative glass.
Images
West Virginia window glass plants operating in 1913.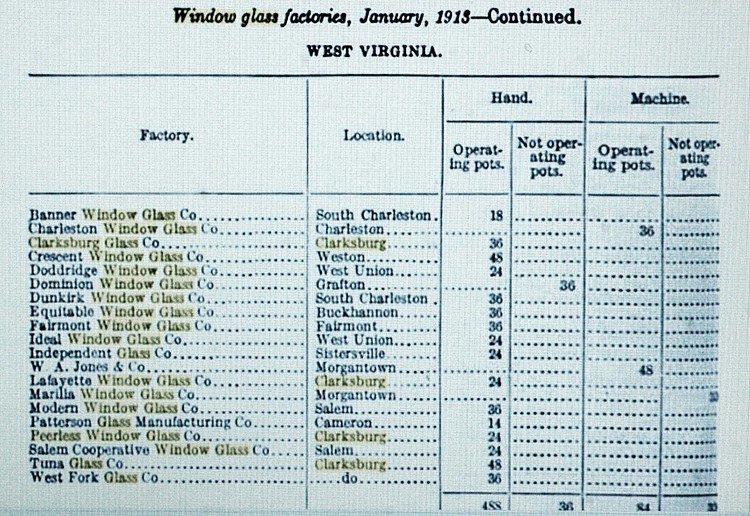 Dunkirk Window Glass from 1913 Sanborn Fire Insurance map.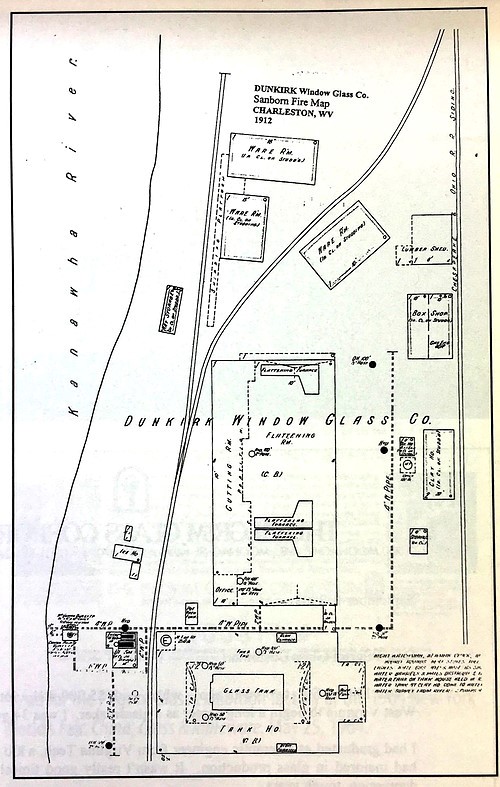 Dunkirk was located in South Charleston following its move from Indiana after the great gas bust in that state.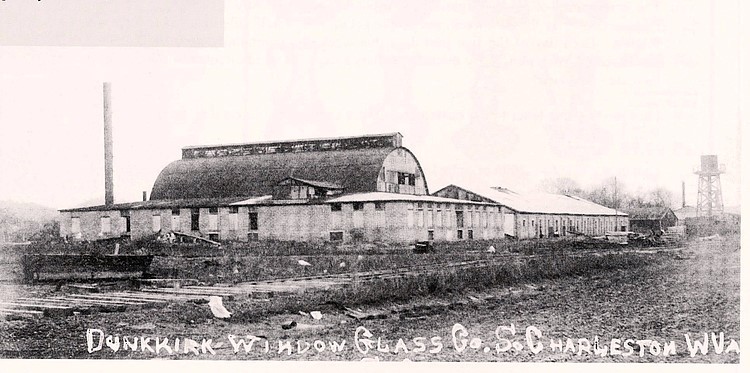 Dunkirk Window Glass in South Charleston, WV. Some glass cutters are in the right of the photo.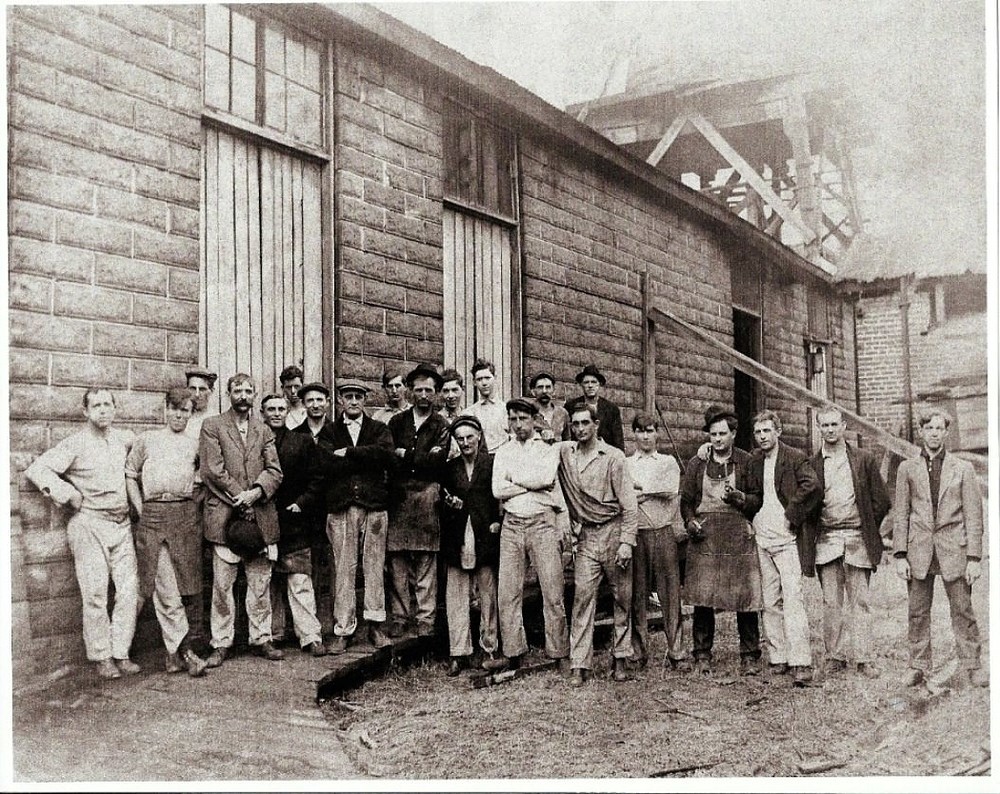 Dunkirk Window Glass in 1914, South Charleston Photo from "The Glass Cutter Monthly" by Will Lewis in the 1950s.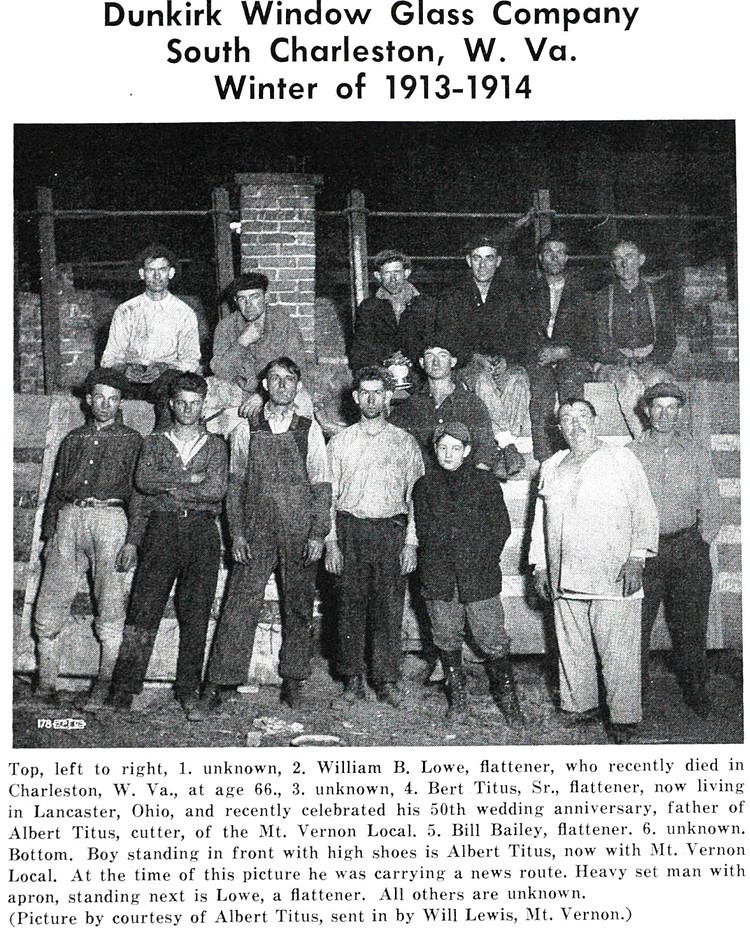 South Charleston Window Glass Co. in 1916. (Appears to be same as Dunkirk Glass when compared to previous photo.)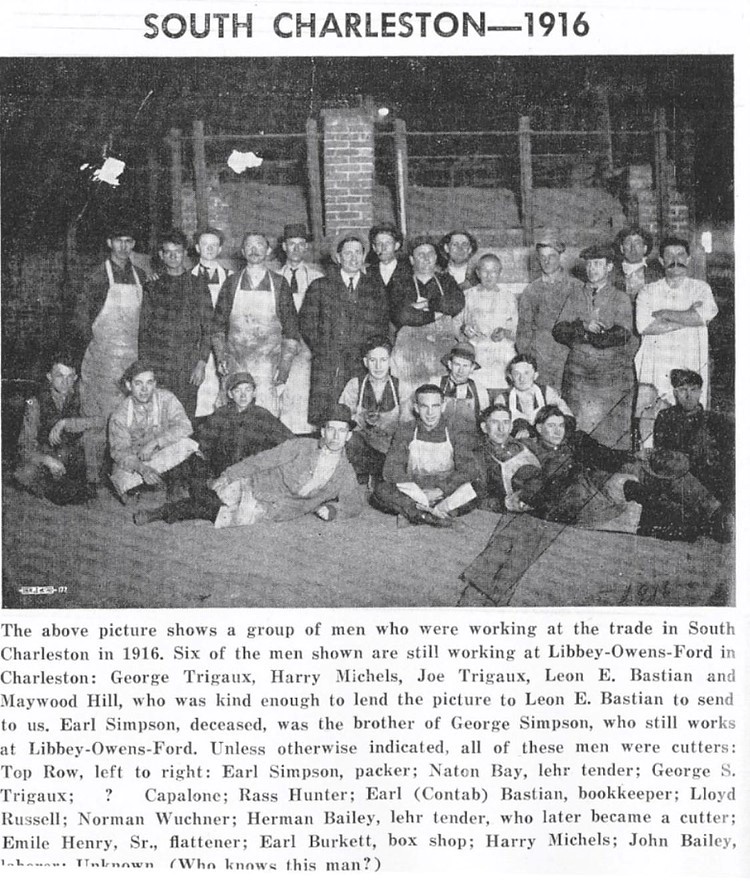 Backstory and Context
South Charleston was known as Price's Bottom in 1782 and was listed on the deed books as being situated in Montgomery County, Virginia. In 1829, the Kanawha and James River Turnpike came to the South Charleston area, and in 1873, the C&O Railway was built through the area.
By 1906, former Governor William A. MacCorkle, formed the Kanawha Land Company and investors bought up 1,800 acres near the Indian Mound. In May 1907, the Kanawha Land Co. ran ads for lots in South Charleston as "Our Capital City's New Industrial Suburb," citing the location as "The south end of the New $400,000 Wagon, Traction and Railroad Bridge across the Kanawha River." (Blevins, "Charleston Gazette-Mail") MacCorkle convinced his fellow investors to provide free real estate and two years of natural gas to any company willing to build there. As luck would have it, two glassmaking companies in Indiana were struggling to find enough gas to meet their needs. In the spring of 1907, Felix Dandois, Aimer Lefevre, and Alfred Gilbert, three Belgian-born officials with Banner Window Glass of Shirley, Indiana, decided to accept the Kanawha Land Company's offer after first considering sites in Huntington, Milton, and Clarksburg.
The second glass company opened up by other Belgian immigrants who had come to South Charleston was the Dunkirk Glass Company from St. Louis, Missouri and Dunkirk, Indiana. Both the Banner Window Glass Company and Dunkirk Glass Company were located at 333 MacCorkle Ave. (present site of the Rite Aid Store) in South Charleston. Belgian glass workers made window glass for homes by hand in a very tedious and sometimes dangerous process. Practically all bottles were made by skilled hand blowers using a system which had not varied dramatically since glass was first produced. Mechanization had not affected the glass industry as it had in most other areas of production in the United States, not so much from reluctance to change but because of the complexities of making glass. Skilled glass blowers understood such characteristics as density, surface tension and viscosity, and could control changes in the molten glass more easily than a machine.
Libbey Owens Glass Company purchased the Dunkirk Glass Company in 1928, and in 1933 the property was sold to the Union Carbon Company. Dunkirk was demolished and removed as junk and the property acquired by Union Carbide, which used it as a railroad siding and coal storage yard. Some of the parts used to make the glass at the factory can be seen at the South Charleston Museum, including the real tools donated by families of the Belgian workers. Visitors can see the complexities in what it took to make glass at Dunkirk Glass Company.
Sources
Blevins, Ernest. South Charleston before it became a city. Charleston Gazette-Mail. August 11, 2017. Accessed April 16, 2018. https://www.wvgazettemail.com/opinion/ernest-blevins-south-charleston-before-it-became-a-city-daily/....

Duez, Richard. A History Of Glass Plants Through Tme. Glass Factories Of America. December 18, 2017. Accessed April 17, 2018. http://www.earlyusglassfactories.com/wv.
Fenwick, Phyllis R. Evans, Don. The History of South Charleston. South Charleston, WV. South Charleston Museum Publications Committee, 1995.

Finn, Scott "South Charleston." e-WV: The West Virginia Encyclopedia. 31 May 2013. Web. 30 April 2018.
Romano, Judy Bowen. Images of America South Charleston. Charleston, SC. Arcadia Publishing, 2011.
Additional Information