Camp Tompkins (Tompkins Farm)
Introduction
Between 1829 and 1916, this location was home to the Valcoulon Mansion which was built by Colonel John Lewis. The site was later home to Camp Tompkins, a short-lived camp for Confederate soldiers in 1861 that was soon occupied by a Union camp following the Battle of Scary Creek. During the time the Union occupied the site, Ellen Tompkins and the Tompkins children still resided in the house and may have passed intel to Confederate partisans via third parties with the order to burn messages after reading. As a result, it is difficult to confirm or reject such reports. In 1916 the mansion was razed and the Rossler & Hasslacher Chemical Company built their facility here. The location was later the home of the Valley Drive-in theater before being acquired by 84 Lumber which still occupies the space today.
Images
Valcoulon Mansion turned into Camp Tompkins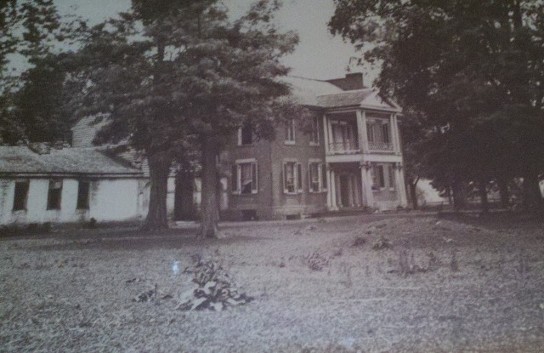 Colonel Christopher Q. Tompkins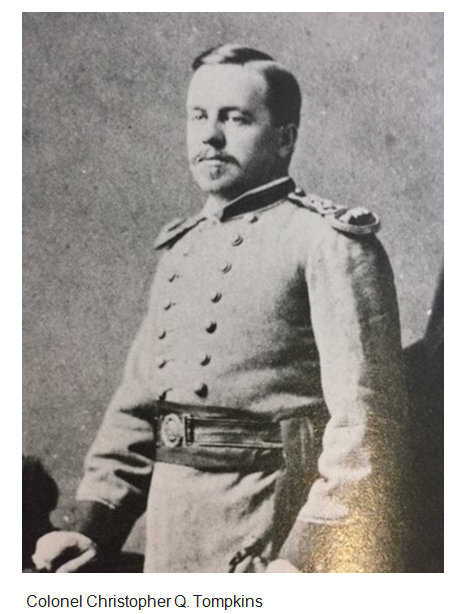 Ellen Wilkes Tompkins, wife of Colonel Christopher Q. Tompkins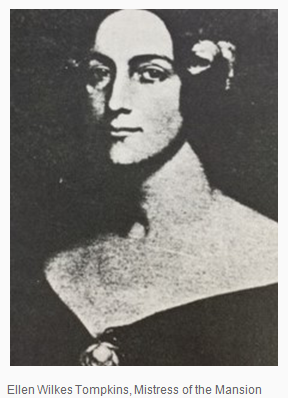 Tompkins Farm and Union Army Camp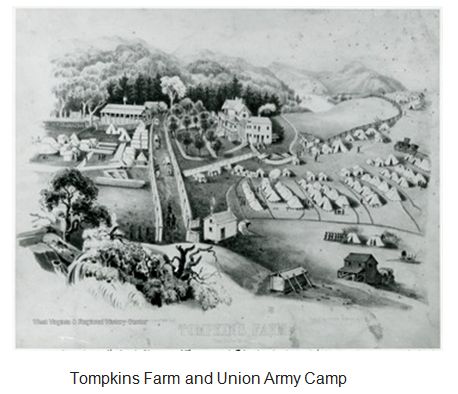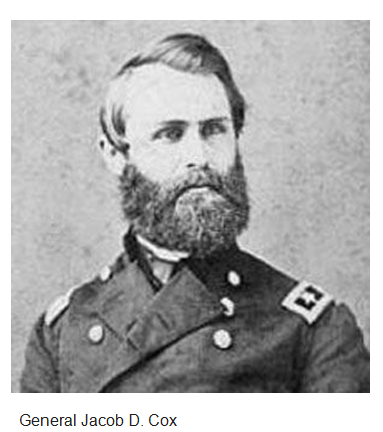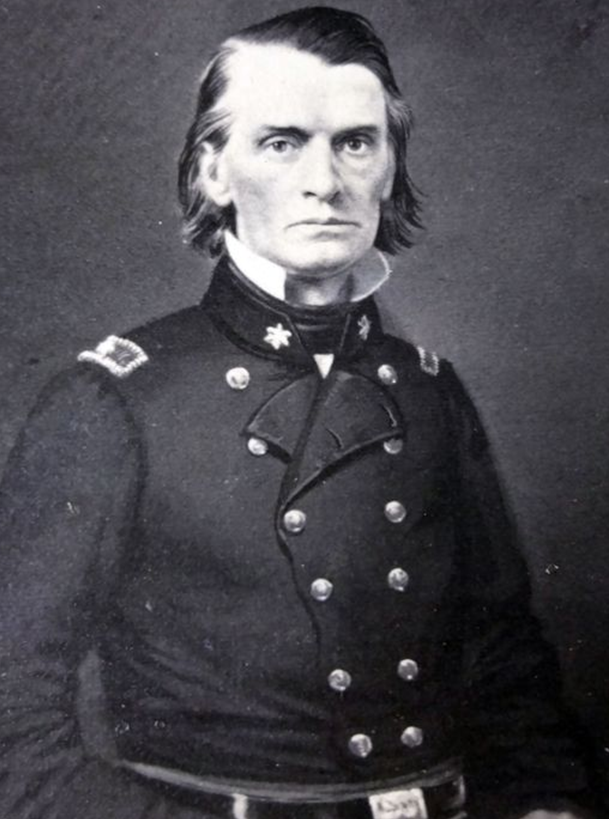 Gauley Bridge before it was burned by Confederate soldiers in July of 1861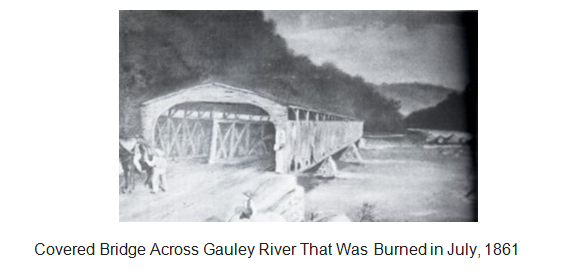 Captain George S. Patton at Camp Tompkin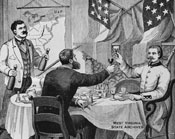 Backstory and Context
Established in May 1861, Camp Tompkins was originally "Tompkins Farm," owned by Colonel Christopher Quarles Tompkins, a West Point graduate and commander of the Confederate 1st Kanawha Regiment, and his wife, Ellen Wilkes Tompkins, as well as their children. Located near the mouth of the Coal River, 14 miles from Charleston, in what was then Virginia but is now West Virginia, and close to Fort Tackett, the spot was a crucial area for both the Confederacy and Union during the Civil War. For the Confederate soldiers who had already established ground in the surrounding area, the farm gave them a strategic point from which they could assemble, train, and deploy troops to battle the incoming Union invaders near the border. It quickly became a vital part in the Battle of Scary Creek and after, passing from Confederate ownership to Union ownership while Tompkins's family still resided on the farm.
In April of 1861, Virginia Governor John Letcher called for small arms to make a mass uprising of people in defense of their homes possible. Tompkins set up Camp Tompkins to train volunteer units, and established the 1st and 2nd Regiments in Kanawha, which later became the 22nd and 36th Virginia Infantry. Within Camp Tompkins were a variety of volunteer units, as volunteers continued pouring into the base to help secure the border and send cavalry units out. The units included the Border Rangers, the Sandy Rangers, Fayette Rangers, and the Kanawha Rangers, who were eventually sworn into the Confederate army and recognized as soldiers. Also at the camp were the Kanawha riflemen under the command of Captain George Patton, the Charleston Sharpshooters commanded by Captain John Swann, and the Border Rifles under Captain Andrew Barbee. Local women often visited the camp, where many of their friends and family were located, to bring them food, clothing, and other essentials which made camp life more bearable. On May 27, the state government was warned of Federal troop concentrations at Gallipolis and along the Ohio border.
Confederate General Henry Alexander Wise departed Richmond on June 13, arriving in Lewisburg in Greenbrier County the following day. On June 17, he moved to the Gauley Bridge, where he remained until the 25th before entering Charleston, which was the largest town and a logical center for military operations. However, on July 3, Union Brigadier General Jacob Dolson Cox received orders from General George Brinton McClellan to move into the Kanawha Valley, assume command of the 1st and 2nd Kentucky Regiments, then cross the Ohio River and hold Point Pleasant. On July 7, Cox departed Camp Dennison and arrived in Gallipolis in two days. Yet, by July 8, Wise had around 2,850 men in his force, joined by Tompkins's volunteer force. That night, Union soldiers drew a line of battle at the courthouse, but both sides exchanged fire with no casualties. Wise then constructed entrenchments five miles west of Charleston at Tyler Mountain and at his base just outside the city, Camp Two-Mile, while Tompkins created wide picket lines from Camp Tompkins to nine miles in front of Wise's scouts.
After several battles in the following days, there were around 1,000 Union men in Charleston being attacked from all sides. Cox feared being cut off from escape, with the belief that, after Inion defeat at Cross Lanes, Wise would move his forces of Gauley Mountain while General John Buchanan Floyd moved regiments along a previously-captured route to Charleston. On July 17, 1861, the Confederacy won one of its first victories of the Civil War at the Battle of Scary Creek in Putnam County, but the Union forces meant to dislodge the Confederates did not necessarily fail, as Wise had spread his forces too thin. Wise and Tompkins began to retreat on July 27, burning Gauley Bridge on their travels as not to be followed, and made their way to Bunger's Mill near Lewisburg. As they continued in battles during the war, Camp Tompkins was left open to capture.
Around July 30 or August 1, Cox invaded the farm, and the camp became the headquarters for the 2nd Kentucky Regiment. Fortifying the camp meant blocking a Confederate counterattack, and Union soldiers originally arrived looking for Tompkins. Initially, Tompkins's wife, Ellen, was questioned, but would not betray her husband of his whereabouts, and their savings were stolen, as well as their farm destroyed with shovels, prompting a legend that silver was buried on the farm. Ellen kept their 15-year-old daughter, also named Ellen, hidden from the Union soldiers, as she had when Confederate soldiers had control of the camp. However, the Union army was undisciplined, as Cox had already sent orders to not harm the Tompkins family. While a Union military post was constructed at Camp Tompkins, and the soldiers remained unruly, killing sheep, destroying fields, and stealing crops, Ellen remained for several reasons.
She did not know exactly where her husband was or if he would be home, and in the case that fighting in the area ceased in several months, she did not want to lose everything by abandoning the farm, as she knew it would be burned to the ground. While Ellen could not write directly to Christopher, she wrote to her sister, surprisingly detailing how well she had been treated by Cox. On July 28, Christopher had written a letter to Cox from Gauley Mount, at which time Cox accepted responsibility for the family's safety. However, according to other letters, Christopher eventually requested Ellen be granted safe passage across Union lines to be with him. Cox would not allow it. Not only could she pass vital information to the Confederate side about the Union's plans, since their camp was in her home, but her presence at the farm also ensured Christopher would not attack there as not to risk his wife's safety. Cox did, however, offer to let Ellen pass through Ohio to Baltimore, by which time any information she had acquired would be outdated, but she remained on the farm. There is speculation Ellen remained as a "spy," since she passed detailed information of the war to her sister and allegedly some small, coded details to the few unsealed letters that made it to Christopher, such as repeatedly warning him of selling his horse, which Cox had said was well-known and Union men had orders to fire upon.
In 1916, the farm was taken over by Rossler and Hasslacher Chemical Company. Later, it became the Valley Drive-In Theater, then was acquired by 84 Lumber, which still stands today.
Sources
Historic Homes Tour information. St. Albans Historical Society. http://www.stalbanshistory.com/homes-tours.html.
Dickinson, Jack L. Jenkins of Greenbottom A Civil War Saga. Charleston, WV. Pictorial Histories Publishing Company, 1988.
Wintz, William D. Civil War Memoirs of Two Rebel Sisters. Charleston: Pictorial Histories Publishing Co., 1989.
Hale, J.P.. West Virginia Historical Magazine Quarterly, Volume 1. Charleston, WV. West Virginia Historical and Antiquarian Society, 1901.
Emmick, David. Amick Partisan Rangers. Issaquah, Washington. Flying A Books, 2017.
Timeline of West Virginia: Civil War and Statehood November 1, 1861, West Virginia Department of Arts, Culture, and History. Invalid date. Accessed December 17th 2019. http://www.wvculture.org/history/sesquicentennial/18611101.html.
Cook, Roy Bird. The Civil War Comes to Charleston, West Virginia Department of Arts, Culture, and History. Accessed December 17th 2019. http://www.wvculture.org/history/journal_wvh/wvh23-1.html.
Moore, Frank. The Rebellion Record: A Diary of American Events, Volume 3, Harvard College Library. Accessed September 13th 2020. https://books.google.com/books?id=NtoSAAAAYAAJ&pg=RA1-PA301&lpg=RA1-PA301&dq=camp+tompkins+west+virginia&source=bl&ots=xkG_WC6Tgg&sig=ACfU3U1JA3xoEVqw19o3P0qFnoFTF3mqQw&hl=en&sa=X&ved=2ahUKEwi5k_3E0ebrAhVdknIEHeLVBFkQ6AEwEnoECAkQAQ#v=onepage&q=camp%20tompkins%20west%20virginia&f=false.
Moore, Frank. The Rebellion Record: A Diary of American Events, with Documents, Narratives, Illustrative Incidents, Poetry Etc., West Virginia Department of Arts, Culture and History. Accessed September 13th 2020. http://www.wvculture.org/history/sesquicentennial/18611101.html.
Gauley, David. Mistress of the Mansion, Ellen Tompkins of West Virginia's Gauley Bridge: Caught Between Two Opposing Armies, Medium. November 17th 2019. Accessed September 13th 2020. https://medium.com/@gauley.david/mistress-of-the-mansion-ellen-tompkins-of-west-virginias-gauley-bridge-caught-between-two-cc9c9dfc53d.
Virginia's Civil War A Guide to Manuscripts at the Virginia Historical Society, Virginia History. Accessed September 13th 2020. https://www.virginiahistory.org/sites/default/files/uploads/cwg.pdf.
Photographs 1862, West Virginia Department of Arts, Culture and History. Accessed September 13th 2020. http://www.wvculture.org/history/sesquicentennial/photos1862.html.
July 17, 1861: Confederate Army Wins Early Civil War Victory in Putnam Co. Battle, West Virginia Public Broadcasting. July 17th 2020. Accessed September 13th 2020. https://www.wvpublic.org/term/battle-scary-creek#stream/0.
Unclassified AD-B054 175, Department of Defense. July 21st 1999. Accessed September 13th 2020. https://apps.dtic.mil/dtic/tr/fulltext/u2/b054175.pdf.
Image Sources
http://www.stalbanshistory.com/homes-tours.html

https://medium.com/@gauley.david/mistress-of-the-mansion-ellen-tompkins-of-west-virginias-gauley-bridge-caught-between-two-cc9c9dfc53d

https://medium.com/@gauley.david/mistress-of-the-mansion-ellen-tompkins-of-west-virginias-gauley-bridge-caught-between-two-cc9c9dfc53d

https://medium.com/@gauley.david/mistress-of-the-mansion-ellen-tompkins-of-west-virginias-gauley-bridge-caught-between-two-cc9c9dfc53d

https://medium.com/@gauley.david/mistress-of-the-mansion-ellen-tompkins-of-west-virginias-gauley-bridge-caught-between-two-cc9c9dfc53d

https://medium.com/@gauley.david/mistress-of-the-mansion-ellen-tompkins-of-west-virginias-gauley-bridge-caught-between-two-cc9c9dfc53d

https://medium.com/@gauley.david/mistress-of-the-mansion-ellen-tompkins-of-west-virginias-gauley-bridge-caught-between-two-cc9c9dfc53d

Additional Information