Davis Opera House
Introduction
Built in 1884 by Benjamin T. Davis, the Davis Opera House is one of the oldest surviving structures in Huntington. The opera house (renamed the Huntington Theater in 1892) presented operas, stage plays, concerts, vaudeville programs, theatrical productions, and minstrel shows. The theater closed in 1928 due to competition from the film industry. Afterwards the building was heavily remodeled and converted into retail space. It became part of a $7 million revitalization project in 2017; today it houses multiple businesses and offices and serves as a successful model of adaptive reuse. The building is listed on the National Register of Historic Places as part of the Downtown Huntington Historic District.
Images
The Davis Opera House in 1939 during a remodel to convert the opera house into the Montgomery Ward store.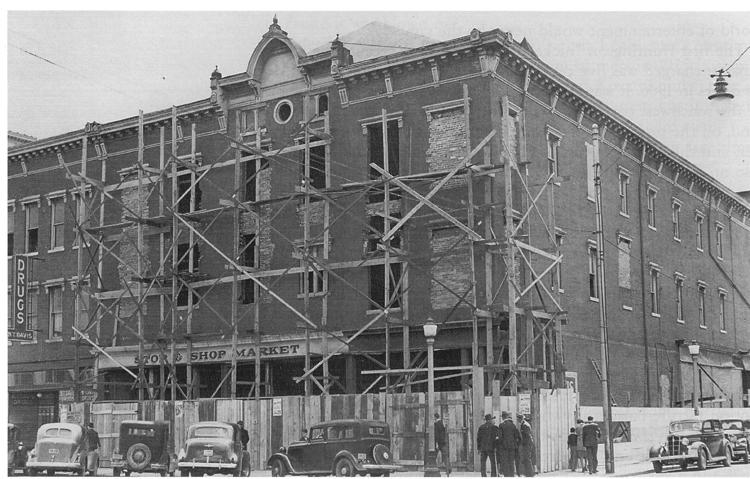 The Bazaar when it opened in 1961.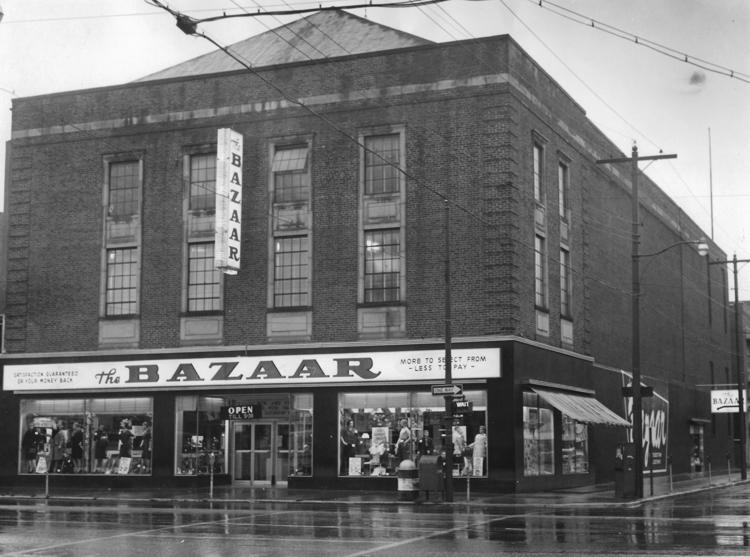 Depiction of the opera house in its earlier years. Image courtesy of Marshall University Special Collections.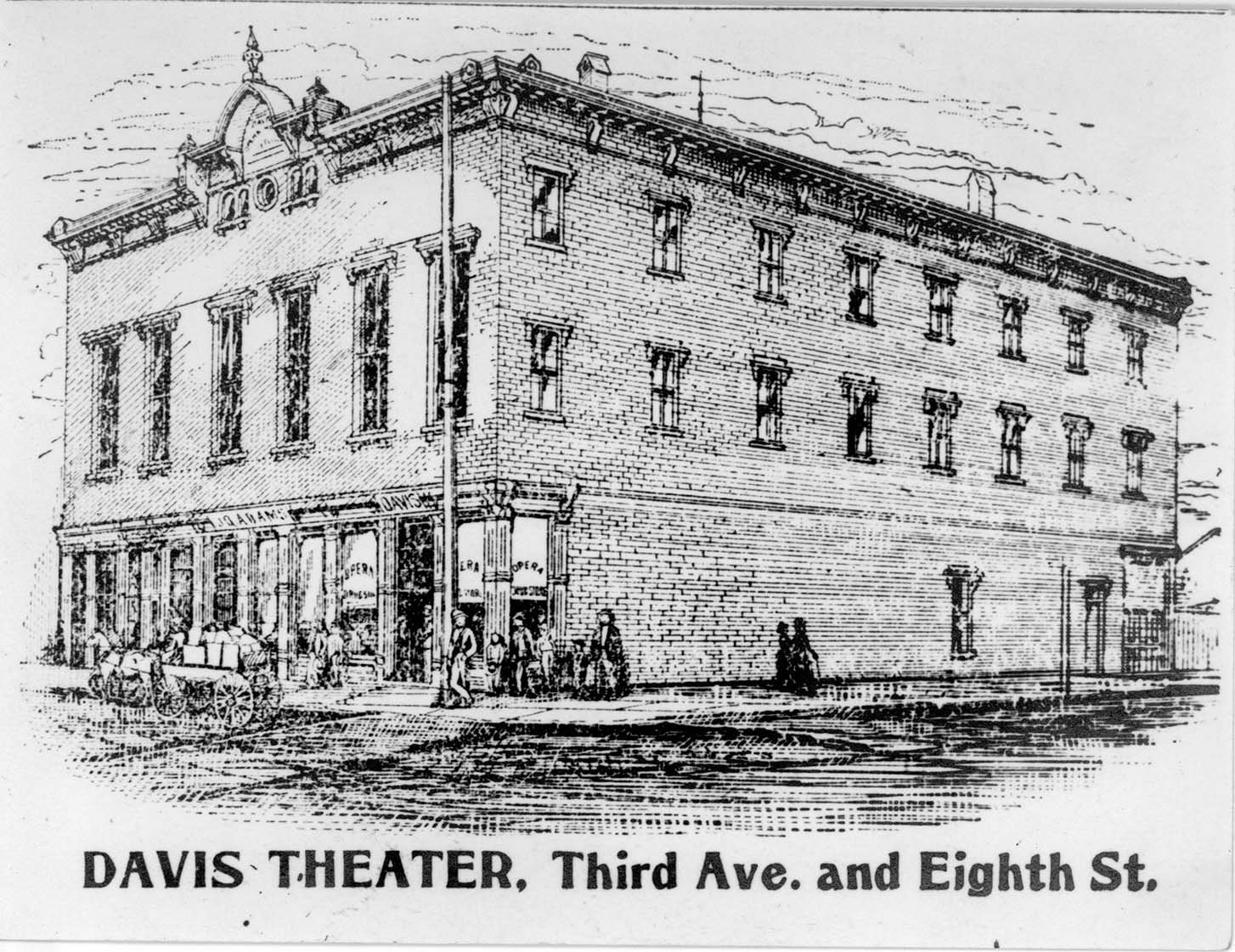 Backstory and Context
The first recorded theater in Huntington's history dates to the early 1870s when Robert T. Harvey opened an opera house on the third floor of a building that he owned on the northwest corner of Third Avenue and 10th Street. Little is known about this theater, which was destroyed in a fire in 1879. In 1884 a pharmacist named Benjamin T. Davis Sr. purchased a piece of property at the southeast corner of 3rd Avenue and 8th Street from the Central Land Company, the agency tasked with selling land for development in Huntington. Within a year he constructed a large brick building on the plot for $35,000. The three-story structure was designed by noted local architect James B. Stewart and originally included an ornate crown cornice on the top. The upper floors contained the 800-seat Davis Opera House, while the first floor housed Davis' drugstore and a pool hall.
In addition to operas, the venue also presented stage plays, concerts, vaudeville and minstrel shows; popular plays included The Wizard of Oz and Uncle Tom's Cabin. Notable performers hosted by the opera house included John Barrymore, Will Rogers, Edie Foy, Sophie Tucker, Sarah Bernhardt, and Helen Hayes. In 1892 Davis renovated the opera house and renamed it the Huntington Theater. Changes included the expansion of seating capacity to 1,200 and the creation of eight private boxes. By the 1920s the rising popularity of movies was causing a decline in live shows. The Huntington Theater held a final performance on November 8, 1928 before closing; reportedly it briefly reopened for a single gala presentation of a minstrel show in 1932.
Sometime after its closure Walter Lewis purchased the opera house and converted it into a retail center. As part of the renovations he made significant alterations to the building's exterior, such as the removal of the crown cornice, and gave the structure more of a Regency-style. For a number of years the building housed a variety of businesses, the most notable being a Montgomery Ward store, which opened in 1939. Financial difficulties with the national chain caused it to close in 1960. Montgomery Ward was replaced the following year by The Bazaar, a discount clothing store that soon proved popular with consumers. In 1976 real estate developer Lake Polan III purchased the store and focused on selling home décor instead. It closed in 2005; Polan cited the collapse of downtown shopping and competition from places such as the Huntington Mall as reasons.
Following the Bazaar's closure in 2005 the former opera house sat vacant for over a decade. Around 2017 the building was acquired by Capital Ventures and became part of a $7 million adaptive reuse project to create new businesses, office space, and luxury apartments within the 800 block of 3rd Avenue. It was one of many historic buildings to be refurbished as part of a revitalization trend in downtown Huntington during the 2010s. The building currently houses three restaurants along with several other businesses.
Sources
Casto, James E. Huntington: An Illustrated History. Northridge, CA: Windsor Publications, Inc., 1985.
Casto, James E. "Lost Huntington: Davis Opera House." Herald-Dispatch. June 29, 2015. Accessed July 18, 2019. https://www.herald-dispatch.com/special/lost_huntington/lost-huntington-davis-opera-house/article_f1cc13fb-b9ed-57c6-9192-23c9a2fc66ec.html.
Casto, James E. "Lost Huntington: Montgomery Ward." Herald-Dispatch. November 12, 2018. Accessed July 18, 2019. https://www.herald-dispatch.com/special/lost_huntington/lost-huntington-montgomery-ward/article_da3a484e-aef6-532c-8b03-73723e896a65.html.
Casto, James E. "Lost Huntington: The Bazaar." Herald-Dispatch. October 16, 2017. Accessed July 18, 2019. https://www.herald-dispatch.com/special/lost_huntington/lost-huntington-the-bazaar/article_5ca5b3e5-ac25-52be-9fec-5d23c75a1a03.html.
Casto, James E. "Three New Eateries Open In Same Huntington Building." The State Journal. February 5, 2017. Accessed July 18, 2019. https://www.wvnews.com/statejournal/three-new-eateries-open-in-same-huntington-building/article_8e7bddb9-fb89-5347-a61b-9fdfd29cd8e4.html.
Dickinson, Jack L., and Alison K. Summer-Ramirez. Historic Huntington Businesses: The Birth of Huntington, W. Va. 1871-1900. Huntington, WV: Marshall University Libraries, 2016. Accessed July 18, 2019. https://www.google.com/url?sa=t&source=web&cd=1&cad=rja&uact=8&ved=2ahUKEwibiK2J4r_jAhUCT98KHahKB7cQFjAAegQIABAC&url=http%3A%2F%2Fmds.marshall.edu%2Fcgi%2Fviewcontent.cgi%3Farticle%3D1005%26context%3Dlib_manu&usg=AOvVaw2lgSJMOumNM8MjnW-XeePX.
Gioulis, Michael. "Downtown Huntington Historic District (Boundary Increase and Additional Documentation)." National Register of Historic Places Registration Form. 2006. Accessed July 2, 2019. http://www.wvculture.org/shpo/nr/pdf/cabell/07000240.pdf.
McMillan, Don Daniel. Images of America: Huntington. Charleston, SC: Arcadia Publishing, 2003.
Additional Information