Guthrie Hospital (1911-1988)
Introduction
Located at the southwest corner of Sixth Avenue and Sixth Street, Guthrie Hospital served patients in the Huntington area for over seventy years. Originally called Guthrie-Steenbergen Hospital, it was established in February 1911 by Dr. Joseph A. Guthrie and Dr. John Steenbergen. After Steenbergen sold his interest in 1912, Guthrie operated the hospital alone, expanding it in 1916 and 1920 and creating a training school for nurses around the same time. After Guthrie passed away in 1955, his son William ran the hospital alongside Dr. Gary Ripley. The two, joined later by William's son Robert, operated Guthrie Hospital until the mid-1980s. While the hospital was considered well-equipped and modern when it first opened, the building was aging and operating at half its former capacity by that time. The Cabell Huntington Hospital Foundation purchased Guthrie Hospital in 1986, but it closed just two years later for financial reasons. The former hospital was demolished and replaced in 2000 by the Cabell-Huntington Unity Apartments, a public housing complex for individuals with disabilities.
Images
Guthrie-Steenbergen Hospital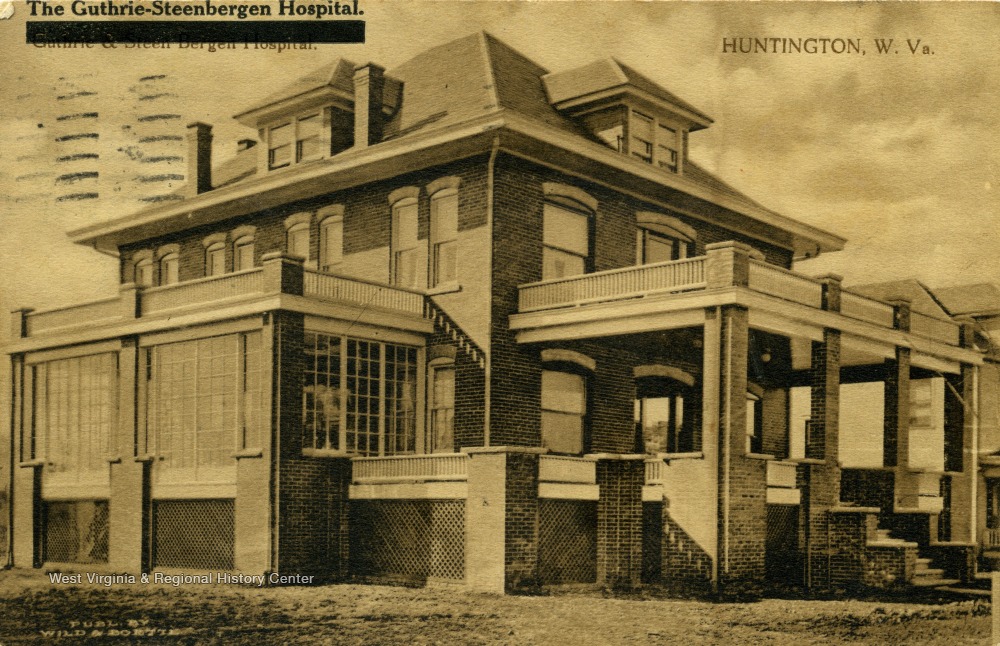 Guthrie Hospital, circa 1930s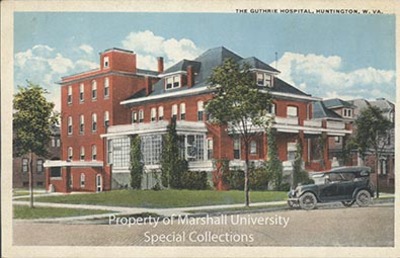 Postcard of Guthrie Hospital, circa 1910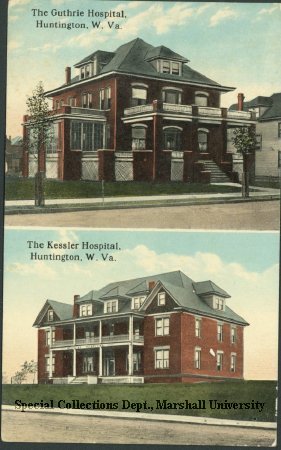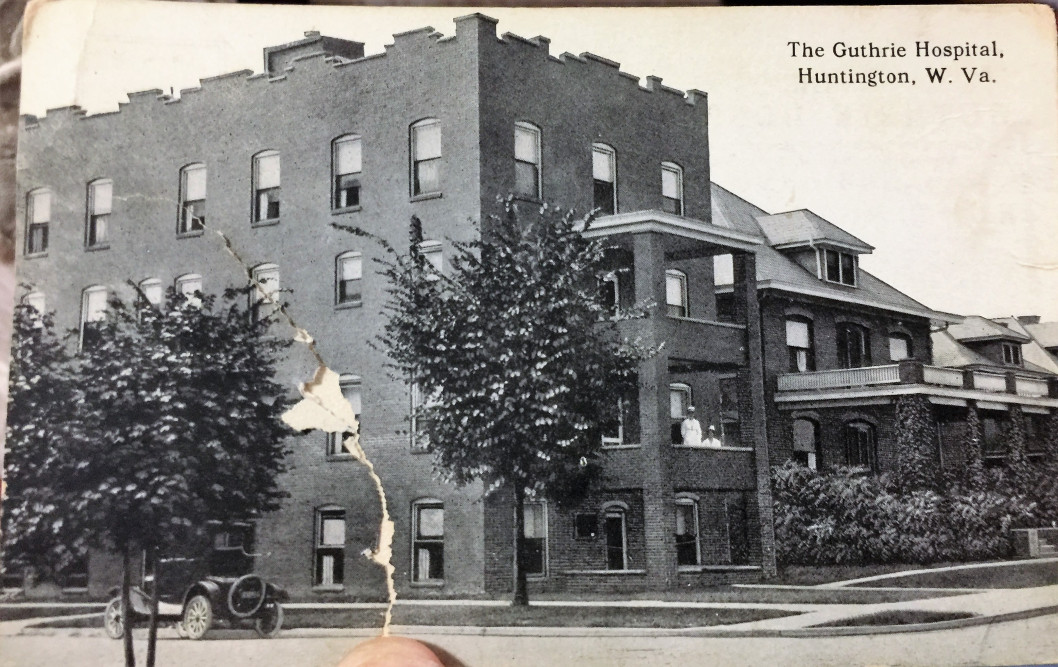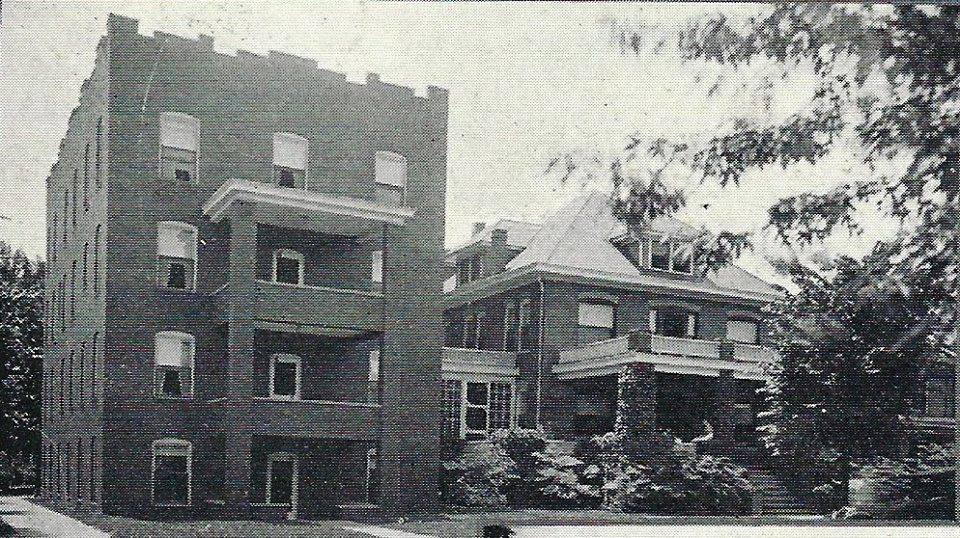 View of Guthrie Hospital from the 1950 Sanborn fire map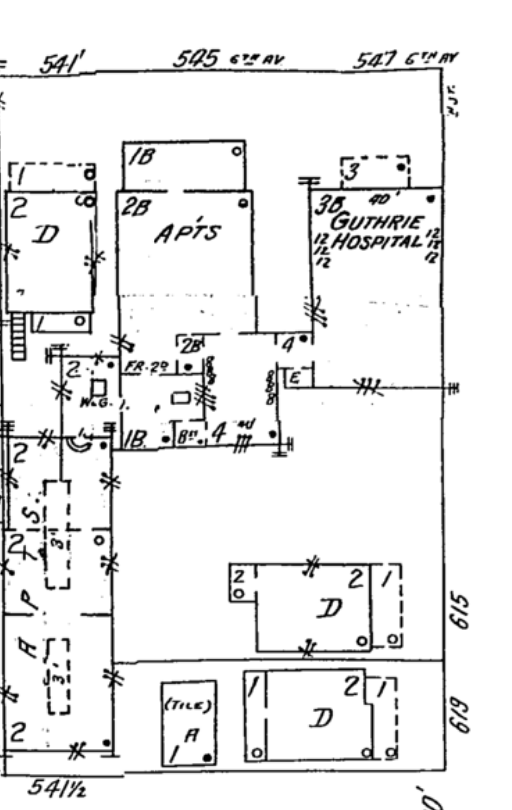 View of Guthrie Hospital from the 1931 Sanborn fire map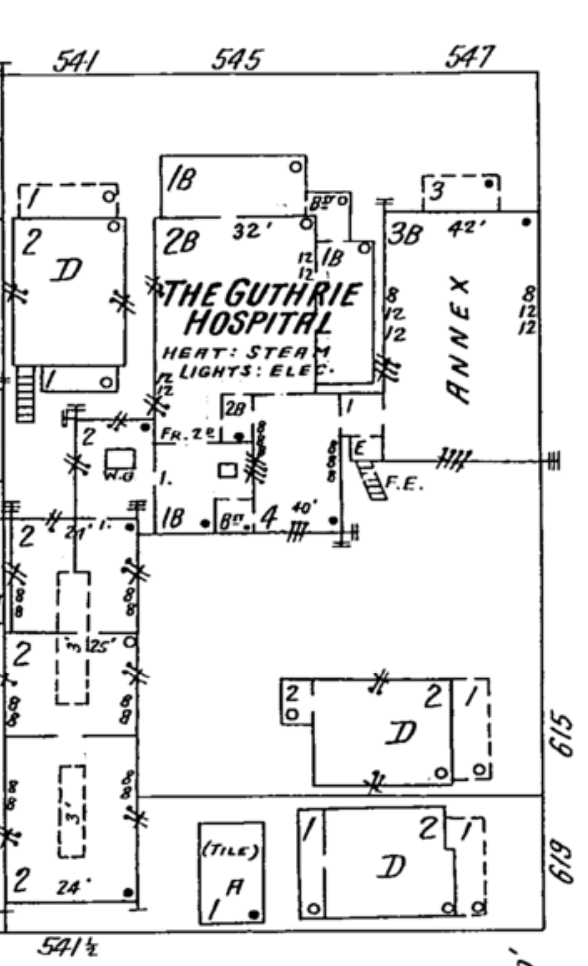 Cabell-Huntington Unity Apartments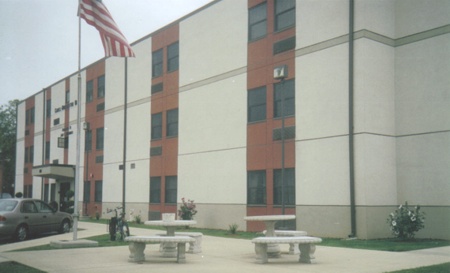 Backstory and Context
Dr. Joseph A. Guthrie was born in Athens, Ohio on May 23, 1878 to George P. and Esther Ann Guthrie. After graduating from high school in 1897, Guthrie taught school in Athens for a year before attending Ohio University. He then entered the College of Physicians and Surgeons at the University of Maryland and graduated with his medical degree in 1903. Guthrie next completed post-graduate work in various clinics across the country, where he specialized in surgery. He briefly established a private practice in Ravenswood, West Virginia, but relocated it to Huntington around 1905. In Huntington, Guthrie became a member of the Cabell Company Medical Society and the West Virginia State Medical Society, as well as the American Medical Association. In 1916, he married Carrie Wilkinson, with whom he went on to have three children: Joseph, born in 1917; William, born in 1920; and Margaret, born in 1922.
In 1910, Dr. Guthrie partnered with another Huntington physician, Dr. John H. Steenbergen, to open a new hospital at the southwest corner of Sixth Avenue and Sixth Street. The hospital began construction in late 1910, and was open by February of the following year. The building was designed by prominent West Virginia architect Levi Johnson Dean. Born in Frametown, West Virginia in 1878, Dean studied architecture at the International Correspondence School of Scranton, Pennsylvania before starting his professional career in Charleston. Dean moved to Huntington in 1906, and established his own architectural practice there by 1910. He went on to design many buildings in Huntington besides Guthrie-Steenbergen Hospital, including the United Woolen Mills, the L.A. Daniels Building in East Huntington, an apartment house and business block for F.F. Starcher, a business block for D.A. Mossman, the T.W. Dinkins apartment building, the English Lutheran Church, the Highland Baptist Mission Church, and the B'Nai Israel Synagogue. By 1947, Dean had designed almost 150 buildings, including forty-seven schools, twenty churches, twenty-two residences, and sixteen apartment buildings.
Dr. John Harness Steenbergen was born in Mason County, West Virginia on November 4, 1883. After receiving his early education in Gallipolis Ferry, he attended the Gallia Academy in Gallipolis and graduated in 1900. Steenbergen then attended Washington and Lee University before studying medicine at West Virginia University in 1904. He went on to receive his medical degree from the University of Maryland's College of Physicians and Surgeons in 1908. After his graduation, Steenbergen was appointed as a resident physician at the Mercy Hospital in Baltimore, where he served for a year before relocating to Huntington in 1909. During the fall of the following year, Steenbergen met and partnered with Dr. Guthrie to open Guthrie-Steenbergen Hospital. In June 1912, Steenbergen sold his interest in the hospital and went on to practice medicine alone. He remained in Huntington, although his office moved between several different buildings over the years. From the early 1920s to around 1930, Dr. Steenbergen, whose speciality was surgery and obstetrics, opened the short-lived and little-known Steenbergen Maternity Hospital at 1112 Fifth Avenue. He passed away in 1952. 
Guthrie-Steenbergen Hospital - renamed Guthrie Hospital after Dr. Steenbergen left in 1912 - was considered "one of the best equipped, most modern and up-to-date in the land" with a "most expert scientific staff." Not long after the hospital was built, Dr. Guthrie found it necessary to update and expand the facility. He installed modern baths in June 1913, and additional modern equipment in late 1916. That same year, an addition was made to the hospital that doubled its capacity. Another addition was built in 1920, which allowed the facility to accommodate sixty patients. The hospital also featured a training school for nurses, whose 1920 and 1921 graduates achieved the highest averages in examinations of all nurses in West Virginia. 
Through two World Wars, the struggles of the Great Depression, and the challenges of the postwar years, Guthrie Hospital continued to serve the Huntington community for decades. Dr. Guthrie worked at the hospital into his old age, before he passed away in 1955. By this time, his son William had graduated from the University of Maryland and joined his father's practice. William ran the hospital alone for several years, before Dr. Gary Ripley joined the hospital in 1959. Guthrie and Ripley practiced many years together, delivering babies, performing surgeries, and seeing patients for regular checkups at the hospital. At one point, they stopped delivering babies but continued the rest of their services. In 1978, William's son Robert followed in his father and grandfather's footsteps at the University of Maryland and Guthrie Hospital. By that time, however, the hospital was no longer operating at its peak capacity: while it once had as many as sixty patient beds, it was using only thirty-two by the 1970s. During the mid-1980s, Bill Guthrie became ill and retired, while Dr. Ripley continued operating the hospital.   
In 1986, Guthrie Hospital was purchased by the Cabell Huntington Hospital Foundation. Cabell Huntington and Dr. Ripley attempted to establish a residential alcohol and substance abuse unit at the hospital, but this effort proved unsuccessful. The hospital was operated as a one-doctor clinic for two years, before financial issues and the deteriorating condition of the aging hospital forced it to close in 1988. The old Guthrie Hospital was demolished soon after its closure. In 2000, the Cabell-Huntington Unity Apartments were constructed at the site of the former Guthrie Hospital. The Section 811 apartment complex features twenty-four apartments for individuals with disabilities. 
Sources
Casto, James E. Lost Huntington: Guthrie-Steenburgen Hospital, Huntington Herald-Dispatch. November 10th 2014. Accessed July 13th 2020. https://www.herald-dispatch.com/special/lost_huntington/lost-huntington-guthrie-steenburgen-hospital/article_550e0e6d-e7ba-5a88-84e1-bacefb254805.html.
Gioulis, Michael "Levi Johnson Dean." e-WV: The West Virginia Encyclopedia. 15 October 2012. Web. 13 July 2020.
The History of West Virginia, Old and New. Volume 2. Chicago, IL. The American Historical Society, Inc., 1923.
Miller, Thomas Condit. Maxwell, Hu. West Virginia and its People. Volume 2. New York, NY. Lewis Historical Publishing Company, 1913.
Image Sources
https://wvhistoryonview.org/image/041913.jpg

https://mds.marshall.edu/sc_cc/128/

https://marshall.pastperfectonline.com/photo/EB3F5FA4-62B7-4787-8947-439549528461

https://brandonraykirk.com/2019/06/05/the-guthrie-hospital-in-huntington-wv/

https://www.facebook.com/photo.php?fbid=1015530455153814&set=gm.1658982090992534&type=3&theater&ifg=1

http://sanborn.umi.com/browse/wv/9409/47219/49413/662752

http://sanborn.umi.com/browse/wv/9409/47218/49411/662557

http://www.hrdewv.org/cabell-hunt.htm

Additional Information