Rainbow Art Glass Company (1942-1973); Rainbow-Viking Glass Company (1973-1983)
Introduction
From the late nineteenth century and through much of the twentieth century, glass manufacture was one of West Virginia's and the Ohio Valley's most important industries. Huntington was once home to several glass factories itself, including Rainbow Art Glass Company (later Rainbow-Viking Glass). The company was founded in New York by Henry P. Manus and J. Goudaker in 1940, but relocated to Huntington two years later. Originally, the company decorated glassware that it purchased from other companies, before it began manufacturing its own colorful, hand-blown glass in 1954. In 1973, Rainbow Art Glass was purchased by Viking Glass, which began in 1901 as the New Martinsville Glass Manufacturing Company. When the Rainbow-Viking Glass factory and adjacent retail shop were destroyed by fire in 1983, the company decided not to rebuild the plant. Viking Glass continued manufacturing glass from its New Martinsville facility until 1998, when rising production costs and foreign competition caused the company to shut down.
Images
Rainbow-Viking Glass during the 1983 fire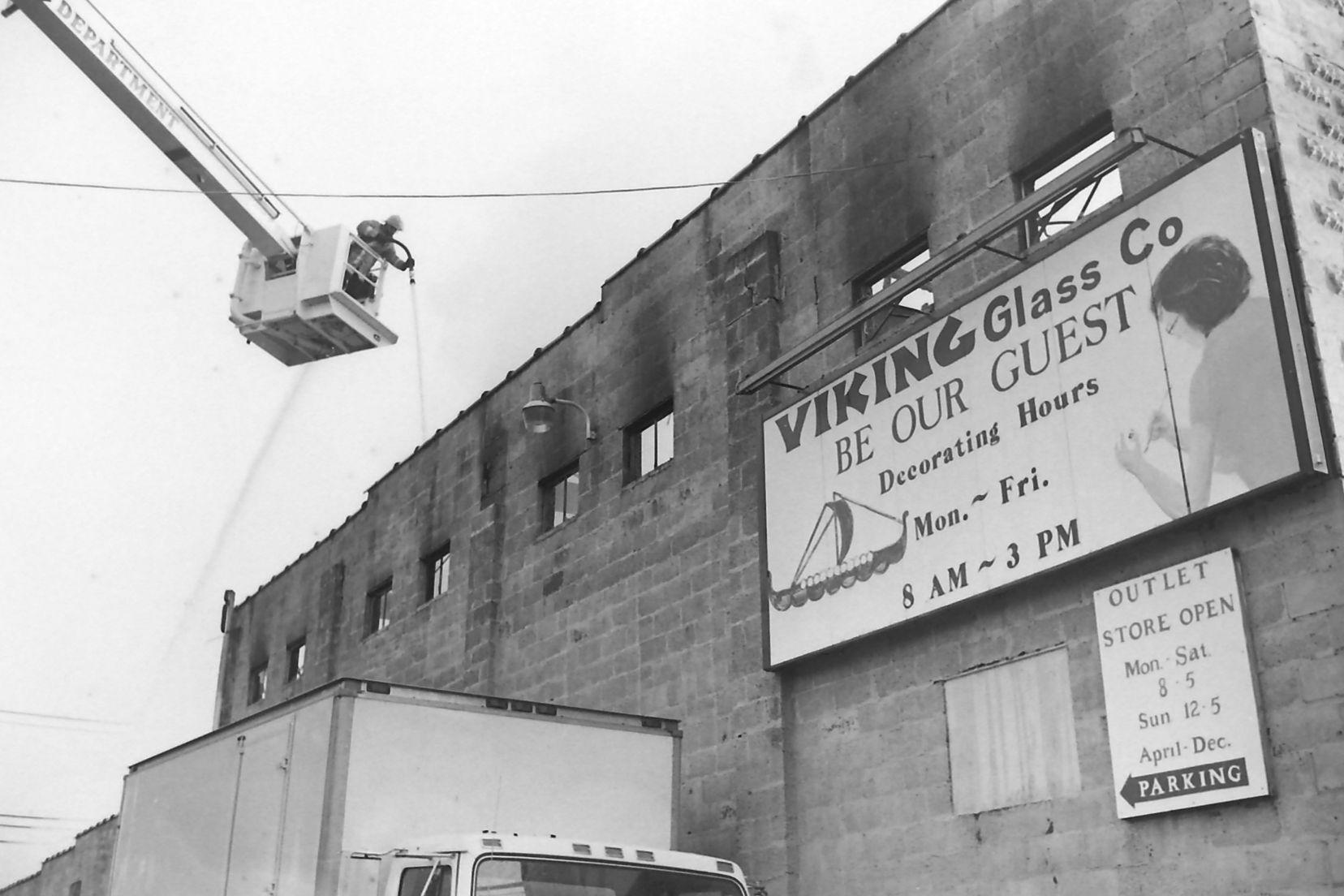 A WSAZ TV crew visited the factory, circa 1960s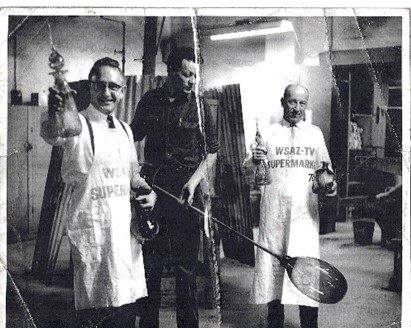 Ad for Rainbow Art Glass, 1962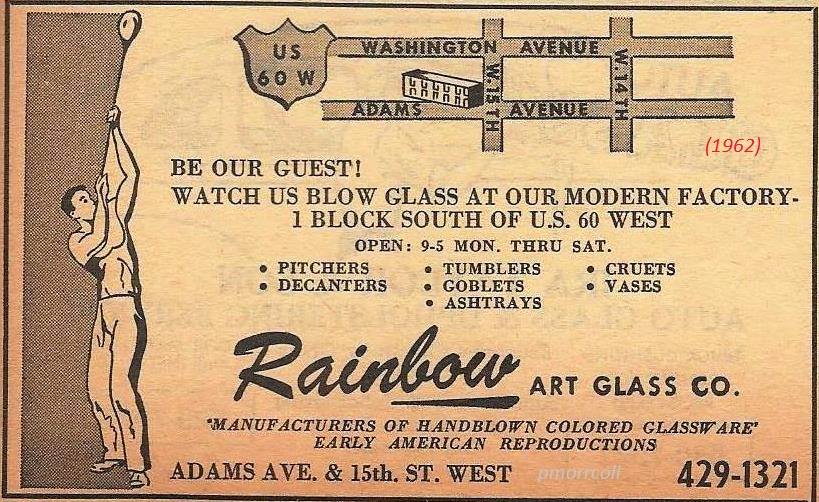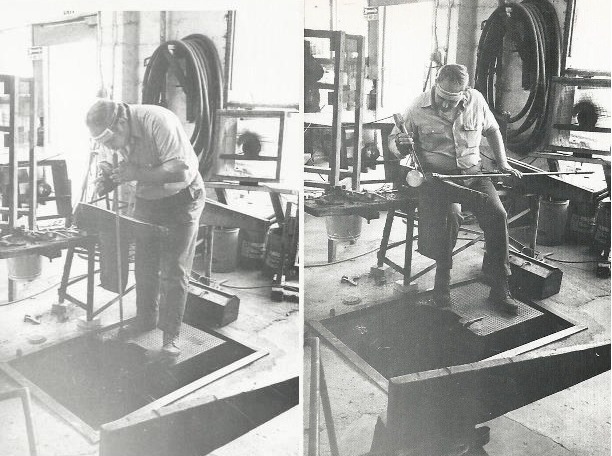 Rainbow Art Glass Company dealer's sign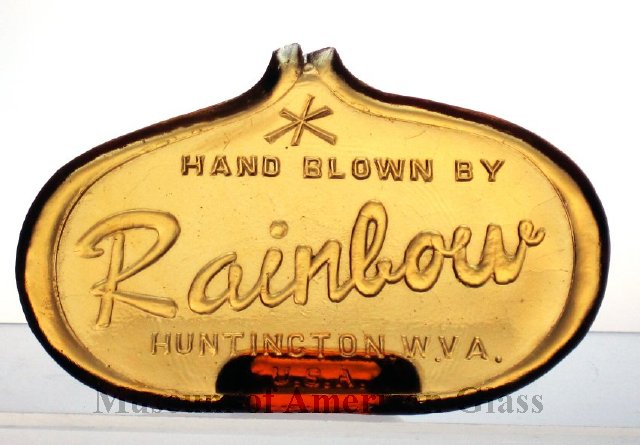 Milk glass urn decorated by Rainbow Glass, circa 1947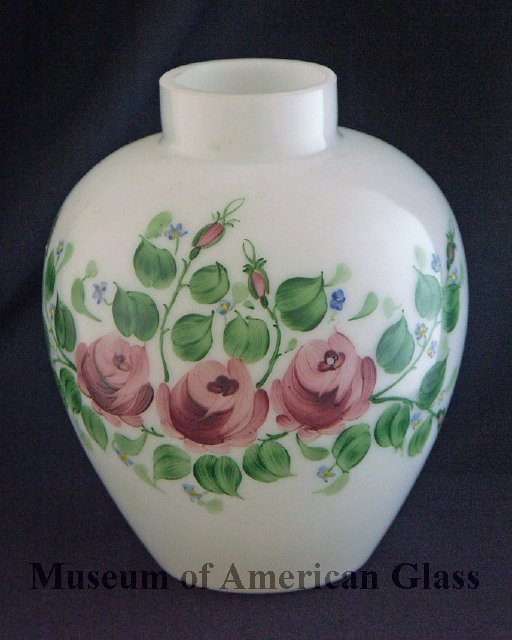 Hand formed stylized sitting cat by Rainbow Art Glass, circa 1960's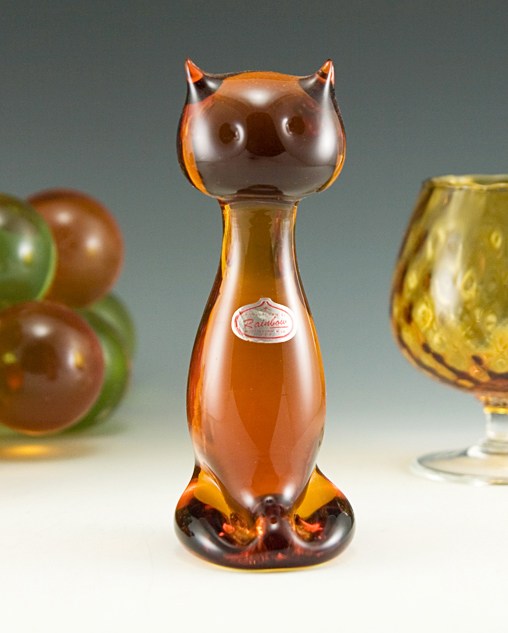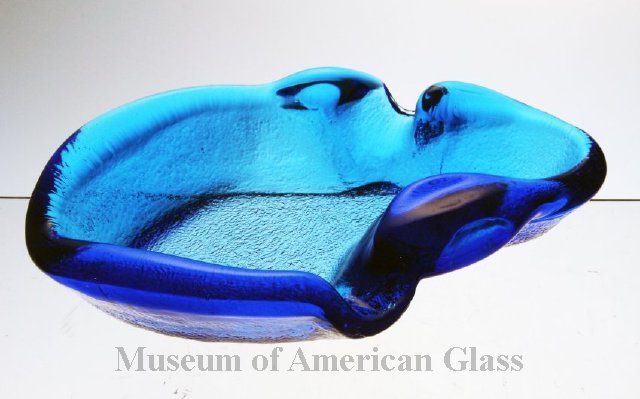 Rainbow-Viking amber patio light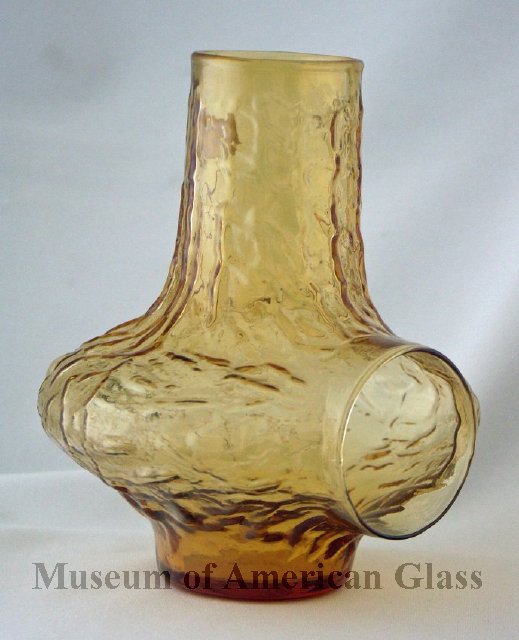 Amber horse figurine, circa 1970s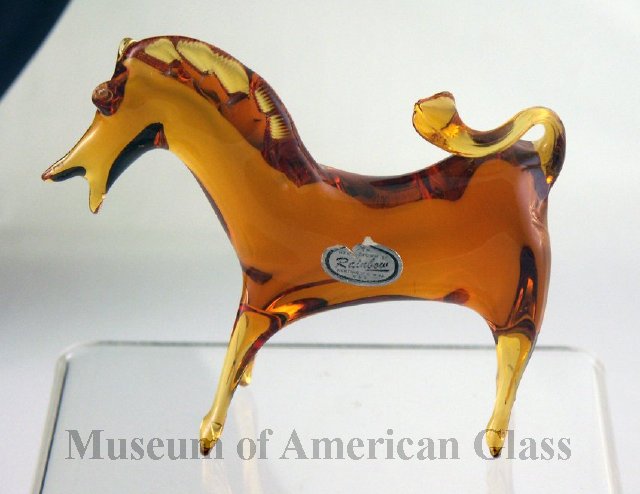 Backstory and Context
Glassmaking was once a key industry in West Virginia and the Ohio Valley, with hundreds of factories in operation across the region. While glass had long been produced on a small scale, West Virginia did not emerge as an important glass manufacturing center until near the end of the nineteenth century. The region's abundant and inexpensive natural resources, as well as the expansion of its railroad networks, enabled the glass industry to grow rapidly during the late 1800s. Glassmaking also became increasingly specialized at this time, with individual factories manufacturing tableware, bottles and containers, and flat glass. By around 1910, the glass industry was West Virginia's fourth-largest employer, with over four hundred glass factories employing more than seven thousand workers. 
The Rainbow Art Glass Company was founded in 1940 by two Dutch immigrants, J. Goudaker and Henry P. Manus. Although the company originated in Long Island City, New York, Goudaker and Manus moved it to Huntington in 1942, lured by the city's inexpensive land and large pool of workers. The men located the Rainbow Art Glass plant on Huntington's west side, at 1500 Adams Avenue. Originally, the company did not manufacture its own glass, but instead purchased glassware from other companies and decorated it by painting and staining, among other techniques. In 1954, Rainbow began manufacturing its own glassware. The company soon became known for its colorful hand-blown glass, which it produced in a variety of forms including pitchers, decanters, vases, ashtrays, and candle holders. These items could be found in department stores and gift shops across the country as well as in Canada, Mexico, South and Central America, India, and South America. 
In 1973, Rainbow Art Glass was purchased as a subsidiary of the Viking Glass Company of New Martinsville, West Virginia and renamed Rainbow-Viking Glass. Viking originated in 1900 as the New Martinsville Glass Company. The company encountered several difficulties early on, as its factory was destroyed by fire and flood in 1907 and again damaged in a 1913 flood. After the facility was rebuilt, however, the company was able to transition into the full-scale manufacture of pressed glassware before expanding into decorative glass objects like vanities, barware, lamps, inkwells, and crystal figurines. The company soon became known for its elegant glassware and distinctive colored and decorative pieces, including a popular line of opaque art glass called "Peachblow." New Martinsville Glass went bankrupt during the Great Depression, but the company was purchased in 1938 by the Silver Glass Company of Meriden, Connecticut. Around 1940, the company began to concentrate on modernization and hand-made glassware, which the company called the "Swedish Type." Reflecting this change, the company was sold and renamed the Viking Glass Company in 1944. For decades to come, Viking produced modern, colorful, hand-made glass for all occasions, including distinctive crackle glass patio lights and oversize glass ashtrays. 
Although Rainbow Art Glass became a subsidiary of Viking in 1973, the Huntington facility continued making some of Rainbow's most popular designs. The factory was open daily for observation by the public, and contained a retail shop where customers could buy discounted "seconds" and discontinued items. Early in the morning of August 30, 1983, however, the longtime glass factory and its retail shop were destroyed in a fire, leaving its twenty-five employees jobless. After a few weeks, Viking Glass announced that it would not be rebuilding the factory, and would instead focus on production at its facility in New Martinsville. Not long after the Huntington plant burned, Viking Glass, which was struggling financially by that time, was purchased by Kenneth B. Dalzell, who renamed it the Dalzell-Viking Glass Company. Although Dalzell attempted to revive the company, rising manufacturing costs and competition from outside the United States forced Dalzell-Viking to close in 1998. Today, glass collectors can find Rainbow-Viking glassware in antique shops and online.  
Sources
About New Martinsville and Viking Art Glass, Retro Art Glass. February 5th 2015. Accessed August 13th 2020. https://retroartglass.com/new-martinsville-viking-art-glass/.
About Rainbow Art Glass, Retro Art Glass. February 9th 2015. Accessed August 13th 2020. https://retroartglass.com/rainbow-art-glass/.
Carter-Lome, Maxine. Viking Glass – A Colorful History, Journal of Antiques and Collectibles. May 31st 2020. Accessed August 13th 2020. https://journalofantiques.com/features/viking-glass-colorful-history/.
Casto, James E. Changing times took toll on glass manufacturers, Charleston Daily Mail. February 13th 2020. Accessed August 13th 2020. https://www.wvgazettemail.com/dailymailwv/daily_mail_features/changing-times-took-toll-on-glass-manufacturers/article_4235c736-81dc-5ceb-9a74-57429566bd0e.html.
Casto, James E. Lost Huntington: Rainbow-Viking Glass, Huntington Herald-Dispatch. October 11th 2016. Accessed August 13th 2020. https://www.herald-dispatch.com/special/lost_huntington/lost-huntington-rainbow-viking-glass/article_a8542bdd-3bde-5c58-882d-1cb547bd3a94.html.
Fones-Wolf, Ken "Glass Industry." e-WV: The West Virginia Encyclopedia. 07 August 2012. Web. 13 August 2020.
Shuman III, John A. Art Glass Identification & Price Guide. Iola, WI. Krause Publications, 2003.
Image Sources
https://www.herald-dispatch.com/special/lost_huntington/lost-huntington-rainbow-viking-glass/article_a8542bdd-3bde-5c58-882d-1cb547bd3a94.html

https://www.facebook.com/photo.php?fbid=2620632921310218&set=p.2620632921310218&type=3&theater

https://www.facebook.com/photo.php?fbid=2683674401662146&set=gm.2281170212107049&type=3&theater&ifg=1

https://www.facebook.com/photo.php?fbid=2873436189363222&set=gm.2280951185462285&type=3&theater&ifg=1

https://magwv.pastperfectonline.com/webobject/714BFE95-94CA-4206-B610-018764206154

https://magwv.pastperfectonline.com/webobject/B3AE7AFA-1BCD-459B-A68C-133951963718

https://retroartglass.com/rainbow-art-glass/

https://magwv.pastperfectonline.com/webobject/5DBF20DE-7C1C-416C-A49B-489039833721

https://magwv.pastperfectonline.com/webobject/F1B28760-EAFD-4081-B3B2-746611521310

https://magwv.pastperfectonline.com/webobject/9427FBC8-1C41-4C88-B5B7-387307699167

Additional Information